Hosted by
Deddington Farmers' Market
The account that follows draws heavily on a privately published book Leslie William Harold Bowler - his life in the First World War. (available on loan from the Library) written by John Bowler, son of Leslie Bowler who was the eldest of 6 children of Thomas and Alice Bowler. I strongly recommend reading John's book because, apart from containing many more details about Leslie and his siblings, it also contains a mass of information about life in the trenches in WWI and quotes extensively from war diaries. These provide a most interesting insight into the small detail of day-to-day life in one of the bloodiest wars in recent history.
In his book John acknowledged his indebtedness to Christopher Bowler and Audrey Cox (née Bowler) for information about their parents (Geoffrey and Frank respectively). I also thank all three of them for their help in publishing this article.
The Bowler Family & The Hat

At the turn of the last century Thomas William Bowler was the Managing Director of the family business, Victor Jay and Co., in Southwark, London. They were felt and straw hat manufacturers. The 1901 census records that Thomas and his family were living in Wandsworth.
Thomas William Bowler (l) son of Thomas Bowler
(c)
(who played a major part in the invention of the Bowler hat) and his wife Elizabeth
(r)
painted by their daughter Annie
The very first bowler hat was created to fulfill an order placed by Lock & Co of St James with the Bowler family business. Lock & Co had been commissioned to design a hat for William Coke (nephew of the 1st Earl of Leicester)for his gamekeepers on his Holkham estate in Norfolk.The brief was to create a hat to protect their heads from low-hanging branches when they were out riding to replace their impractical top hats. It is said that before accepting the hat Coke visited the shop in London and "He put it on the floor and trod on it...then Mr Coke repeated the experiment. The hat yielded not so much as a quarter size". (Lock's History). He paid 12 shillings for it.

The Turner family
In 1891 Alice Turner married Thomas William Bowler. She was the great grand daughter of Reverend Edward Turner (1752-1836) who had the distinction of being the uncle of the famous engraver, Charles Turner (click HERE for 1850 self portrait courtesy National Gallery). The Reverend Turner had 12 children. (See Family Tree drawn by Frank Bowler).
Thomas William (1800-1863) was the Reverend's 12th child. In 1825 he was the first Turner to occupy what was then known as The Green, subsequently renamed as The Poplars (see picture below). He married Elizabeth Newman (1799-1878). He was a GP. Their sixth child was...




...Edward William. He also was a GP. He married Louisa Ann Colman from Norfolk. She is believed to be one of the Colman Mustard family. Louisa was reputed to be quite a formidable character, featuring large in Deddington affairs and lived to the age of 92. Edward and Louisa lived at The Poplars (see image below), where they had nine children. Their second son, Thomas William, (1871-1933) continued the family tradition by becoming a GP.

The reverse of this photograph, taken in 1880, is inscribed

Grandma & Grandpa Turner
with family


Alice Dr Edward Edith Louisa
b.1866 b.1834 b.1865
d.1961 d. 1889 d.1964


Nina Louisa Anne Louis Harmel
b.1869 Turner (Governess)
d.1930 b.1838
d.1930


Olive Ethel Ella
Mary Maude Mabel
b.1873 b.1877 b.1875
d.1956 d.1904 d.1944




Editor's note: Mary Vane Turner, author of The Story of Deddington, was not related to this Turner family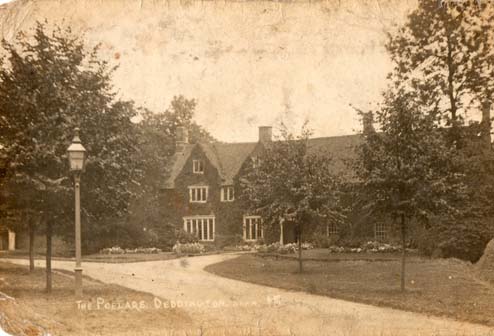 The Poplars was sold to the Reverend David G Loveday in 1932.He renamed the property Castle End.
The Reverend Loveday became the Headmaster of Cranleigh School, Surrey, and later The Bishop of Dorchester. He was a friend of Leslie Bowler and married John & Gill Bowler.
Today it is a divided property with Castle End to the right of the two easily visible windows and Monks Court to the left.
The photograph comes from The Packer Collection so was taken post 1910.
More photographs of the Turner family can be seen in the Gallery by clicking HERE

The Bowler family in Deddington

In 1909 Thomas and Alice, with their growing family, moved to Deddington to live in what was then called Eastleigh but has since been renamed Bowler House. They had six children – Leslie (b 1893), (Thomas) Geoffrey (b 1895), Frank (b 1898), Kathleen (b 1900), Cyril (b 1903) and John, known as Jack (b 1906). All five boys went to Bloxham School. Kathleen was educated privately. The photographs in the Bloxham School album (courtesy of The Bloxhamist magazine) bear witness to the sporting prowess of the boys. Leslie was particularly athletic; in fact his son, John, recalls that when he was small he was confused with the stories of his father as a soldier and an athlete that he proudly pointed to the trophy cabinet at home and announced to an admiring audience 'my father won these running in the war'.
Leslie, Geoffrey and Frank successively joined up to fight in WWI (see later) but the two youngest, Cyril and Jack, were still at school at Bloxham in 1917 when they drowned while swimming in the river Cherwell at Clifton in unknown circumstances. At the time of compiling this article (2014) Len Plumbe and George Harris remember their elders telling of the dreadful sight of the two boy's bodies being taken on a flat cart up to Deddington and the subsequent funeral. Both boys are buried in the churchyard of St Peter & St Pauls Parish Church in Deddington - as are other members of the Turner and Bowler families.

Post war the family moved to London where Leslie helped his former battalion Commander to form a Territorial Battalion and only resigned his commission in 1921. He married Constance Muriel Boosey in 1930, became MD of the family firm and, despite his leg wound, continued with his athletics running with the Ranelagh Harriers and rowing with Vesta RC. They had two children - John (b.1932) and Christine (1939-72).
In 1940, in order to avoid the London bombing, Leslie and family moved back to Deddington where the Turner family still lived. After a brief stay in lodgings they rented Boulderdyke House from the Welford farming family in Clifton. The house probbaly dated back to the 15th Century. It was demolished after WWII and a modern house built on the site. George Harris, who did odd jobs for the Bowlers, says that from its outdoor privy there was the most outstanding view of the Cherwell Valley. Leslie still had to keep the family business running during the week and so only returned to Deddington at weekends but found time to be an active member of the Home Guard. He used to say that he hoped that if that dreadful man, Hitler, did invade he would do so at the weekend!
John (Leslie's son) Bowler's memories of Clifton as young boy 1940-45 can be found HERE.

Geoffrey also moved in 1940 to a small cottage in Bloxham and his son Christopher became a day boy at Bloxham.

In 1946, at the end of hostilities, Leslie took his family to Surrey and there are now no Turner or Bowler family descendants living in the village but John and Gill Bowler live not far away and visit from time to time. The inclusion of the distinguished service of his three Uncles in the two World Wars in the Parish at War project (see below) has also required a lot of pleasurable communication between him and the editor and an increasing number of visits including the Dedication Ceremony for a new War Memorial Plaque in the church on 16 June 2013. More recently he has lent family memorabilia for a WWI exhibition by the Royal British Legion (Deddington Branch) in the church; as a consequence of which he has discovered that the father of Mr Simon Batten (current editor of The Bloxhamist and a history tutor) served in the same regiment as himself in the Korean War.
Photograph Albums.
There are a large number of photographs of the Bowler and Turner families to be found in the Gallery by clicking HERE

Service in two World Wars

The military service of the three eldest boys in both World Wars is contained in the book A Parish at War: this was a 4 year parish project carried out by Michael Allbrook and this editor in which we researched historical records and interviewed families as to how the men, women and children of this parish served their country, in and out of uniform from Waterloo to the recent conflict in Afghanistan. Relevant extracts from the book for each brother can be found by clicking on their photographs (in WWI uniform) beside their names below. The rank shown is that achieved on completion of service.

Service in the Korean war
Lieutenant John Leslie Bowler MC (b.1932)

National Service (1950-52). Served in Korea in the Welch Regiment.




For an account of John's army service click
HERE