Hosted by
Deddington Farmers' Market
The Great War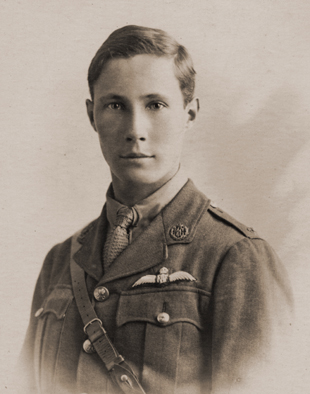 Frank joined the Royal Flying Corps, became a 2nd Lieutenant and commenced his flying training at 7.15am on 20 April 1918.
His log book says his first flight was for 15 minutes at a height of 500 ft and 'No Control landing'. The family are not sure what this means. The training appears to have been extensive and included 'landings, low flying, formation flying and stunting, firing, cloud flying and aerial fighting.' He appears to have flown three types of aircraft - a de Havilland, an Avro and a Sopwith Pup - before he became a qualified pilot and received his wings on 12 September 1918.

2nd Lieutenant Frank Bowler was then posted to an aerodrome in France named Fienvillers which is 12 miles north of Amiens in the Somme. His first flight was for 25 minutes on 5 October 1918, during which he carried out three landings. The squadron was flying S.E.5As. They were designed and built by the Royal Aircraft Factory at Farnborough. The armaments were a .303 Vickers machine gun firing through the propeller arc and a .303 Lewis heavy machine gun mounted on the upper wing. It was capable of a maximum speed of 138 mph and could operate up to 19,500 feet.

During October he explored the front line at Bouvincourt, 16 miles south of Cambrai and he noted in his log book that he collected a bent axle on landing. He went to the front line at Le Cateau, 10 miles south east of Cambrai, flew formation with the squadron to the front line, fired on targets and 'scrapped' at the aerodrome, flew 1½ hours cross-country and was lost once on his return. On another sortie to Bouvincourt one of his fellow pilots was killed. This is the sector where the 22nd Battalion, County of London Regiment (The Queen's) were holding the final German offensive, and then drove them back, but it is unlikely that he flew over his brother, Leslie, as he was wounded early in October.
His duties also included flying damaged, but still airworthy, aircraft across the Channel to a particular airfield in Kent, to be repaired and later returned to active service in France.

The day came when Frank reported to the aerodrome workshops as usual and was told that there was just one aircraft needing to be flown back to 'Blighty' but its compass was not in working order. The sky was clear and Frank overcame his own and the workshop's misgivings and took off towards the nearby French coast. With the Channel below him he now had fewer than 30 miles to fly but before long he could see that there was thick fog ahead.
With the happy optimism of youth he decided not to turn back but once in the fog he hoped to gain better visibility by losing height. He was well aware that if he lost course he might even miss Kent altogether and fly northwards out of the Channel eventually to run out of fuel over the North Sea. He had been revving his engine intermittently as he caught glimpses of the waves below and then he saw something as he flew almost right over it - a small English fishing boat with its crew of two on deck, both looking skywards and both with outstretched arms pointing to the north. Frank waved in gratitude as he made a considerable correction to his course. The fog was lifting when he flew over Dover's white cliffs. He never forgot the experience of that day.

The Second World War

Frank served in WWII and was promoted to acting Wing Commander in South Africa where he was a Transport Officer.

More photographs

can be seen in the Frank Bowler album in the Gallery

Return to Bowler & Turner Family Home page