Hosted by
Deddington Farmers' Market
Rob Forsyth
Following the research into the family of the three Hancox brothers killed in WWI, I contacted the Bliss family to find out more about Mary Ann Bliss who had married Arthur Hancox, their elder brother, in 1909. I am indebted to Heather Hope (née Bliss) and her son David for information and photographs about their family. It provided the basis for my research which then led back to her earliest recorded 18th Century ancestors courtesy of a Hiorns Family Tree on the Ancestry.co.uk web site (subscription only) which shows that a Hiorns' ancestor, Frances (Fanny) Cudd (b.1761 or '66), married Richard Bliss (b.1753). They lived in Oddington, Gloucestershire (now Oxfordshire) and had five children, of which two sons - John (1790-1860) and Richard (b.1791) are relevant to the Deddington Bliss families. There is another Deddington connection through Richard and Jane's daughter, Esther, who married William Hiorns of Barford (1835-1932) and then one of their children, Frederick Hiorns, was born and lived in Deddington (1867-1946).
Tracing the Bliss family through census records

The Family Tree on the left and the information that follows is largely drawn from the 'complete listing of occupants/age/address/birthplace 1841-1911' to be found under Parish Census on this site. Supplementary research into the more detailed census enumerator's records for each household from Ancestry have filled in some blanks along with our Parish Registers.

It is worth noting that 19th Century ages on census records are often a year or two out due to the actual birth day falling either side of the census date, enumerator's errors or people just not knowing how old they are.
Click on the image above and all further images in this article to see larger versions
23 January 1837 Richard is first mentioned as being resident in Deddington by this entry in the Rev. Cotton Risley's diary "Heard the small pox was in the cottage of a person named Richard Bliss – his last infant was ill therewith and two other children had it slightly."
The 1841 Census is somewhat confusing and must be treated with caution.
Entry139 for Fanny Bliss gives a birth year of 1766. This agrees with Frances Cudd's YOB of 1766 on the Hiorns tree. Fanny is a familiar version of Frances. The census record for Queen Street*, says she is a widow aged 75 which accords with Richard's death in the 1839 Parish Register as aged 86; he was 11 years older than Fanny. Fanny herself dies in 1845 but the Parish Register says she was 84 which gives a birth year of 1761 not 1766! I suspect the Hiorns researcher found the census record not the Deddington Register of BMDs.

Entries 140,141 & 142 could be her son John (Jno), wife Mary & John's brother Richard but the birth dates do not match later census dates or the Hiorns tree but we know from later sources that John and Richard were the same age as shown here. The census records them living on Pilcock Street - one of many spelling variations through succeeding census. There were 253 residents on this street so every cottage must have had 10-12 occupants.

Entries 147-158 are all young children ranging in age from 5 to 15. Among them Thomas (Thos), Charles (Chas) and David have same YOBs as John & Mary's children established through 1851 census date - see below. The others could be children of brother Richard or other siblings they have.

* Queen Street is not a street name mentioned anywhere else in our recorded history that I am aware of. The enumerator followed a route via New Street, Market Street, Chapel Street, Castle Street and Castle End to Queen Street on which he recorded 77 residents. I surmise that Queen Street might be today's Hopcraft Lane but this is speculation.

The 1851 - 1901 Census In order to research the Bliss families resident in Deddington between these years it was necessary to examine each census in some detail, refer to Parish Registers and consult online BMD records. In doing so one or two interesting facts emerged. If you wish to read the details please follow this link
The three photographs below were taken between c.1895 and 1906

| | |
| --- | --- |
| c.1895 (l to r) Mary Ann, David, Charlie, Emily, Martha Elizabeth (née Sessions), David - dated on Emily being about 3 yrs old | Between 1901 & 1906 Charles & Mary Anne (née Keen) |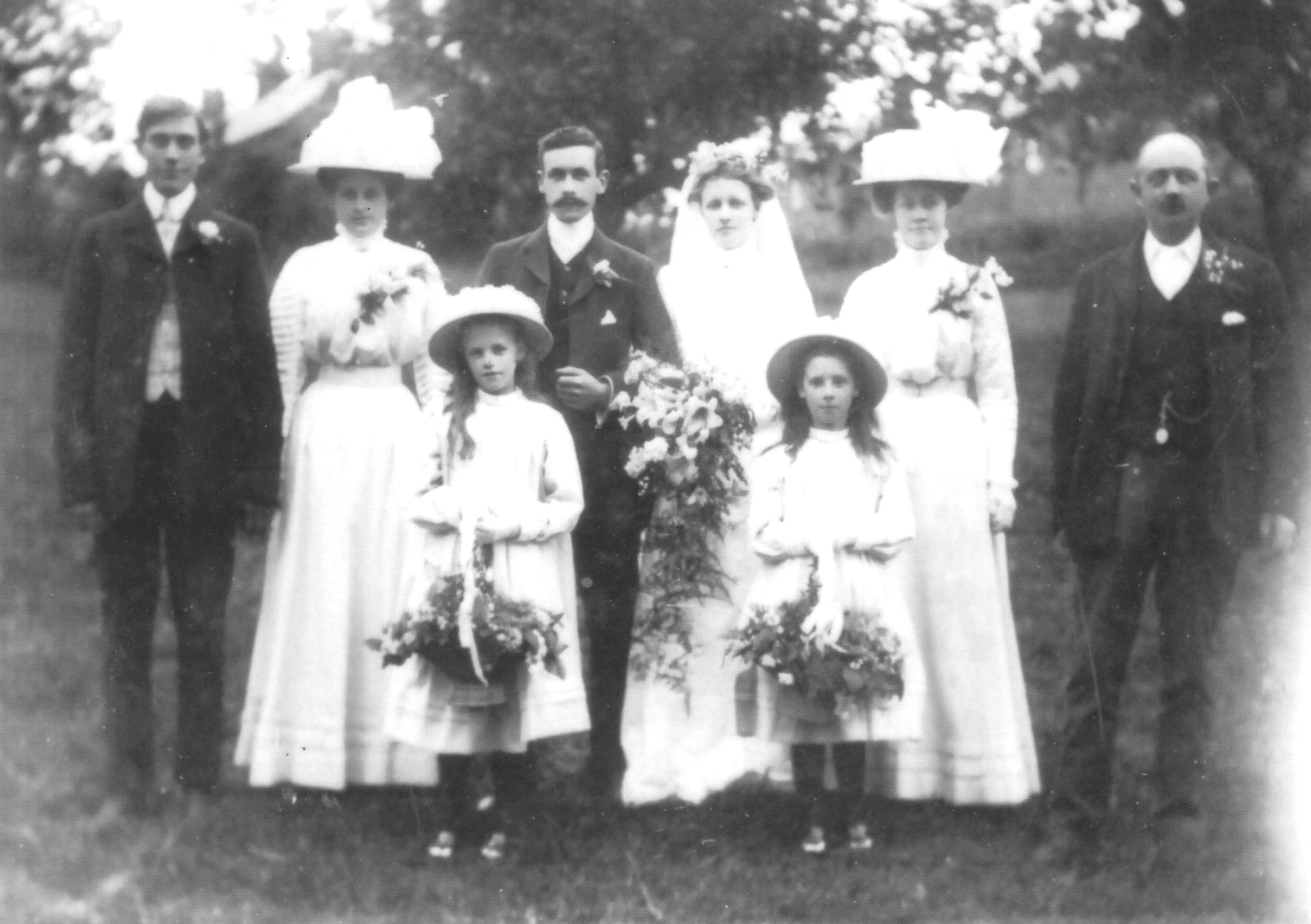 1909 This photo was taken at the wedding of Mary Ann (b.1886) - who is on the far left of the family photo (above left) - to Arthur Hancox

l to r: Charles Bliss, Annie Hancox?, Arthur & Mary, Emily Bliss, David Bliss. In front are the two Franklin sisters
There is no detailed composite summary for this census. Instead there is a 'Head of Households' which lists five Bliss households and where they are living. I then researched each family via the individual house records on Ancestry. The reference numbers below can be found at the top RH corner of each house record on Ancestry.

The 1921 Census This census has only just been released (January 2022) and has not yet been researched - if only because it is not on Ancestry the site I subscribe to. Details will be obtained idc.
The Great War (1914-18)

Mary Ann (b.1886), daughter of David (I) & Elizabeth, married Arthur Hancox in 1909. He was the eldest of four brothers who all went to war. The youngest three were all killed in action. Their story is included as part of the history of The Hancox Family. Mary died in 1957 aged 71. Mary Southgate, a Franklin daughter, wrote a letter of condolence to her father David.

David (II), her younger brother, joined the army as a Gunner. His army service is recorded in an article in the section devoted to A Parish at War/further research.
The Farm and Property

The census has a lot of Bliss men working as agricultural labourers but Charles (b.1833) is the first recorded as a farmer having been a bricklayer, grocer and baker previously.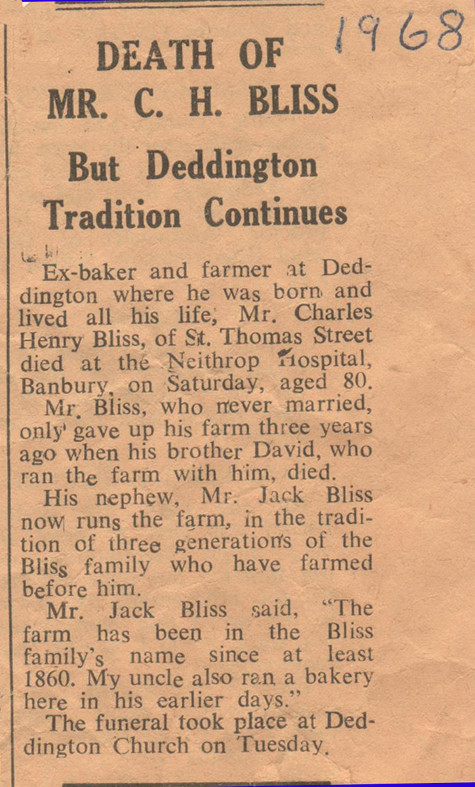 According to this 1968 newspaper report (l) of the death of 'Charlie' Bliss (b.1887), the family had farmed the same farm since the 1860's. It was located between Plumden Lane (on the right leaving the village heading south) and the brook in the dip and included one or two fields on the east side of the Oxford road.The Millenium map of Fields and Farms shows that in 2000 there was still a Bliss Field in that location. They were tenants; the first was probably Charles (b.1833) and the last one was Jack (b.1928). Christ Church College was the landlord latterly but when this became so is not known.* In 1954 Christ Church sold all of their Deddington Estates. The sale brochure confirms that Lot Nos.20,21,24,& 25 were Bliss fields and they can be seen on the map included with the brochure.
*In the history of The Orchards is an email I was given a copy of by Dr Tim Harry which he sent to his cousin John French in 2012, talking about Bill French "Bill bought The Orchards in either 1917/1918, whilst running the farm. Maurice, his son, .....took on the farm instead." Whether the French's were landlords of the farm for a while is not known.

The family also owned the present day office building called Orc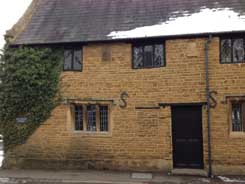 hard House which had been purchased from the Stilgoe family at some stage. In the 17th Century it was called Kymbell House and became School House later and was known by that name during the Bliss' occupation. Mary Vane-Turner, in her book The Story of Deddington (1933), Chapter 3, refers to School House (as it then was) saying "...which house and farmyard have been held by the Stilgoe family...since the early part of the 17th century and probably earlier. In the year 1917 it was enfranchised by the Copyholder and is now in the occupation of D.Bliss as tenant." The Bliss family subsequently purchased it.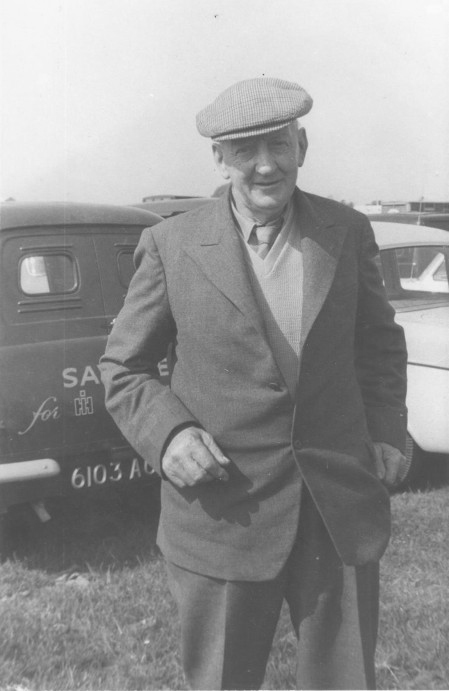 In addition to School House, and prior to the 1901 census when it is first recorded as a Bliss dwelling, one of the Bliss men [Charlie or brother David (II) are in the right time frame] purchased the row of four semi-detached stone cottages on St Thomas Street stretching from Hopcraft Lane south. One of them, Pear Tree, was the family Bakery.

The photo on the left (click to zoom) shows David in older age at Banbury Market standing in front of a Saville Agricultural Merchant's vehicle. Reputably, he went there (the only place outside Deddington he ever visited) to buy vegetables and came home with two houses. They cost £400 the pair and were given in due course as wedding presents to son David and daughter. They are the two red-brick houses on today's Hopcraft Lane.

School House was sold in 1980 and converted to the office buildings we see today known as Orchard House. The two Council Street houses and two cottages on St Thomas Street are now otherwise owned. Orchard End and Pear Tree cottages remain in family ownership.

Memorabilia
Amongst the family memorabilia are two documents of historical interest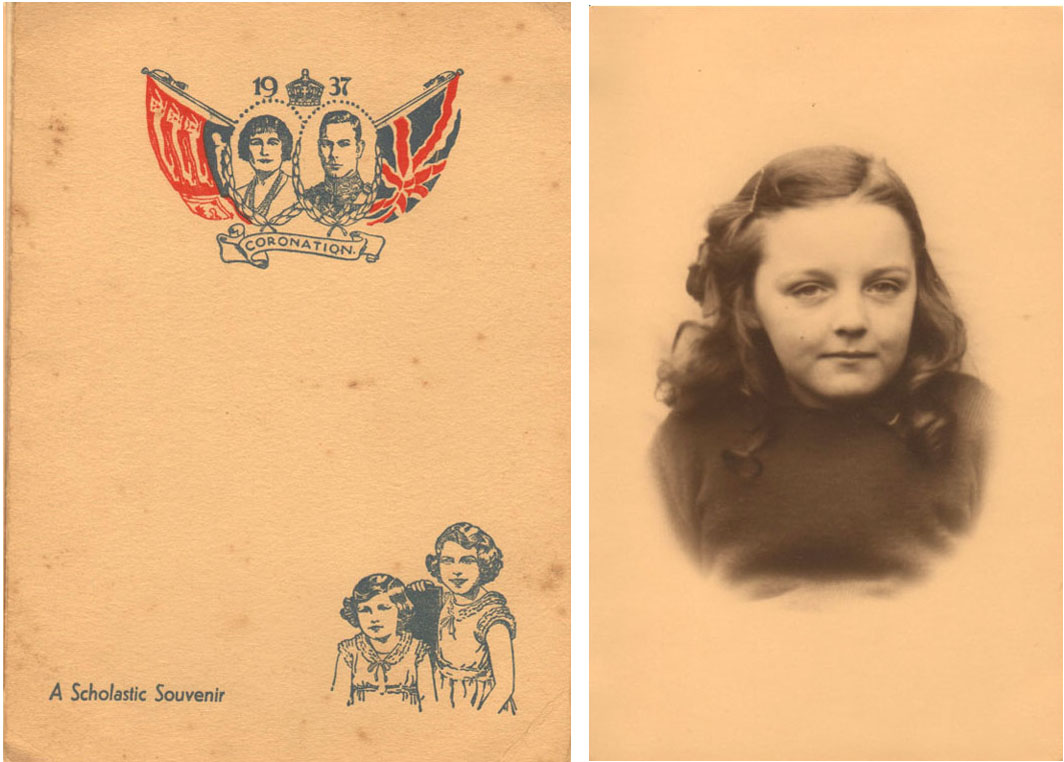 This school souvenir photograph is of Emily Mary (b.1929). It was taken in 1937 at the time of George VI's Coronation following the abdication of Edward VIII.
In 1952 Mary, as she was familiarly known, married Laurence Wallin and helped run the Wallin bakery on Market Place until her death in 2003. Laurence's brother, John, also worked in the bakery. He married Peggy Hayward from another well known village family who ran the grocery store. It could be said that these two families fed the village along with the butcher.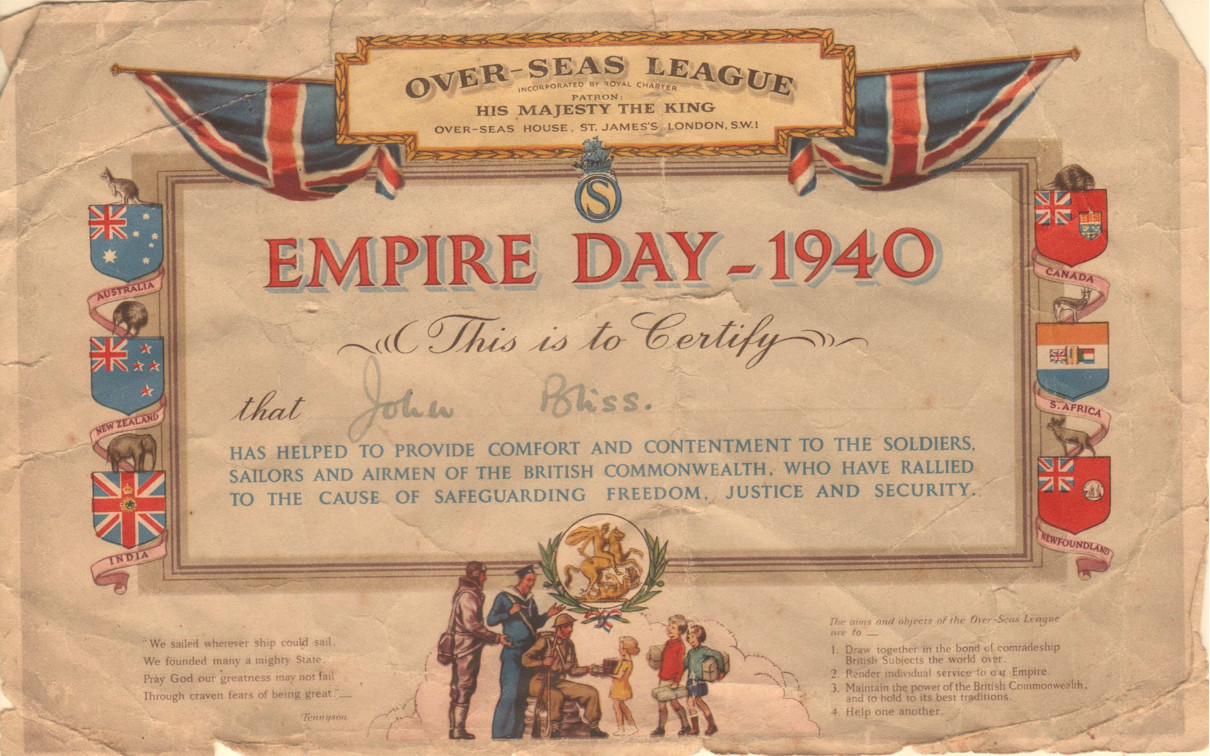 This certificate was awarded to 12 year old schoolboy David John Charles - always known by his preferred diminutive 'Jack'; no doubt the inscriber of the name would be more formal.
Empire day was 25 May, Queen Victoria's birthday, and was celebrated across the Empire as a way of bringing the different countries together.The Overseas League gave certificates to children who helped provide comforts to servicemen during the Second World War. A bit more information about this can be found HERE

The 1939 Register
The 1939 Register provides a snapshot of the civilian population of England and Wales just after the outbreak of the Second World War. As the 1931 census for England and Wales was destroyed by fire during the Second World War and no census was taken in 1941, the Register provides the most complete survey of the population of England and Wales between 1921 and 1951. The complete Deddington Register can be viewed on the Ancestry.co.uk subscription website or viewed as pdfs on our own census records at the foot of this page

Two Bliss households are in the Register

David (II) & Frances are living on Council Street (Hopcraft Lane) with their two children David (11) and Emily (10) at school. David has added Auxiliary Postman to his occupation as a Farmer. Frances described herself as Unpaid Domestic Servant. Was this a humorous way of saying housewife?

David (I) and Charles are on St Thomas Street. This is Charles' (Charlie) father David living as a Pensioner with his bachelor son who describes himself as a Dairy Farmer.