Hosted by
Deddington Farmers' Market
Rob Forsyth & O'Quigley family (see acknowledgements)


The Hancox family history records are extensive. Follow the links to see a substantional amount of additional material not on this page and click on the image thumb nails to obtain larger ones. Where second names are the familiar ones they are underlined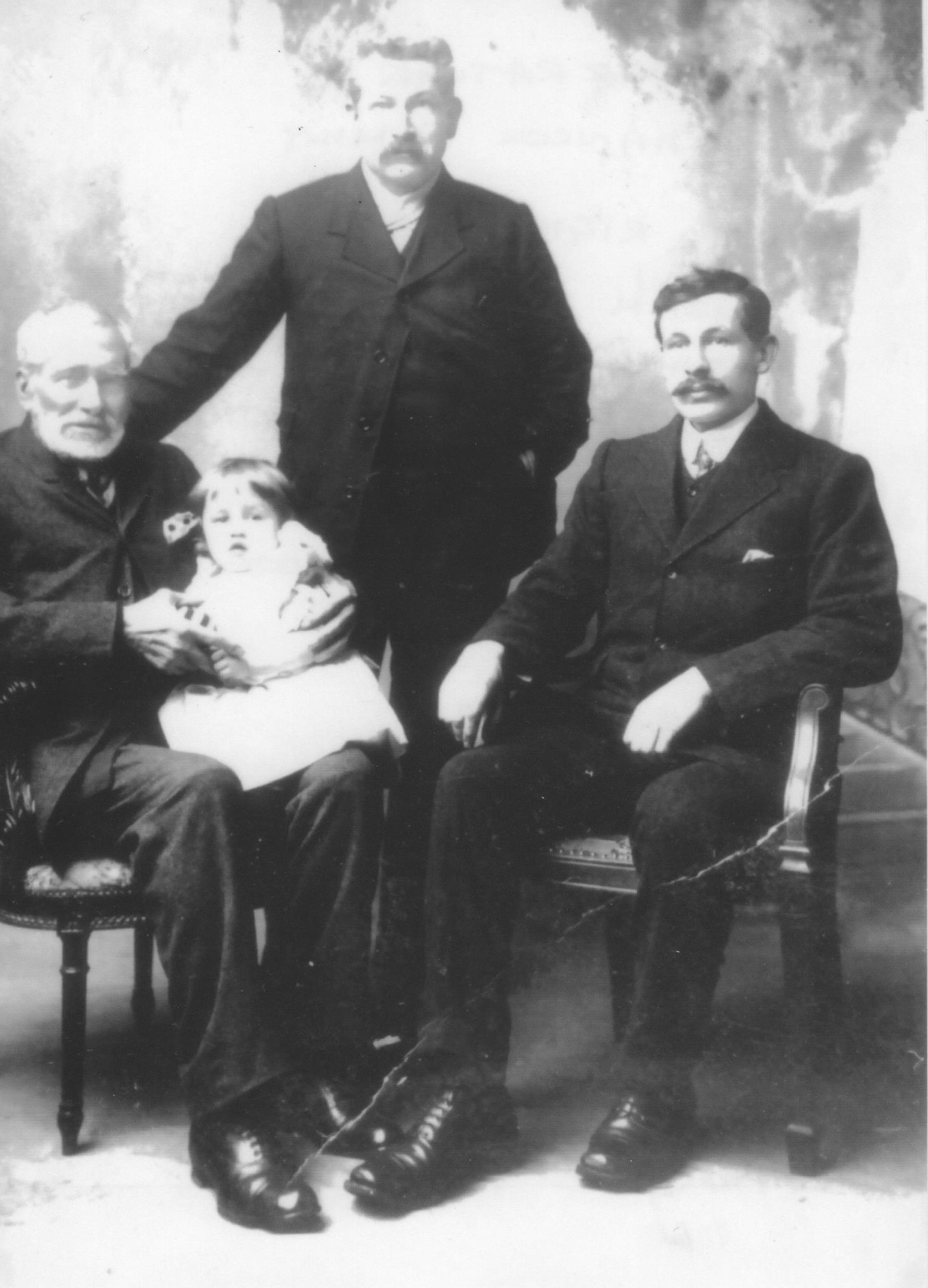 Four generations of Hancox - 19 November 1912

Seated left: Elijah (b.1824) with his grandson
Arthur David (Ruth's father) on his knee
Seated right: Arthur James (b.1859)
Standing: David (b.1857)
Thomas Hancox - Grandfather of Elijah

An entry in G Grandson David's notebook tells us that Thomas went to Jamaica as a plantation manager;* on his way home in c1770 he was press-ganged into the Navy. He served for 7 years and gained a pension.
* The obscured word on the linked page describes plantation slaves in an unacceptable way today.

Elijah Hancox (1824-1914)
Elijah was born in Shenington on 11 June 1824 to James and Alice Winter. He married Ann Hemmings (1819-1895) in 1843. They had six children Sarah (1848-1940), Louisa (1851-1927), Alice (1854-1923), David (1857-1940), James (1859-1923), Ann (1862-??)

He was a joiner by trade. He carried out work for Franklins of Deddington amongst others. He lived for many years in Vancouver in Canada. In the British Columbia Voting List for 1898 he is living with his son James at 1104, Nelson Street, in Vancouver. They are both described as carpenters. He was still travelling to Vancouver in September 1903 as a passenger on the SS Lake Eyrie. The passenger manifest on arrival in Quebec, Canada, includes all three described as builders. One of them is 'JG Adkins'. This is John Adkins, Elijah's grandson and son of Alice Hancox & John Adkins (m.1873).

In the 1911 census Elijah is a widower living in Deddington with his son David & family.

He died on 5 April 1914 and is buried in Deddington churchyard in Grave No.9 on this plan.
David Hancox (1857-1940)

He married Ellen Bell (b.1862) in 1881. They subsequently had seven children: Ella (1882) & Arthur (1884) were born in Wroxton. Walter (1886), Annie (1888), Alice (1891), Rufus (1895) & Edward (1897) were all born in Deddington to where the family had moved on 8 November 1886.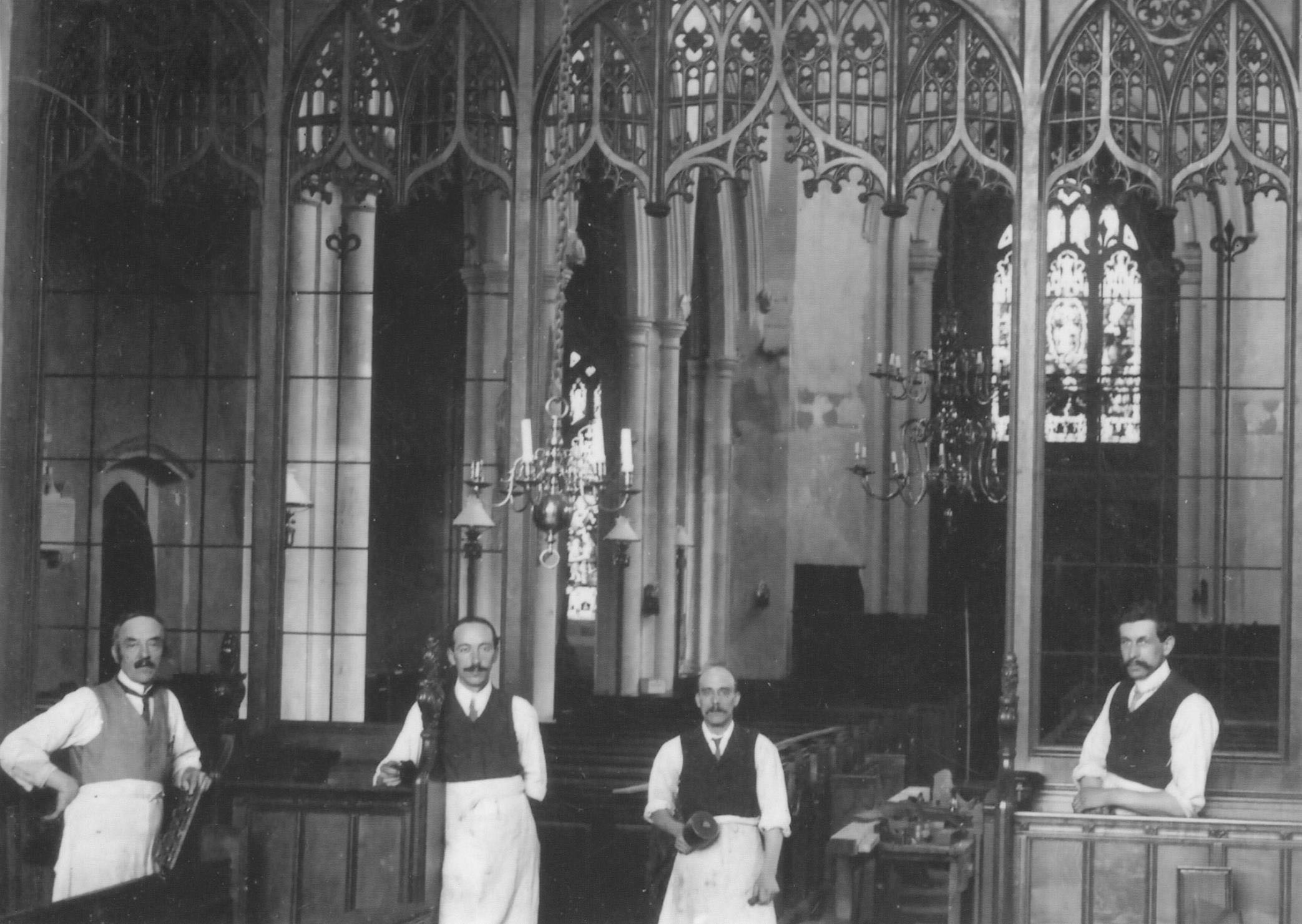 David joined Franklins of Deddington in December 1884. He became its head wood carver & joiner whose work can be seen in Deddington Church - pulpit, lectern, communion rails, altar pieces and restoration of the roof timbers. David is on the left in this photo whose date and location are unknown. Franklins notably designed and carved a pulpit and rood Screen for Hobart Cathedral in Tasmania. Work was completed in 1916.
1901 census With the exception of Ella, who is not in the picture because she was ' in service' and so listed elsewhere, they are all living in The Grove on New Street where this family photograph was taken in 1904

Back row (l to r) Annie (16), Arthur (20, Walter (18), Alice (13)
Front row Mother Ellen (45), Rufus (9), Father David (47), Edward (7)


Father and children can be seen in these school and sports club images below.


David's notebook
This notebook recorded the key events in his life, reminisced about his father Elijah and his own early upbringing, recorded the deaths of his sons and gives detailed record of work he carried out for Franklins. More detail about the contents can be found HERE

He died in April 1940 and Ellen in May 1941. Their gravestone is No.92 on this plan.

Arthur James Hancox (1884-1948)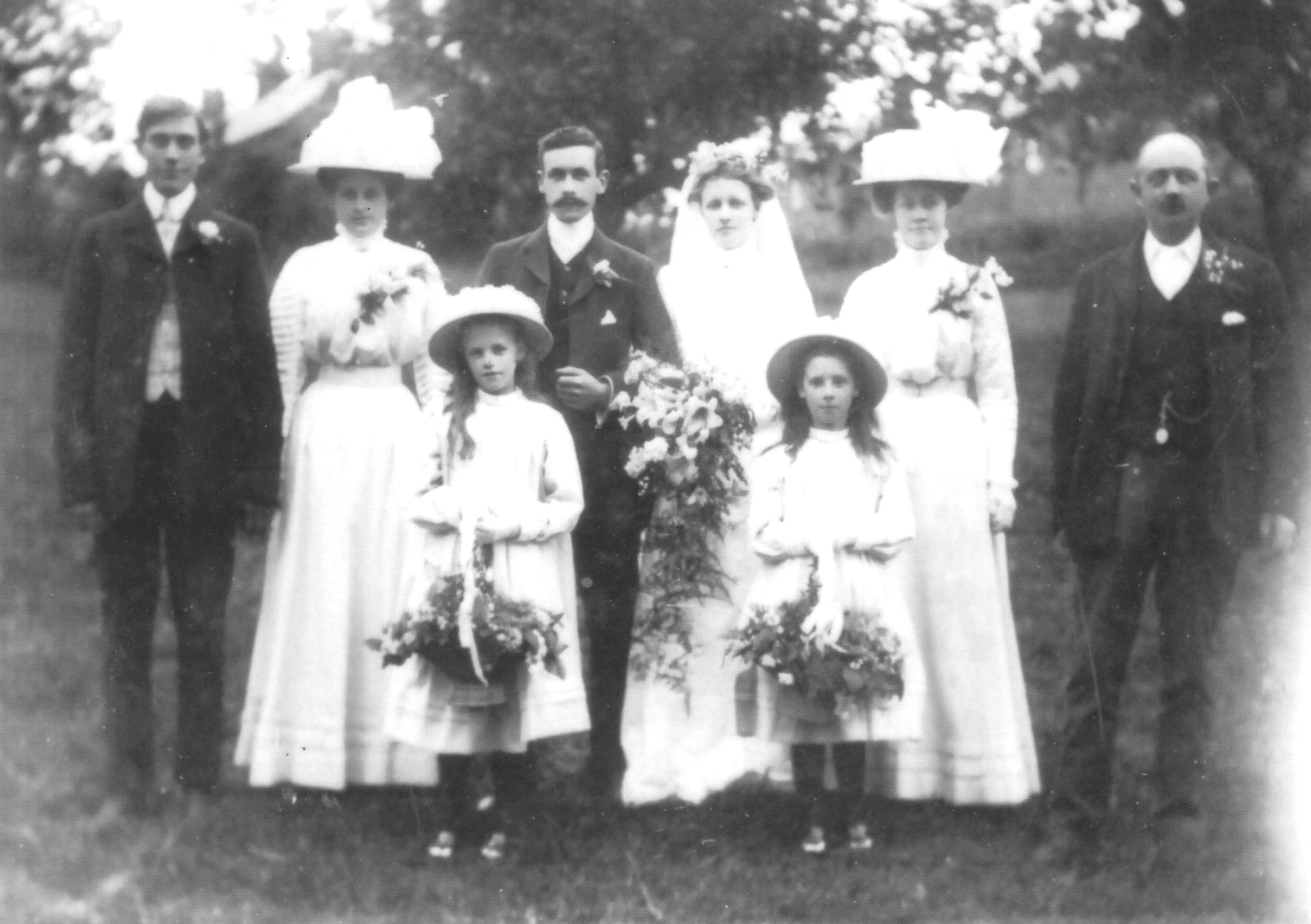 Arthur married Mary Bliss in 1909. More about this extensive Deddington family can be found HERE.

They had two sons Arthur David (1910-1991) and Charles Edward (1914-1972). (Ed's note: Ruth O'Quigley is Arthur David's daughter. Her brother Richard is deceased)

l to r: Charles Bliss, Annie Hancox?, Arthur, Mary, Emily Bliss, David Bliss. In front are the two Franklin sisters.
On 7 November 1915, Arthur travelled to Chatham to enlist as a Sapper in the Royal Engineers. Deddington Deanery Magasine records that he was wounded in October 1917.
Arthur died in 1948 and Mary died in 1957. Their grave is No.116 on this plan.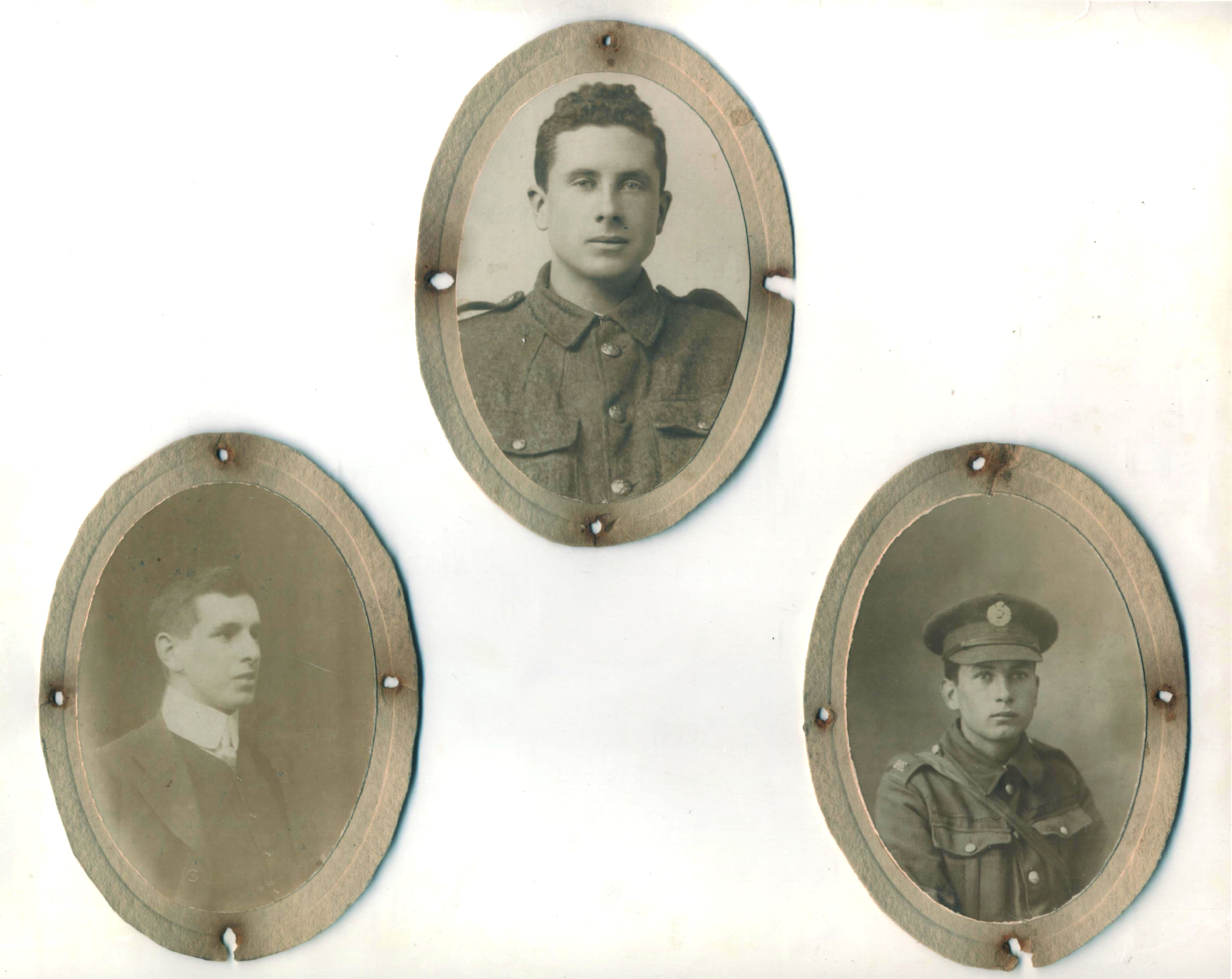 The three younger brothers also enlisted
This framed picture hangs in Ruth O'Quigley's home
Top - Walter aged 30
Bottom left - Edward aged 19
Bottom right - Rufus aged 21


Walter David HANCOX (1886-1916)
Walter joined the army (No.139675) in November 1915 along with brother Arthur. He was a Sapper in 154 Field Company, Royal Engineers.
He was killed in action on 1 July 1916 age 30 on the first day of the Battle of
the Somme. Over 60,000 men were killed or wounded on that day.
From the War Diary of 154 Field Coy., R. E. 37th Div. For July 1916 (WO 95/2523):
BIENVILLERS July 1st.
"All Company standing by at BIENVILLERS [ed- 3km north west of Gommecourt]. Mounted section in bivouac at POMMIERS. About 6.30 a.m. whilst the Company was changing position from the camp on to the sunken BERLES road, two 5.9 shells fell amongst them, killing 15 and wounding 17. One died of wounds afterwards. All these casualties except one occurred in Nos 3 & 4 Sections and put them practically out of action for the time being."
He is buried in Grave VIII B13, Bienvillers Military Cemetery
William Rufus HANCOX (1896-1916)

Rufus also worked for Franklins, joining the company in 1912. He was a Scout and also keen on the army.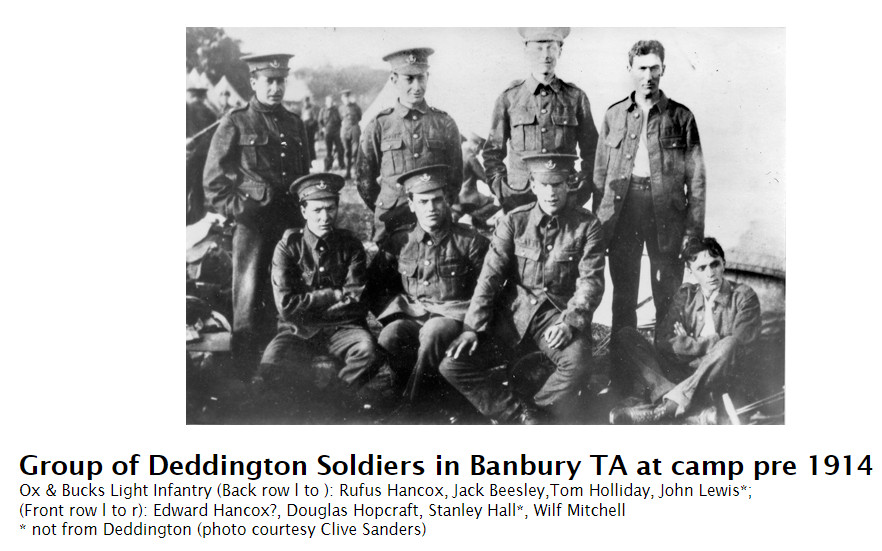 Prior to WWI Rufus - and possibly Edward - is pictured amongst a group of soldiers at Territorial Army(TA) camp. He was the first to enlist as a regular on 11 November 1914 in Oxford (No. 1907).His pre-war membership of the TA would have helped him quickly become a Corporal in the 1st/4th Battalion, The Oxfordshire and Buckinghamshire Light Infantry, 145 Brigade, 48th Division.

He was killed in action near Pozières Ridge on 14 August 1916 age 20. He is remembered on the Pier and Face 10A and 10D of the Thiepval Memorial.
Albert Edward HANCOX (1897-1917)

Edward was a bell ringer
It is not known when Edward enlisted as a Sapper (No.139675) with the 101 Field Company, Royal Engineers

He died of wounds on 24 July 1917 in hospital near Ypres age 19.This was reported in Deddington Deanery Magasine
From 101st Field Coy R.E. War Diary for July 1917 (WO 95/2177):
24th July: "Nos 2 & 4 sections commence work on Sleeper road starting at L R head near BLAUVE PORT and working towards CHESTER FARM [ed – location presumed to be south of Ypres]. While on the job 2 men were killed and 5 injured owing to an ammunition dump nearby exploding. Clasper and Crocket were the two sappers who were killed."
27th July: "Informed by No 11 CCS Spr. Hancox died of injuries from ??? explosion by a shell.".

He is buried in Grave 1 A 4, Godewaersvelde British Cemetery, France

Medals & Memorials

The war medals of all four brothers and the 'Dead Man's Pennies'* awarded to the families can be seen HERE.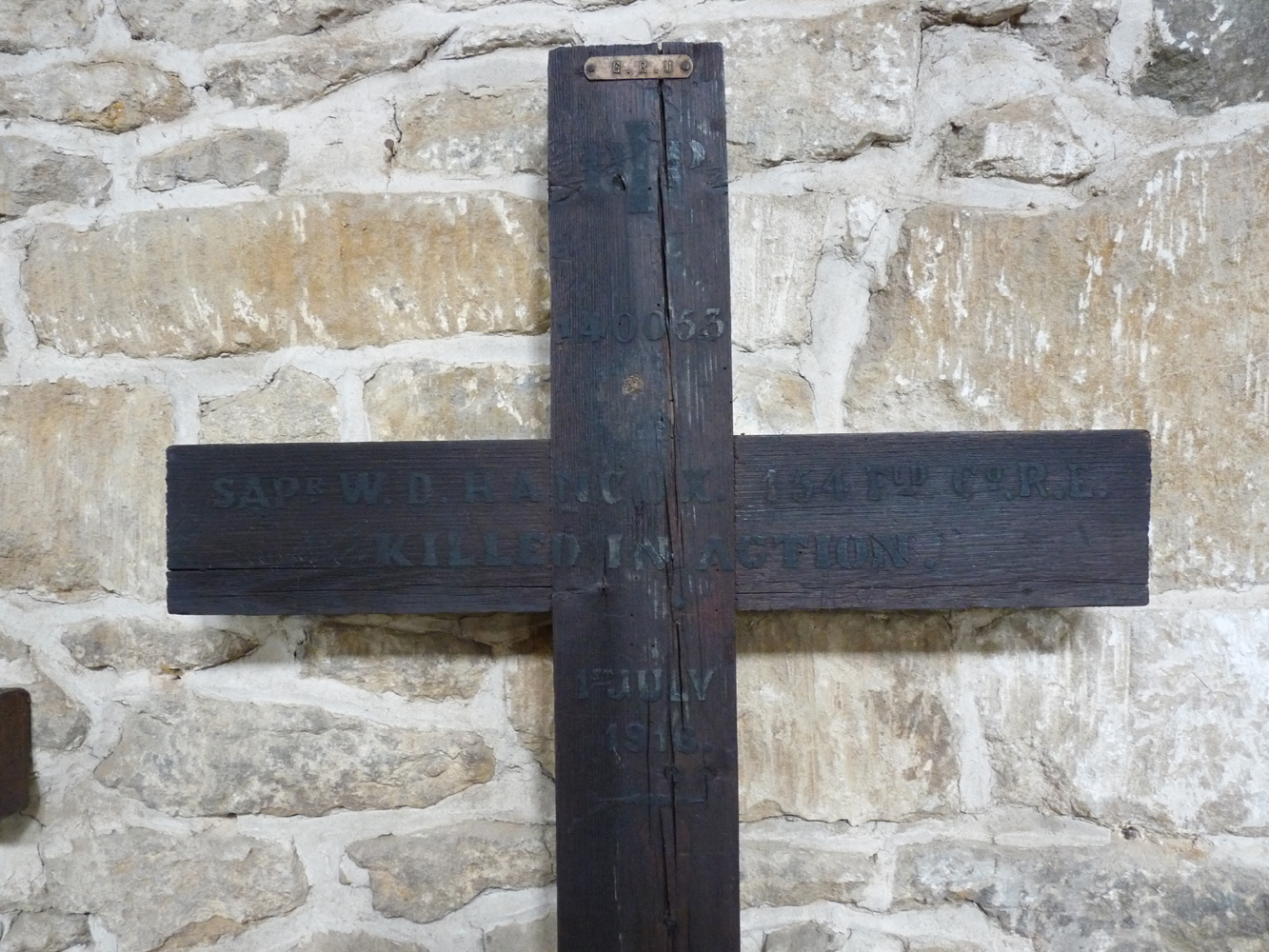 On 4 August 1928 David off to France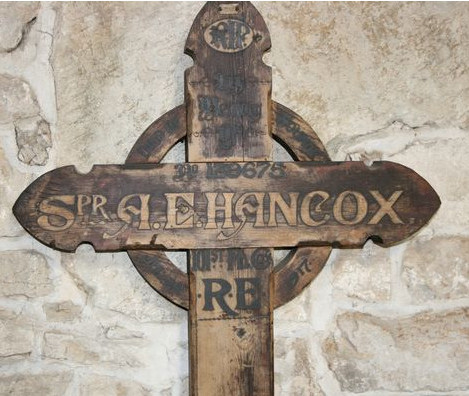 and Belg to find his son's graves. Rufus has no known grave but he found Walter's (l) and Edward's (r) war grave crosses and brought them home. They now hang on the north wall of the church.

*They were made from Bronze and hence popularly known as the "Dead Man's Penny" among front-line troops, also becoming widely known as the "Death Penny", "Death Plaque" or "Widow's Penny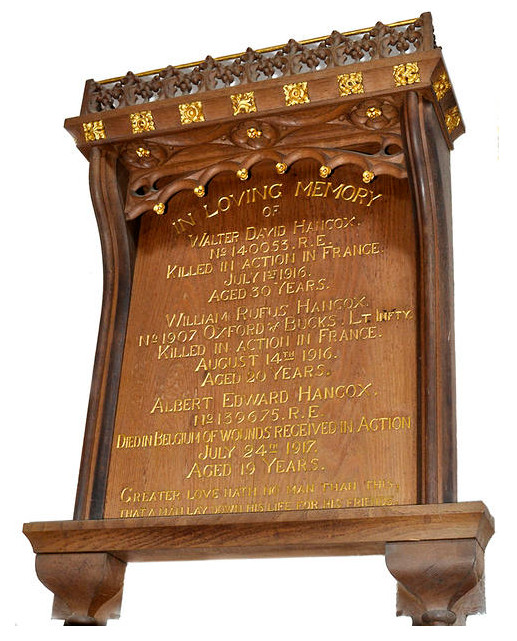 The three brothers are remembered on this Wooden Memorial in the church hand-carved by their father in 1920, a Brass Plaque in the church (1921), the War Memorial in the churchyard (1922), and a Stone Plaque in the church (2013) containing an additional 23 names not on the War Memorial.
Images and Media
The Banbury Guardian and Banbury Advertiser Both newspapers featured articles at the time of the deaths of all three brothers

BBC TV and Radio Oxford Both recorded programmes in which the Hancox brothers featured on the 100th anniversary of the Battle of Passchendaele (2017)

Images of gravestones and their locations have been copied from a CD-ROM compiled by Oxfordshire Family History Society which can be purchased from the OFHS online shop
Information from the following websites has been incorporated in this article:
Acknowledgement
Thanks to a serendipitous phone call to our Vicar prior to Remembrance Sunday in 2021, I made contact with Ruth O'Quigley and her son Ronan who are custodians of the Hancox family records. Ruth is the great granddaughter of David Hancox whose four sons all went to war and the youngest three of whom were all killed. David recorded their deaths in his notebokk along with his departure to search for their graves. He also recorded much of the work carried out by Franklins of Deddington during his long career with that firm. My very deep thanks go to Ruth and Ronan for the priviledge of sharing their family archive.