Hosted by
Deddington Farmers' Market
THE ORCHARDS, HOPCRAFT LANE
Compiled with the help of Anthony Ray, John French and his cousin Tim Harry.
1740: William French, b.Deddington; d.?
1823: John French, b.Deddington; d.?
???? Nathaniel Stilgoe (b.??; d.1867)
1917? sold house & grounds [for £350] to William 'Bill' Joseph French (b.1866, Duns Tew; d.9/1/1960, Snitterfield; m.Emily Gibbs, (b.1866, Deddington; d.4/3/1955, Deddington) on 6/12/1890, Deddington. Bill and Emily are buried side by side in Deddington.
Their children:
William Loder (Loder), b.1892 Emigrated to Australia in 1913. Joined the Australian Army in 1914 and subsequently died in Deddington in 1916 from a serious illness following his landing at Gallipoli. A full account can be found HERE.

John Maurice (Maurice), b.1894 (m. Freda)
Gladys Emily, b.1899, m.Harry Douglas Hopcraft 1921, Woodstock;

Margaret Ann (Madge), b.1900; m.James Walter, 1925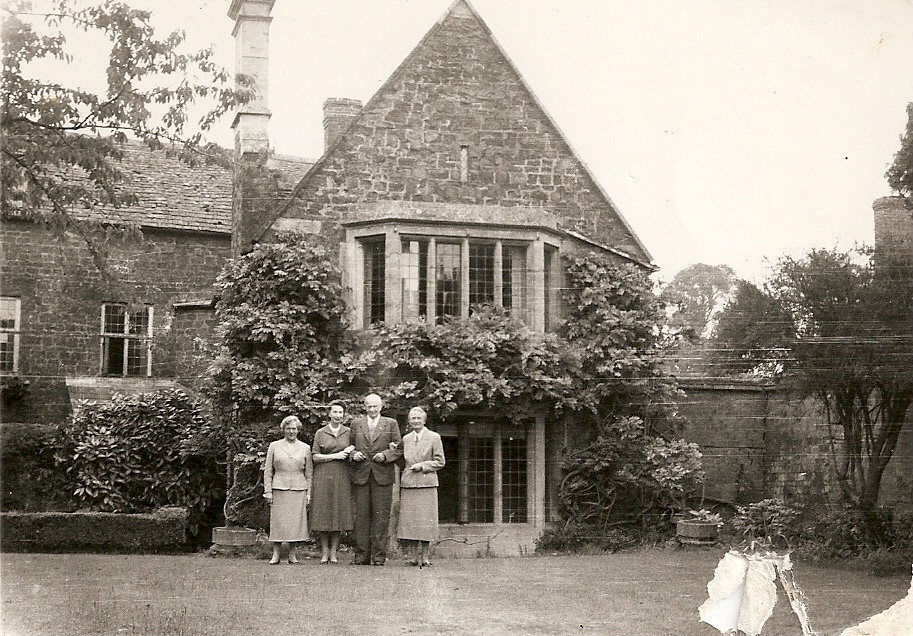 Bill French arm-in-arm with his daughter, Gladys Emily Hopcraft, on his right side; to his left side is Flow Plackett, who was headmistress of a girls' school – Gladys was also a teacher. To Gladys' right side is probably Florence, who was Flow's housekeeper.
Extracts from an email from Dr Tim Harry to his cousin John French, 15 April 2012:
"I used to spend a couple of weeks every summer with my Great Aunt Gladys and Uncle Douglas at the Mount. The whole family were mad on cards. 'Madge' (b.1900), my grandmother (Gladys' sister), played bridge till she was about 93/94.
Bill bought The Orchards in either 1917/1918, whilst running the farm. Maurice, his son, was going to be an architect but was shell-shocked in WWI and took on the farm instead. Loder, as eldest son, would have done but tragically died of meningitis some 3 months after coming out of Gallipoli, one of only 3 out of 1200 to have survived from his regiment.
I do not know when The Orchards was sold by the French family. Maurice and his wife, Freda, had a newish house up at the top of Deddington and had the bowls green and grass tennis courts in the garden.
Gladys was also a good tennis player and played on the tennis courts at Adderbury; she stopped in her mid-80s.
Joan, Maurice's daughter, was the last of that line to live in Deddington. She and my mother were close cousins, both went to secretarial school in Oxford. Joan lived in London for most of her life; married Garvin (Fisher) who was a director of Courtauld's. They retired to a small cottage in Deddington, next to the entrance to the Castle Grounds."
Dr Tim Harry's mother, Barbara Harry (née Walter), married to Glyn, is Madge (née French) and James Walter's daughter.
Extracts from an email from cousin Tim Harry, 29 April 2012:
"As far as William French and family - Madge left Deddington in about 1925 to marry James Walter and lived in Warwick and then moved in about 1955 to Snitterfield. Part of the Walter family still live in the same house in this village just outside Stratford upon Avon.
James's father, also called James, was a stone mason who did work at Deddington and lodged with William French. This led to Madge and Jim meeting.
Gladys and Maurice obviously lived all their lives in Deddington.
Gladys and Douglas had a son but he died young of polio.
Maurice and Freda's daughter went to secretarial college and then went to Paris just after WW2 to work for UNESCO and then went to London, married and lived there for most of life until returning to Deddington later in life.
My mother is 99% certain that Emily French died in Deddington and not Snitterfield."
Extracts from an email from John French, 29 April 2012:
"It was my branch which left Deddington in the late 1880s, which was my great grandfather Frederick James French (b.1860; my great/great grandfather Samuel remained - he died in 1905 and his wife Mary Ann died in 1921; other great uncles and aunties remained but I can only trace them up to the 1911 census. It was Tim's branch of the French family which left last."
Extracts from an email from cousin Tim Harry, 10 May 2012:
"I am afraid that the farm is a bit of an unknown area for me. However I do remember as a child going up and collecting fresh milk and cream from churns. This was from a room in a yard opposite the Orchards, so I assume was part of the farm mentioned."
Mr French already owned the farm opposite (then Banbury Metalcraft, later New Rose, but owned by M (Maurice?) French), & retained the stable-block & gardens until his death in 1960.
His executors (John Maurice French, then of Earls Lane, & Mrs Hopcraft, The Mount, Goose Green) then sold to R. K. Powell, who divided up the land selling the old house & stable to Mrs Constance Louise Wilson [for £5,400].
19??: sold yard & workshops (whether now or later is not recorded) to Mr. Baker (d.1960 in an accident)
1960: sold to Johnson's Ltd.
1968: abortive sale to Patricia and Bryden Faulds [for £12,100]
1969: sold to Oliver & Rewa Ray [named after the hospital ship that Anthony Ray's grandfather was on at Gallipoli] [for £12,500]
1994: house passed to son Anthony Ray and his wife Susie
1996, July: sold to Walter and Wendy Meagher [for £241,000]
2011, July: sold to Peter Kenny and Kayt Griffin
Other owners:
John Bollinghall Whyte
William Long Franklin
Albert Janes
John Maurice French (son of J.W.)