DH
Created as a
Millennium Project
Rob Forsyth & Joanna Cox

I am most grateful to Joanna who has done much of the research for this article inspired by the fact that her Grandfather, John Harry Cox (b.1903), served in the Deddington Fire Brigade.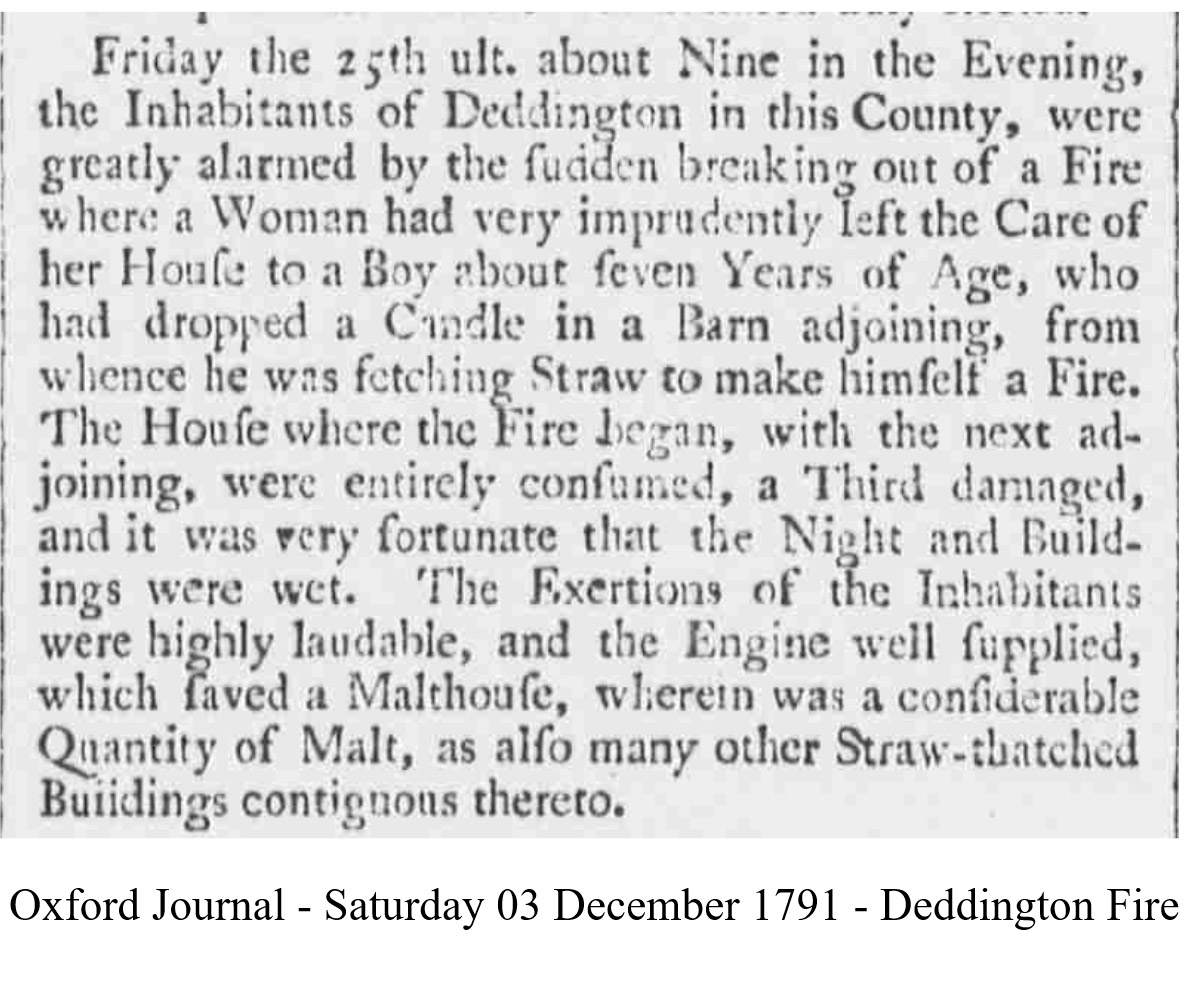 1664 - 1858 According to Victoria County History, the fire engine had always been kept in the church. The Oxford Chronicle (c.f.22 March 1884) says this had been for the last 200 years i.e. since c.1664.
The earliest newspaper report of a Deddington fire is contained in this article (l) in The Oxford Journal from December 1791.There are also reports of fires in Barford and Souldern in 1838 and Duns Tew in 1843 all of which likely used the Deddington engine because the Volunteer Brigade, once formed, later attended at these villages.

click on this and all subsequent images for larger versions

1858. The fire engine was moved from the church to under the town hall. There is then some confusion as to quite when it was moved to the Coal House on Goose Green. According to a Deddington Charity Estates meeting in 1926 it returned to under the Town Hall and was certainly housed in Hall's Garage on Earls Lane by WWII. Extracts from the Deddington News, Victoria County History and Rev.Cotton Risley's diaries all have something to say on the matter.
1871-81 George Coggin's Scrapbooks, also contain a reference to the costs associated with maintaining a fire engine and hiring it out for fires at Barford, Clifton and Aynho Station suggesting that the engine was used on a self-help basis. It is not clear who owned the engine to collect the money.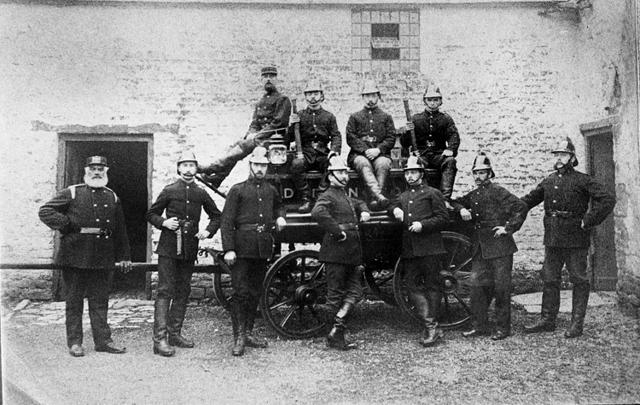 19 January 1883 At a Parish Vestry Meeting it was agreed to form a Volunteer Fire Brigade. In October the existing engine was deemed unsuitable and a decision to buy a Merryweather engine was made; so there is ambiguity as to whether this undated photograph is the original or a new horse-drawn engine. It was housed from now on in the former Coal House on Goose Green.
Captain: Mr. George Strange Hedges - Farmer of 140 acres, employs 4 labourers & 3 boys - Earls Lane: Lieutenant - Mr. John Bennett - Builder - Church Street, Deddington: Engineer - Fireman A. Churchill: Fireman - W Hawkes: Fireman - T Smith

21 February 1884 The Banbury Advertiser reported that the new engine had been successfully tested while attending a fire at Lord Haldon's 'hunting seat' in Adderbury.
22 March 1884 The Oxford Chronicle (c.f. Index Folio 170) reporting on the arrival of Deddington's new horse-drawn fire engine, said it had seating for 16 firemen, a powerful hose and that the previous engine had been in use for c.200 years and had to be filled from buckets. The 1883 image does not seem to have seating for 16 so is more likely to be the original engine.

Newspaper Reports

The formation of the Brigade, the names of its crew members, the local supply of uniforms, its first drills and reports of attendance at fires have all been regularly commented on in newspapers; reports from which provided by Joanna Cox's personal archive, together with several by John Plumbe, can be accessed HERE. Those researched by David French in George Coggins scrapbooks can be accessed HERE

| | |
| --- | --- |
| | 1896 There was a bit of a stand-off between the Brigade and the Parish Council (PC) resulting in the PC taking it over. The PC subsequently advertised the old engine for sale (top left). The replacement may have looked like this 1894 Merryweather (bottom left) |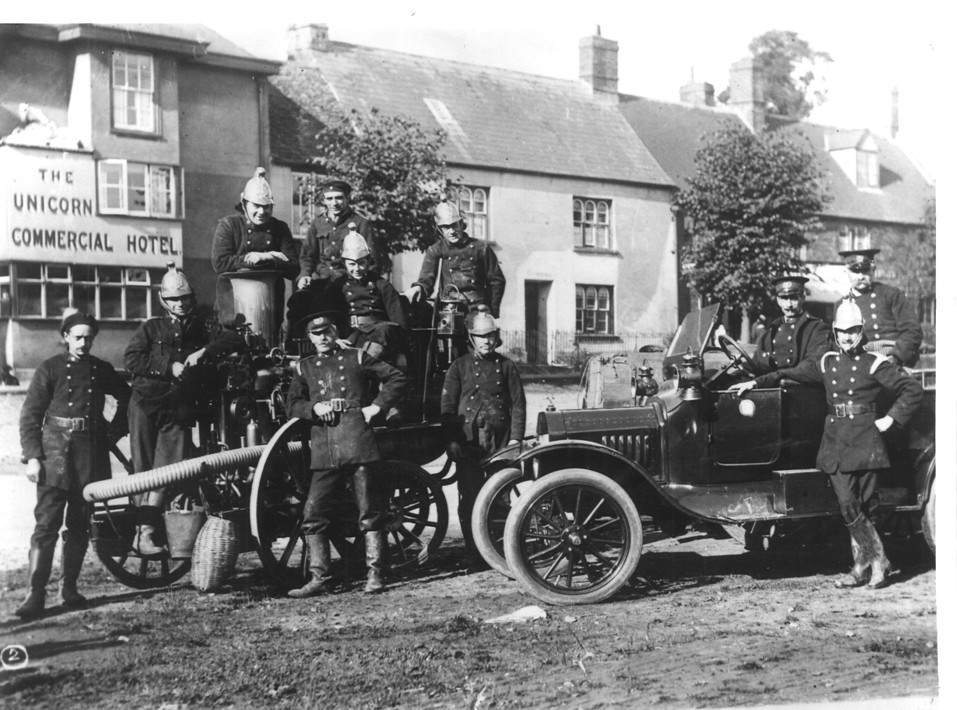 c.1923 The image is of a joint Deddington/Brackley crew competing in the annual regional competition (see also the 1927 photo). Joanna spotted it in the book The Way it Was and also found it in Brackley Library with a note of some of the names but only Brackley ones with others identified as ??. However, as Walter Allen Course of Deddington is identified in the text in the book and it was taken in front of the Unicorn Inn and it's a Deddington engine, then the ?? are almost certainly Deddington men and have been identified as such below.

Top sitting L to R: Percy Bagnall (b.1902); Deddington man; Gerald Judd (b.1897); Edward (Ted) Isham (b.1898);
Standing L to R: Charles (Charlie) Pether; Walter Allen Course (Deddington man b.1901); Deddington man; Robert (Bob) Jones (b.1876); Deddington man;
In the car L to R: Deddington man; Deddington man; John (Jack) Woodham (b.1860)

22 October 1925 Banbury Advertiser The newspaper carried a report of of how Mr & Mrs Herbert Long, together with their family and servants, escaped from a serious fire whch broke out at 3am. Shortly after the alarm was raised their two sons had to flee their bedroom - getting burnt feet on the way - which almost immediately collapsed into the fire below. "The whole of the structure comprising the original manor, with its quaint Oriel windows, was completely burnt out."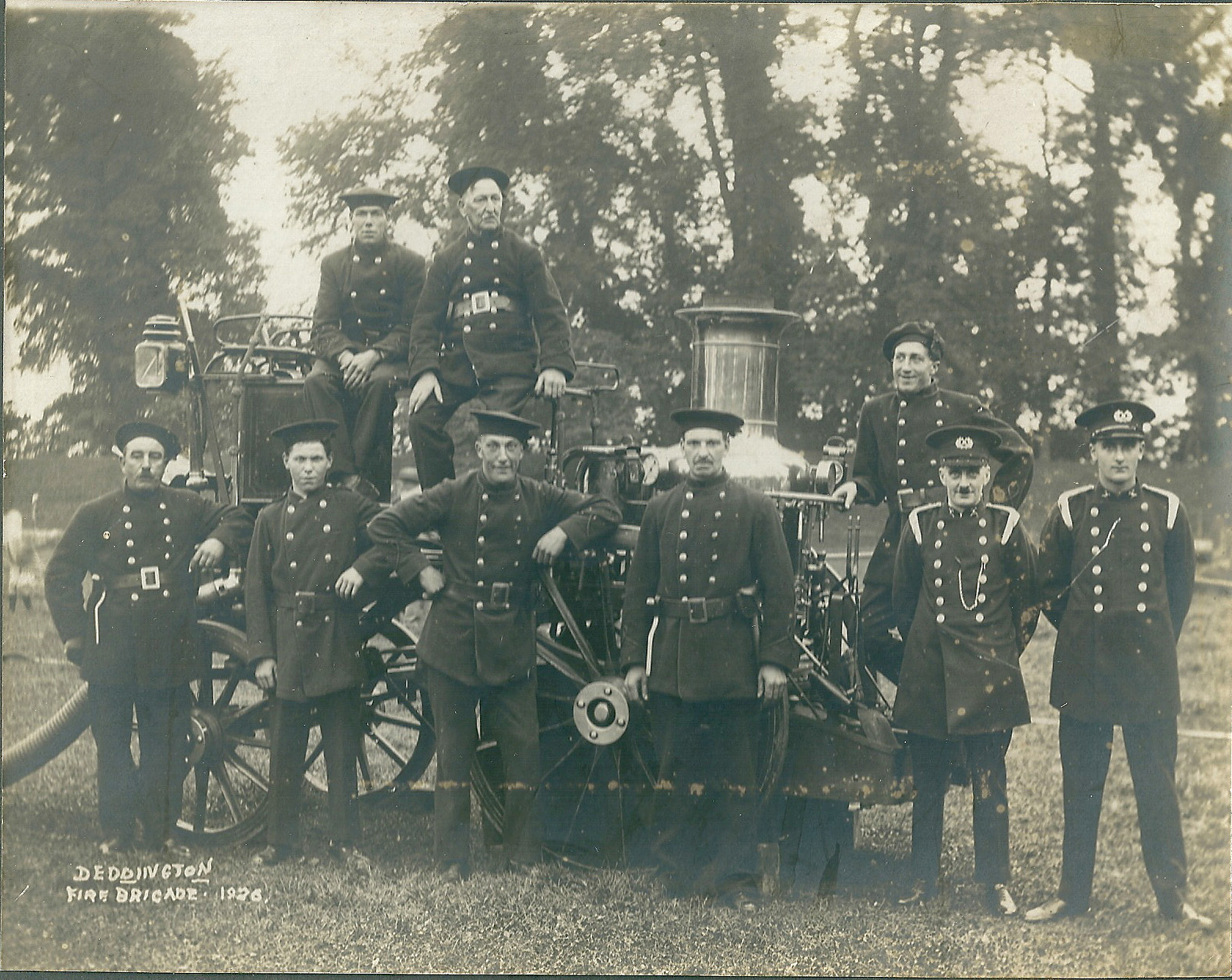 8 September 1926 The image is of a postcard in the Packer collection courtesy of Jean Welford. The same image of "Deddington Fire Brigade with their new engine" was placed in The Oxfordshire Weekly News. The engine had been moved from the Coal House and was now kept under the Town Hall. It was a coal driven steamer towed by horses.
This photograph and the names of the crew (l to r) were provided
by Colin Cox whose father is in the front row:
Back row: unknown, Bill Checkley, unknown
Front row: Cyril Austin, John Harry Cox, Jack Callow, Horace Tibbets,
Jack Baker, Jack Painter (?)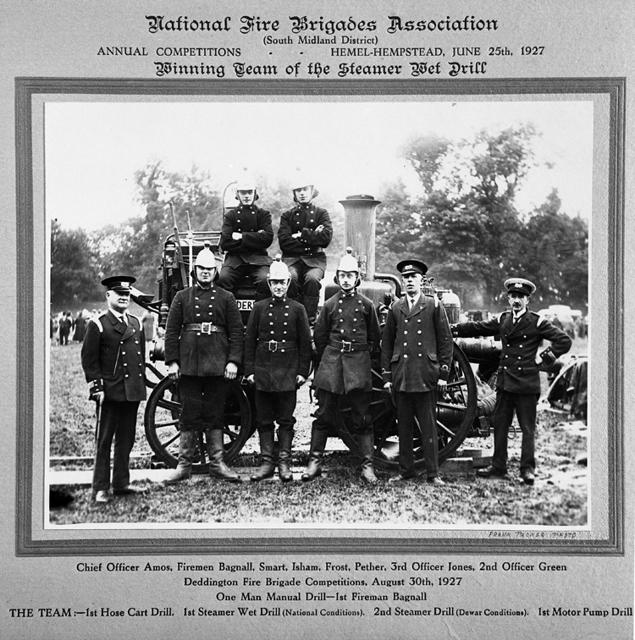 1927 This image hangs on the wall of the Fire Station Office and depicts a combined Deddington/Brackley competition crew.

Chief Officer: Harry Amos is a Brackley man
Firemen: Percival W Bagnall (b.1902) - is a Brackley Fireman
Smart - Deddington man?
Edward Isham (b.1898) - is a Brackley Fireman
Frost - Deddington man?
Charles Pether - is a Brackley Fireman
3rd Officer: Robert Jones (b.1876) - is Brackley Fireman
2nd Officer: Green - a Deddington man?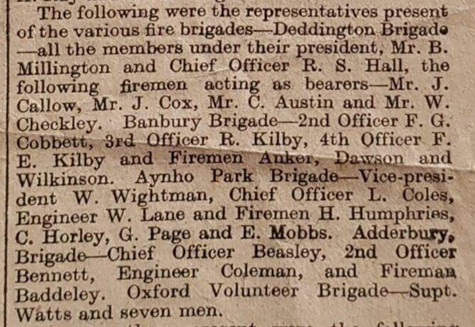 1934 The funeral of John Henry Hiorns was held on 28 December in the Congregational Chapel. He was 2nd Officer in the Deddington Fire Brigade. He had died on 17 December aged 41 from septicemia in a wound incurred in WWI. It was reported in the Banbury Guardian (left) and also the Banbury Advertiser on 3 January 1935. He was a very well known and popular man and the assembled mourners in the Congregational Chapel was reported to be the largest experienced. 200 people followed the cortege and people lined the streets. The service was attended by 34 fireman in uniform including representatives from several local Brigades.
1938 Responsibility for the Fire Service passed from the Parish Council to the Rural District Council - precursor of todays Cherwell District Council.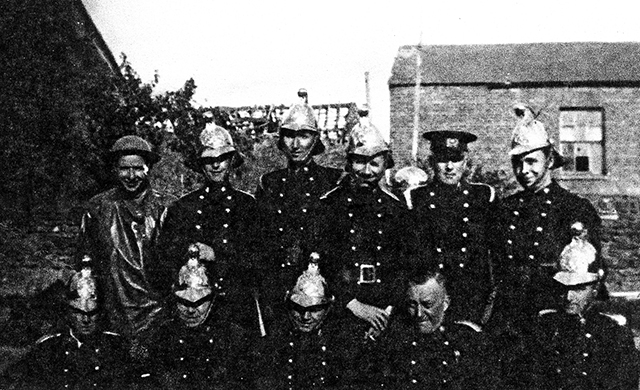 1939 Names of the crew courtesy of Albert Humphries MBE.
Back row L to R: Percy Humphries, Alf Williams, Albert Ray, George Busby, Stanley Hall (Chief Officer), Albert Sanders;
Front row L to R: Fred Davies, John Cox, Ernie Callow, Jack Callow, Ben Kerridge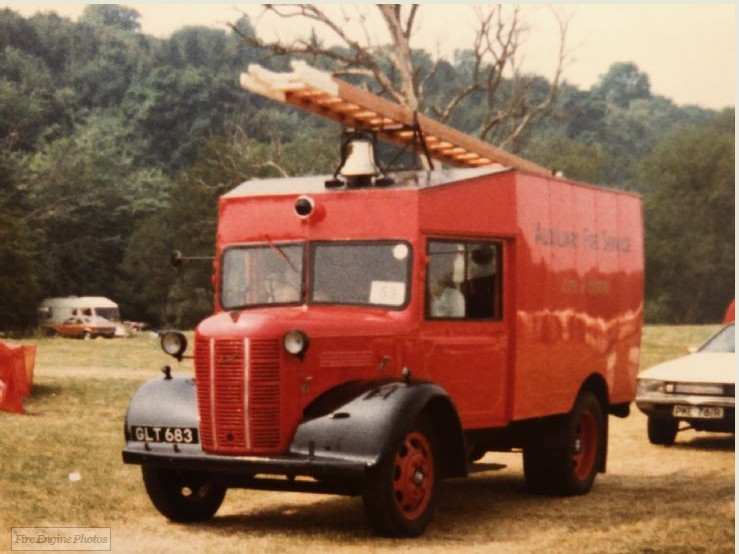 1930s- 40s Don Walker remembers that the engine - another Merryweather - was garaged in Stanley Hall's bus garage behind the Kings Arms pub (of which Stanley was the publican - now the Deddington Arms) on Earls Lane - or 'Back Lane' as it was locally called. Walt Gibbs remembers it as a box-like self-propelled vehicle with a ladder on top so it was probably similar to this image (l). It only held 200 gallons so, for bigger fires, a trailer pump such as in this photo - stored in what looks like Halls' bus garage area - was needed. The warning siren to call firefighters was mounted on a pole at the entrance to Franklin's yard. Walt said that it made the electric lights flicker when it went off.
19 March 1941 A large fire at Lady Denbigh's thatched house in Clifton caused £1000 worth of damage [£35,000 in 2023 money]. Some of the occupants were evacuees who had left London to escape the fires of the blitz only to encounter one in Clifton.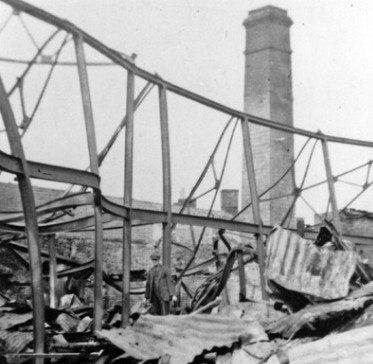 24 April 1941 Johnson's Timber Yard This may have been the most significant parish fire that Deddington Brigade has had to attend in its history. Derrick Robbins, who was a small boy at the time relates..." I remember with clarity the night my Aunt Mill Ell got me out of bed and took me down through the market square to watch the horrendous fire. Deddington at the time only had a very old hand-cranked trailer pump which had no effect on the fire*. I remember vividly going the next day down to the yard to see the utter devastation caused and to witness the horrid smell of burnt timber. The delivery lorry was just a pile of twisted metal giving proof to the great heat that was generated. Some folk said it was sabotage and some, God rest their souls, said it was the only way the man from the Ministry of Labour could move Uncle George, to send him to the Aluminium Factory in Banbury!"

*The Banbury Advertiser commented on this too. Fortunately the Banbury Brigade was better equipped. At one stage it looked as if the fire would consume the Doctor's house and surgery (now Featherton House) on Chapel Square and perhaps more.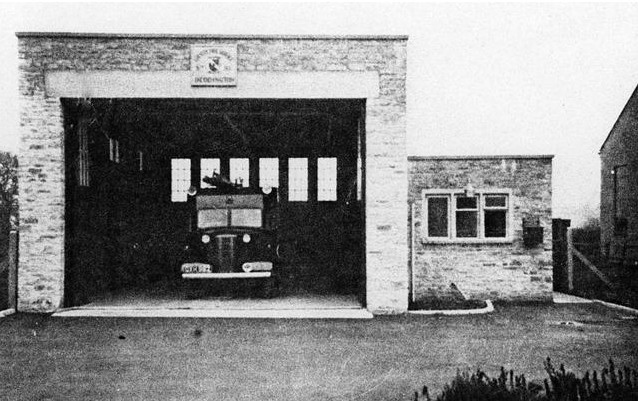 19 August 1953 A new Fire Station was opened by Lord Macclesfield who also opened a new Station at Hook Norton. The latter event occupies most of the Banbury Advertiser's article! George Busby was Deddington's Sub-Officer in charge. The present Station is on the same site but has been extended and added to since this photograph was taken in 1953.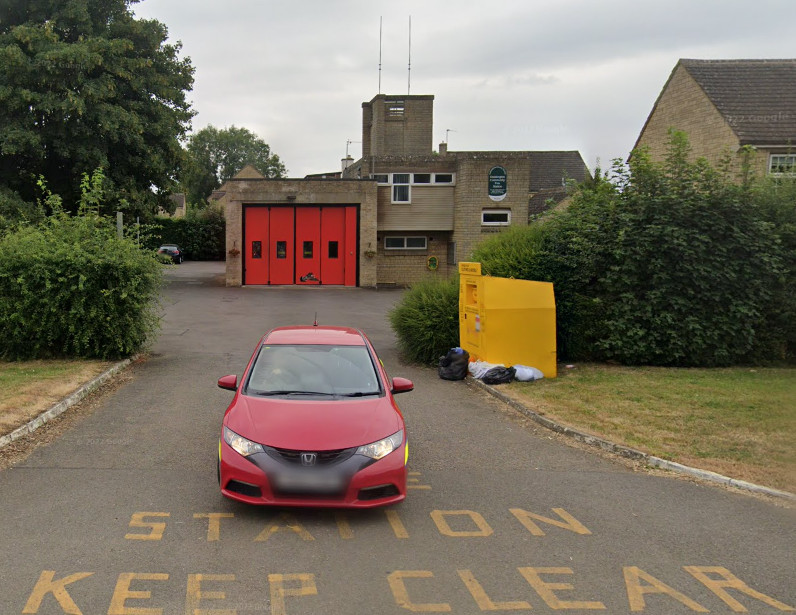 1978 The Station was increased in size and a training tower added. The car in the image is a Fire Service one.

Albert Humphries (who served from 1968 to 2001 and as Sub-Officer from 1982) tells that prior to this the Brigade had to carry out high level exercises using the old warehouse in the Bull Ring. This included rescuing volunteers from the top storey. Getting the volunteer to relax - easier to carry - was the first challenge! He remembers that during his time the largest fires were at Bibby Seed Mill, Gilkes Mill by Banbury Station, Witney Blanket factory, an abattoir in Buckinghamshire and Barton Abbey. Albert is proud of the fact that Carol Shirley, the first female firefighter in Oxfordshire, was a member of his crew.
A list of other firemen who Albert remembers serving are: Les Berry, Bill Boyd, Ernie Calllow, Jack Callow, Harold Cox, Rodney Hayward, Ben Kerridge, Sid Munson, Barry Paginton, Roger Paginton, Charlie Sykes, Frank Tarling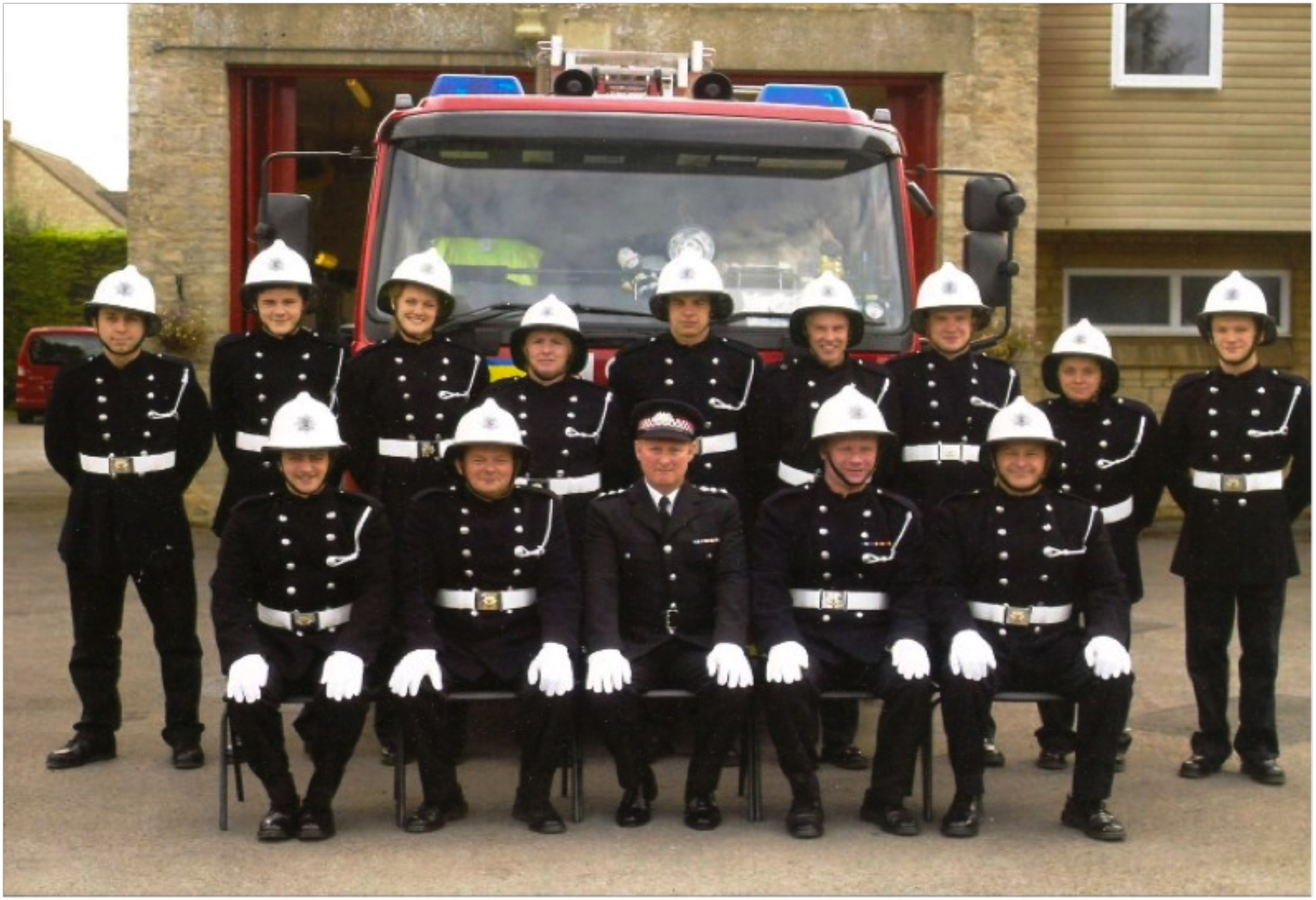 2013 Station crew

Back row R to L: FF Lewis Mahony, FF George Williamson, FF Sharon Wilson, FF Rachael Freeman, FF Tom Hall, FF Martin Freeman, FF Adam Franklin, FF Nicky Isted, FF Colin Smith,

Front row R to L: Crew Manager Graham Harding, Watch Manager Chris Fenemore, Station Manager Darran Hookway , Watch Manager Matt Smith and Crew Manager Tim Parker (Pic courtesy of Sam Allan)
Deddington Fire Service Awards & Honours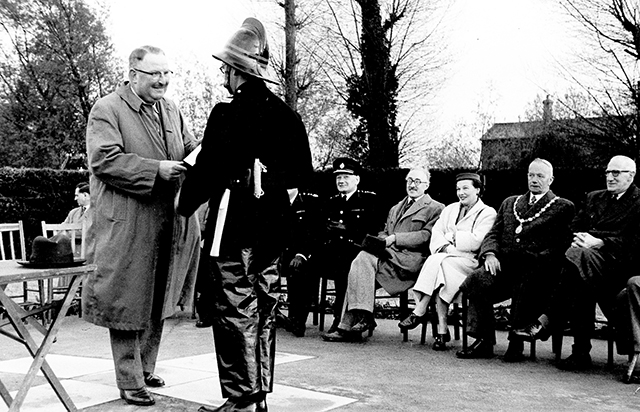 George Busby (Station Commander) being presented with an award at Blenheim Palace in the 1950s. Two other photographs of this occasion are in the Gallery - see link at foot of page.

Long Service & Good Contact Medals
These medals are awarded within the Fire Service for more than 20 years service. There are clasp for 30 and 40 years service. Those awarded the LS&GC medal in Deddington Brigade include, in alphabetical order - Martin Freeman, Brian Fuller? Andy Hayward, Chris Fennemore (2023), Albert Humphries, Dick Powle? [ more names & dates still being researched]
Two members of the Deddington Fire Service have received the honour of being made 'Members of the British Empire' (MBE). Photographs are courtesy of 'Royal Investiture/BCA Films'.





Albert Humphries
31 December 2001
Anne Waters
31 December 2006
Fire Station Commanders
The title has varied over the years from Captain in early days to Sub-Officer and now Watch Manager. A list can be found HERE . The list in not complete either for names or dates. Any new information will be welcomed - contact me as for the Gallery below.

Gallery
All these images and many more can be found in the Fire Service Album.
Not all the images in the album are captioned as to their content and/or source. If anyone can supply more information then please contact me.