Hosted by
Deddington Farmers' Market
Deddington Map Group (DMG)
Published 1998
The following article is based on the original DMG Millenium Project leaflet (pdf) and is published with its kind permission
Deddington, Clifton and Hempton have a long, rich heritage of churches and chapels, and in late 1998 the Deddington Map Group published an illustrated guide in the form of a leaflet. The Group has graciously allowed reproduction of this leaflet with minor updates.
Please click on the small "thumbnail" images in the text to see illustrations and pictures at full size.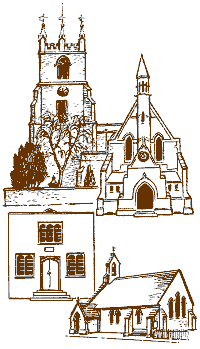 The material has been organised in to 4 sections:
Sources:
A History of Deddington, Oxfordshire, H.M. Colvin, 1963
The Story of Deddington, Mary Vane Turner, 1933
Church leaflets, archives and public records
Deddington Oral History Project
© 1998 Deddington Map Group
*Editor's note:
Click HERE to see a further article about the Parish Church by Marianne Elsley
Or HERE to read details of 19th Century enhancements and additions to the the Parish Churches as noted in the Parish Registers.