Hosted by
Deddington Farmers' Market
Millennium Map
Deddington's Millennium Map was launched in November 2000. This ambitious project was three years in the making, and involved a specially commissioned aerial survey, painstaking hand colouring, artistic illustrations, historical research and computer technology. The images are snapshots of Deddington, Clifton and Hempton at the end of the 20th century, and informed by the past. It received an initial loan from the Parish Council; not only was it able to repay this from the proceeds of sales but then went on to make a significant profit which has contributed to the funding of many other parish projects. The full story of this highly successful project is a tribute to the many talents employed from within the Parish.

Full-size facsimiles of the map, measuring roughly 2.5m x 1.5m, are on public view under the Town Hall and in the Windmill Centre. It comprises six panels: Map of Deddington, Fields and Farms of the Parish of Deddington, Clifton, Hempton, History of Deddington, and Ages of Buildings.
Based on the same cartography by Peter Terry, there is a street map which contains just the names of the streets and by-ways in the village. It has Google Maps zoom and pan facilities but is not directly printable.

Discovering Deddington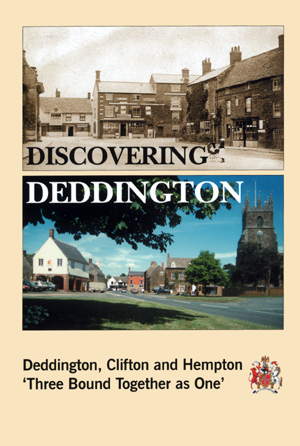 Discovering Deddington: The first new book on the parish of Deddington for nearly 40 years was published in May 2000. It is about Deddington, Clifton and Hempton at the turn of the millennium - 'three bound together as one' - the meaning of the Old English motto on the coat of arms. The writing is lively and crisp, the drawings, photographs and maps attractive and informative. The book was written, designed and illustrated by a team of local volunteers. It was initially funded by the Parish Council but was soon self-financing.
The full text, with images, can be found by clicking on the cover (l)

Discovering Deddington's headings tell of A Walk Round Deddington, Eating and Drinking, Into the Countryside, A Walk Around Clifton, A Walk Around Hempton, Daeda's Wood, Farms and Fields, How to Get Here, Where to Stay and, finally, Village Notice Board - services, clubs and societies.
234mmx156mm, 64pp pb, 8pp colour section (37 colour illustrations), 69 line drawings, 37 halftones, 9 maps
Map Group Leaflets
A series of leaflets was produced. The links below are to articles based on the leaflets with links and zoomable images. At the head of each article there is a link to a facsimile (large pdfs) of the original leaflet.