Hosted by
Deddington Farmers' Market
By Rob Forsyth

Former Primitive Methodist Chapel & then Salvation Army Barracks

This cutting from Jackson's Oxford Journal of 10 August 1878 reports the laying of the foundation stone for the Primitive Methodist Chapel in New Street. The Mission Hall in which tea was held was, at the time, the Methodist Hall in Church Street.

The Salvation Army movement grew out of Primitive Methodism and the chapel became the building known as The Barracks in 1898 when it was said to be "a little Bethel" Editor's note: "Bethel" - House of God, pile of ruins now called Beitin, situated about 18km North of Jerusalem.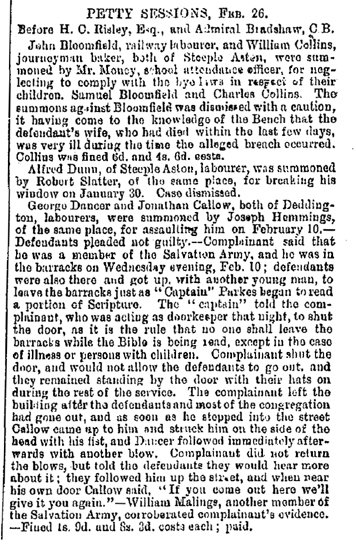 Jackson's Oxford Journal of 5th March 1892 carries a report report of an incident at The Barracks. A witness was William Malings a member of the Malings family. He was probably William Edward (1866-1953) the son of Joseph Edward Malings who, before his death in 1886, was strongly connected to the Reformed Methodists.

| | |
| --- | --- |
| 1949. Morris Dancers outside the 'Barracks' when the building was being used as a garage/storage. Photo courtesy of Lorraine Gillam | |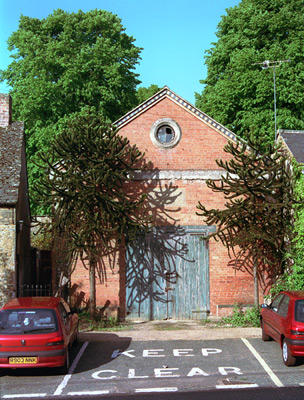 ... just before conversion to a private dwelling in the 1990s - and felling of the unusual Monkey Puzzle trees!

© The British Library Board. Jackson's Oxford Journal