DH
Created as a
Millennium Project
Rob Forsyth
I am most grateful to John Goundrey Jnr, his cousin David and David's wife Margaret for all the information in this article following an introduction by Geoff Todd who asked me if I knew about the Goundrey Electrical Shop. While there is reference to it by Don Walker in his list of shops & businesses to be found on p.18 of The Supplement to A Parish at War, I could find no record of the Goundrey family despite many Deddington people regularly visiting their Nurseries in nearby Duns Tew.

The Goundrey family in Duns Tew
Arthur Goundrey (b.1877), his wife Maud (née Gee b.1872)) and their three children John (b.1901), Mary (b.1903) and Edward (b.1904) came to Duns Tew from Grove Farm in Kidlington in 1921.


click on all images for larger versions
They purchased a recently closed bakery from the Dashwood Estate opposite Manor Farm. together with a former Methodist Chapel nearby and five acres of land. Both buildings required a lot of renovation to convert the bakery into 'Goundrey Stores' which was then run by Mary and her mother. The Chapel became a workshop for the men. Along with their father, Edward started a garden nursery to sell produce through the shop and via elder brother John's delivery service.
John also started making and selling wireless crystal sets which ran on accumulator batteries and required earphones. Recharging the batteries was to prove a good business.

| | |
| --- | --- |
| | |
| The Chapel before renovation..... | .....and after with Edward in the doorway |
In due course the nursery became 'EA Goundrey & Son', well known for their tomatoes and chrysanthemums. It branched out into bedding and vegetable plants supplying local as well as the London and Midland markets. Under the later management of Edward's son David (b.1939) the business added John Innes composts, turf dressings and play sand to their business portfolio.
John Goundrey in Deddington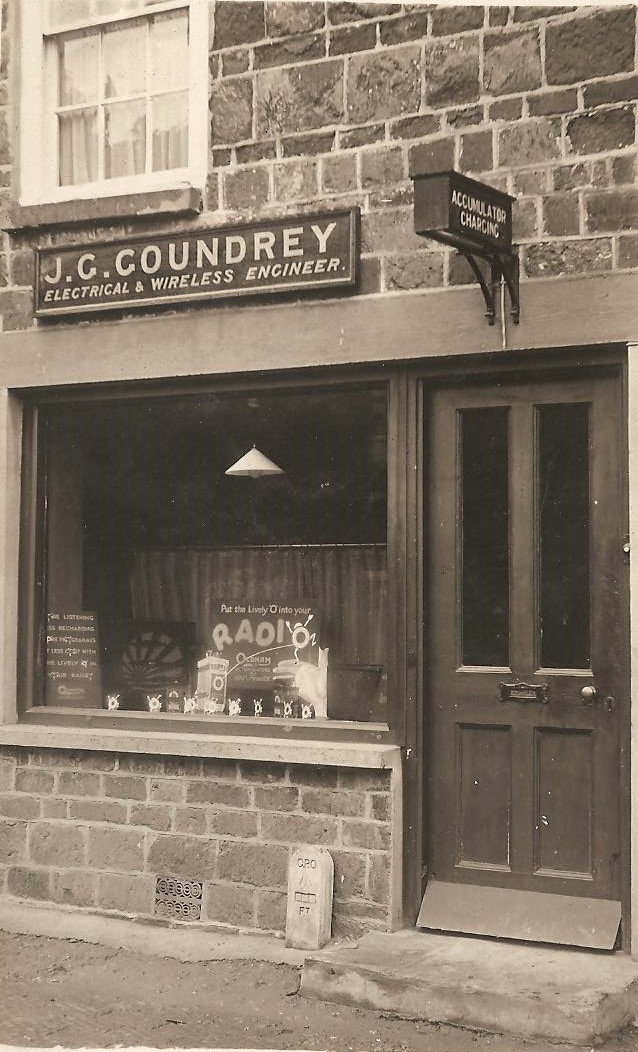 John further expanded his skills to become an electrical engineer capable of installing the new electricity systems into houses. Ambitious to grow his business, in 1929 he bought two adjacent cottages in Deddington. These were on the High Street immediately to the north of The Tchure. Assisted by his good friend George Deeley he renovated and converted a front room to be the shop & showroom for his business. His bedroom still forms the arch above the entrance to The Tchure.

His advertisement in a copy of Deddington Deanery Magazine in July 1941. Note the telephone number - he was the 24th to get one!

click to enlarge

A more unsual skill was water divining using hazel twigs or ivory balls hung by string from ivory handles. He divined the well that is still in use today in the grounds of the former Nursery in Duns Tew.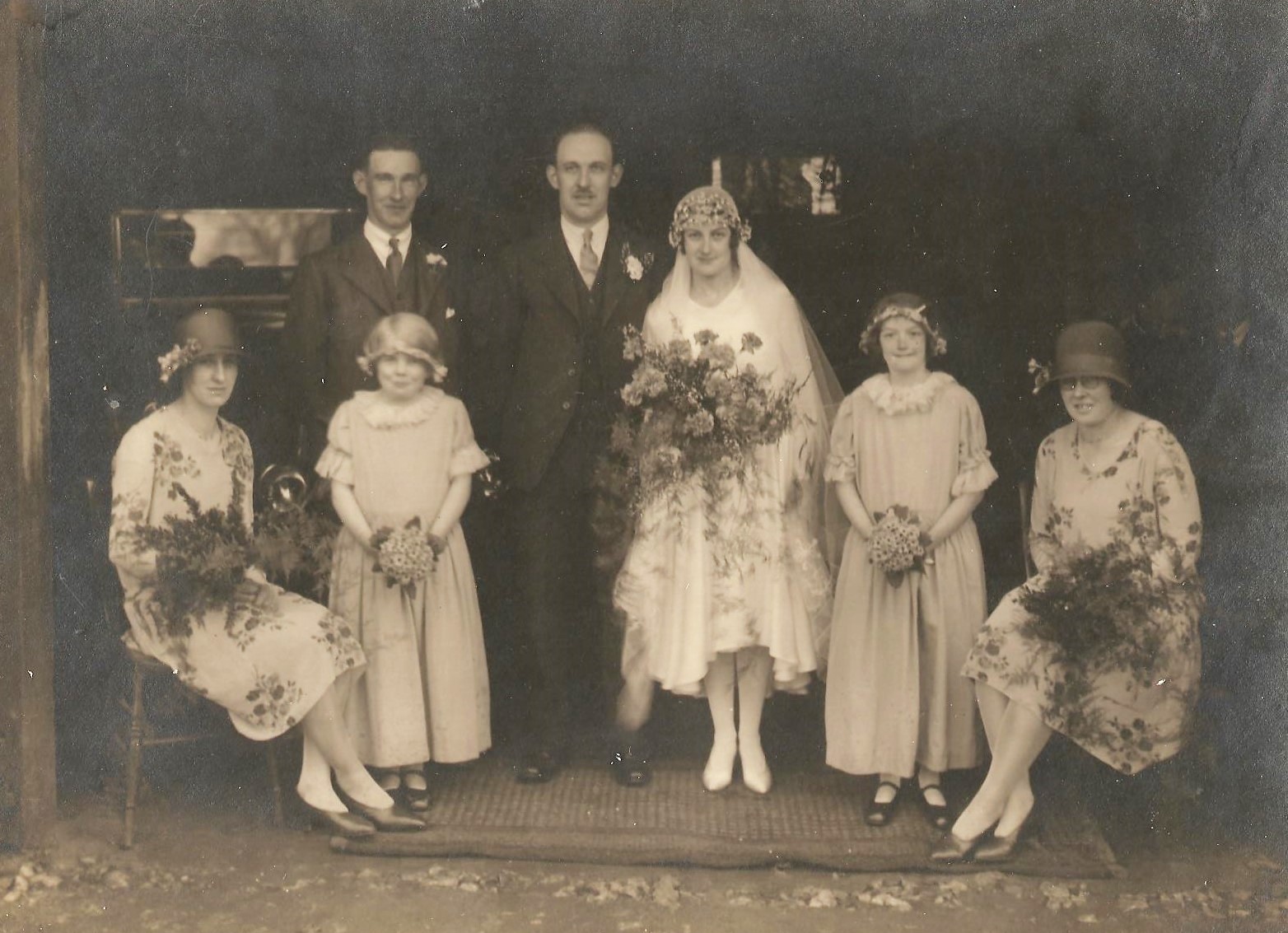 The move to Deddington may well have been motivated by his forthcoming marriage to Elsie (née Jones b.1905) in April 1930.
To the right of John is brother Edward, his best man. Their sister Mary is seated left and a cousin Kate from Fritwell seated right. The LH bridesmaid is George Deely's daughter Joan. The RH bridesmaid is Sybil daughter of a cousin of Elsie's mother.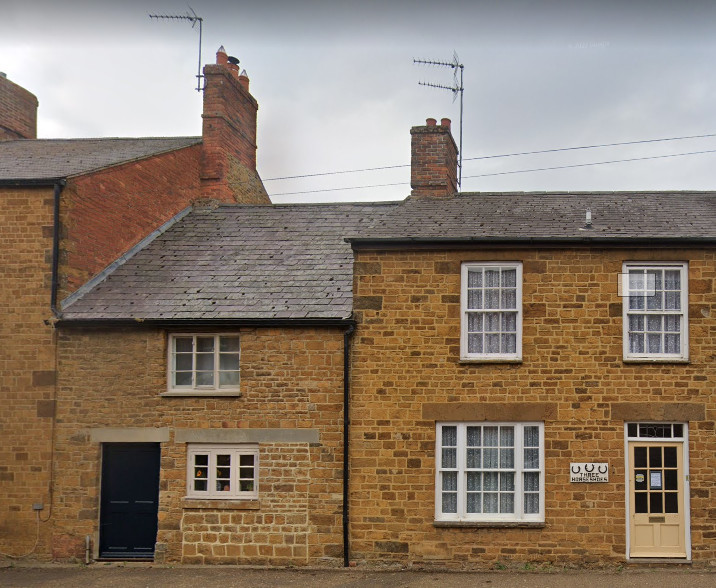 Elsie's father was a boot & shoe repairer originally working in Kings Sutton who moved to Deddington and ran his business from his house immediately to the left of the Three Horseshoes seen in this photo. His workshop at the back was accessed from the pathway to the left of the archway (known as Marble Arch or The Arch) up the road.
John and George also built a workshop for his electrical business in the garden behind his house and two garages for his Morris 8 (AUD20) and Austin van (UD8084); the latter was used, amongst other things, for collecting and delivering recharged accumulators for wireless sets in surrounding villages. His electrical installations included many houses in the village but, most notably, he installed the first electric lights in the church in 1935 - as recorded in the Deanery Magazine. If today's light fittings are in the same locations he put them our churchwardens wish he had used shorter ladders! He also maintained Major Morris' electric generators at Deddington Mill and elsewhere.

He and Elsie are both recorded in the WWII 1939 Register (see image above) which notes he was a Special Constable in The Oxfordshire Constabulary. He must have served for at least 9 years because he was awarded a Long Service Medal in 1948.
He worked during the war at the British Motor Boat (BMB) Co. in Banbury as did George Deeley. The BMB made air sea rescue boats for dropping from aircraft to ditched airmen. John Jnr remembers that to make them float they were filled with pingpong balls – a ready source for a young pin-pong playing lad.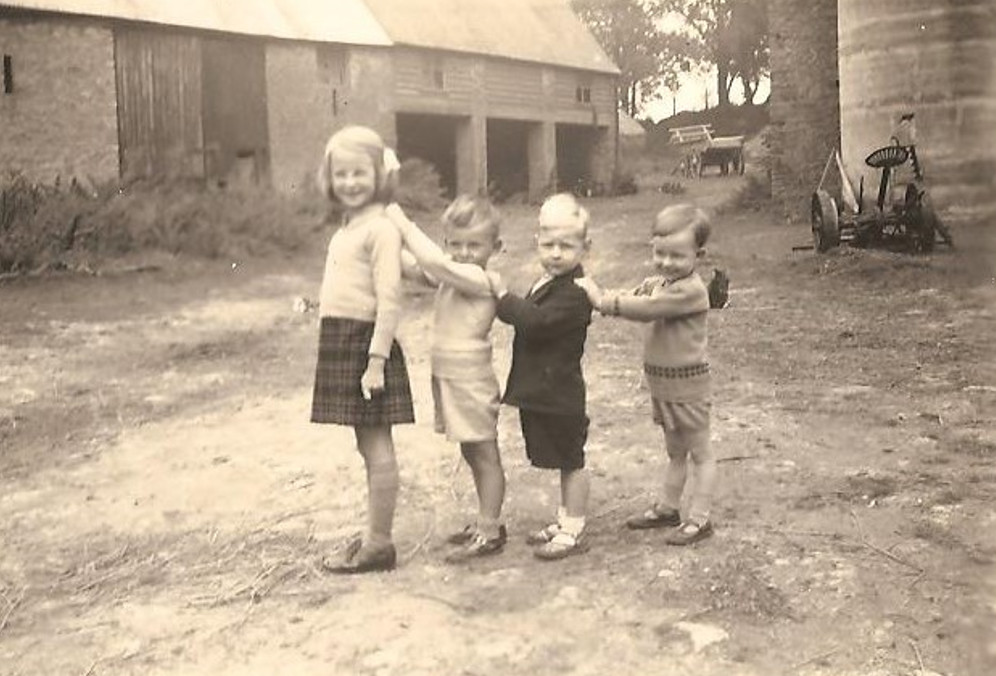 John Jnr was born in March 1939.
L to R: Margaret (Mary's daughter b.1935), David (Edward's son b. Feb 1939), John Jnr (b.March 1939) & Tom (Mary's son b.July 1939)

The photograph was taken at Manor Farm opposite the Goundrey shop and Nurseries. Mary married Percy Field who farmed it in 1934.
John Jnr's Godfather was George Deeley. His Godmother was Gladys Hopcraft, wife of Douglas Hopcraft the builder for whom John had installed many electrical systems. Douglas built both his grandfather Arthur's house (The Spinney) and his uncle Edward's house* (The Nurseries). Gladys can be seen in a photograph with her father Bill French taken in the garden of the family home The Orchards.
*Don Walker, who is one of my regular village memory sources, remembers that his father Percy, who worked for Hopcrafts, helped build The Nurseries.

John & Elsie were both musicians. He played the drums and Elsie the Ukulele. With a lady pianist they formed a trio which regularly played at local dances – no doubt including Foresters Hall.
In 1948 John sold his business to Jim Oldham who traded for a few years then closed the business. The shop/showroom then reverted to being a front room again in what is now Tchure Cottage (No.10).
Later years

John, Elsie and John Jnr moved to Southport where the BMB's owners Brockhouse Engineering was based. The family moved again when the firm moved to West Bromwich where John Snr lived until his death in 1992.
John Jnr now lives in Lancashire but still has distinct memories of his childhood in Deddington and is in regular and close touch with his cousin David & wife Margaret who live in the house that Douglas Hopcraft built for David's father Edward and in which David was born.
Mary and husband Percy lived at Manor Farm until 1949 when they moved to another farm in Dinton near Aylesbury and again to Gatehouse Farm in Culworth in 1956.
Edward continued to run the Nursery on the remaining 5 acres Douglas Hopcraft had built his house The Nurseries on. In 1940 the shop and garden were sold and, as the chapel stood in the garden, Edward leased it back and continued to use it as an office. It is still in use today by David and family who are living in the house he was born in.
'EA Goundrey & Son' was sold in 2020 when David retired. By that time it had a nationwide delivery service for turf dressings for sports grounds, cricket loam for dressing cricket squares - including Old Trafford and Headingley - and supplied play sand into all the major children's retailers.

The Gallery
The above photographs can also be seen in The Goundrey Family Album