Hosted by
Deddington Farmers' Market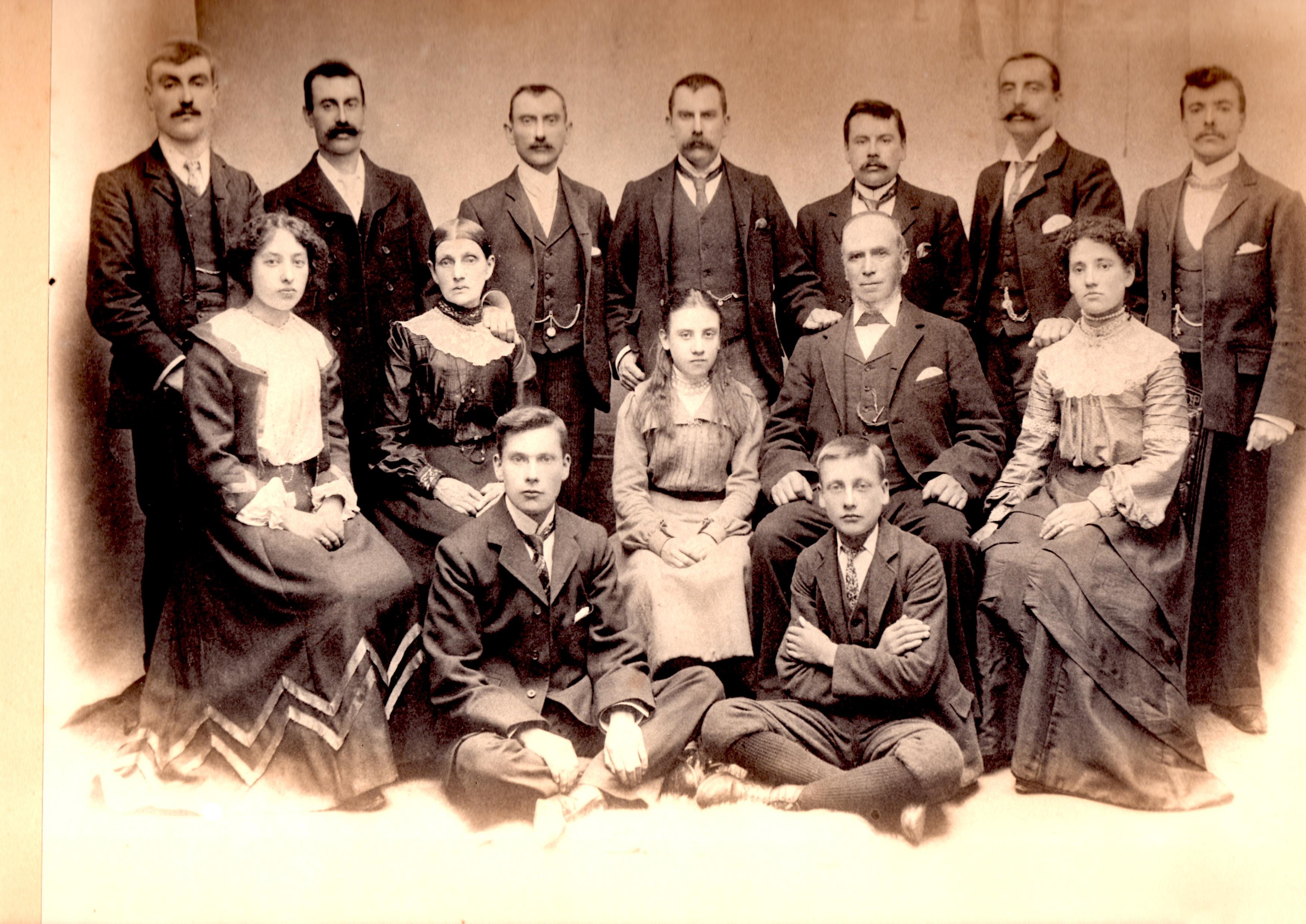 Family photograph taken in 1903 - courtesy of Lin Malt - granddaughter of James Frederick.

Back row (l to r): James Frederick (Fred) (1881-1963), William (1870-1951), John Valentine (1867-1951), Oliver (1868-1952), Harry (1872-1955), Richard Stockley (1875-1916), George (1879-??)
Middle row (l to r): Zilpha (1885-1917), Fanny née Callow (1844-1924), Edith (1890-1981), Valentine (1846-1918), Amy Mary - who married Thomas Frederick GARDNER (1877-1955)
Front row (l to r): Ernest Edwin (1883-1920), Albert (1889-??).

The parents of James and his siblings were John Gardiner from Souldern, Oxfordshire, and Susannah Stockley - hence Richard's middle name. He was working away the day the picture was taken so the photographer's assistant stood in for him and they later took a head and shoulder of JF and superimposed it. So photo-shop techniques are not new!
Lin's father, Ernest Frederick (known variously as Ernie or Fred) son of James Frederick, served in the RAF in WWII. He was shot down on a bombing raid and made a remarkable escape through France via the 'Possum Line', including a flight home in an SOE aircraft.

Thomas Frederick Gardner
& his wife Amy Gardiner





He was the blacksmith who
made the metal flags on
top of the church tower.



Richard Stockley Gardiner
is buried in
Graveyard G Plot 30
close to the Castle Street wall.



The family owns a Thomas Fardon I (c.1757-1838) Long-case clock which has passed through three generations of Gardiners. Dates of ownership are:


1870-1920 - Valentine of Deddington.

1920-1963 - James Frederick of Banbury

1963-2013 - Ernest Frederick of Chandlers Ford in Hampshire


Click on the clock-face to see more images in the gallery

Men who died in the Great War.
William GARDINER (1886-1915) was a Leading Seaman. He had enlisted in the Royal Navy in 1907 and then transferred to Hood Battalion, Royal Naval Division, in 1912. He was missing, later reported killed in action, on 6 May 1915. His name is inscribed on panel MR4 of the Helles Memorial at Gallipoli in Turkey. He was born in Deddington. His mother was Mrs Polly Gray. He was not listed on the old War memorial at all but is listed on the new War Memorial Plaque on the North wall of the church erected and consecrated in June 2013.
Louis Henry GARDINER ( 1896-1918) was a Private, 2nd/4th Battalion, The Oxfordshire and Buckinghamshire Light Infantry, 148 Brigade, 61st Division. He died on 2 December 1918 age 22. He is buried in grave IE1, Doullens Communal Cemetery Extension No 2. He was the husband of Ellen K Gardiner of Laurel Cottage, Barford St. Michael. He was listed on original the War Memorial in the churchyard and a brass plaque in the church as LH GARDNER; but this was a contemporary spelling error. His name is correctly spelt on the new War Memorial Plaque.
Private Charles Fletcher (d.1914) There is an ancestral family connection to his family which can be found HERE

Gallery Album
Photographs can be found in the family album in the Gallery.