DH
Created as a
Millennium Project
The information in this article has been compiled from several sources but I am particularly indebted to Mr Tim Marshall who is a leading authority on Quaker Clocks and the Fardon family in particular. See Sources and Acknowledgements at end of article

Clock-making was a strong tradition in the rural Oxfordshire area in the 18th and early part of the 19th centuries. In the north west of the county the Quaker makers seem to have had the monopoly of business from around 1700 to the very end of the clock making period; centred on the villages of Adderbury, Sibford, Deddington and the nearby market towns of Shipston, Milton Under Wychwood and Charlbury.
The Fardon family

Deddington had its own family of clockmakers.The article that follows is only a short summary of the Fardon family; however links are provided to fuller articles that have been published in a variety of other places.
Family Tree (courtesy Jon Malings) of 'significant' names i.e. not all wives/children are on this tree

John[1] Fardon b: Abt. 1700 d: 1744 Deddington
2nd Wife of John[1] Fardon:
+Mary Cox b: Abt. 1700 m: 1734 d: Abt. 1760
John[2] Fardon b: July 11, 1736 Adderbury d: 1786 Adderbury
+ Mary Grange
Thomas[1] Fardon b: Abt. 1757 d: 1838
+Mary Churchill b: Abt. 1760 m: July 2, 1777 St Mary's Adderbury d: 1785 Deddington
John[4] Fardon b. Mar 23, 1781 St Mary's, Adderbury d: Feb 16, 1865 Woodstock age 83,
+Elizabeth Malings b Feb 15 1782 Deddington m:May 13,1802 Deddington,d:Mar 25,1847
Thomas[2] Fardon b: June 17, 1803 Deddington d: 1887 Woodstock
John[3] Fardon b:Abt 1760 d:Bef.1817 prob Aug 25 1801, D'ton PR "that shot himself"
+Elizabeth Manning b: Abt. 1760 m: June 5, 1790 Deddington
John[5] Fardon b: Mar 9, 1792 Deddington d: Feb 1, 1820 Deddington PR no age given
Note: 'b' = the date of either birth or baptism and 'd' = date of either death or burial

John Fardon (1) (1700-1744) was apprenticed to Thomas Gilkes of Sibford and then settled in Deddington in about 1723. He was married twice and had a son, John, by his second wife, Mary Cox of Milton, in 1736. Details of his will are on p.6 of the March 2001 edition of the Deddington & District Historical Society magazine 224. It shows that he owned several properties in Deddington so must have done quite well from his clock-making. His family home was the house standing on the SW corner of the Market Place to the left of The Unicorn Inn. (see google street view)

John Fardon (2) (1736-1786) His life appears to have been dominated by a contentious relationship with the Quakers over his marital status. He was disowned completely by the Friends. He went to London in about 1756 where he said he married a Mary Grange but this was subsequently in doubt. He certainly later married a Sarah Cox in Deddington (26 June 1772). He probably had five children with Mary Grange, of which two were sons - John and Thomas - who were baptised in St Peter and St Paul Church in Deddington. He and Mary Grange are buried in Adderbury Quaker burial ground because it was their birthright as Quakers.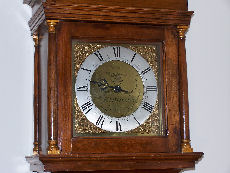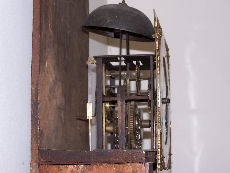 This is a good example of one of John Fardon (2)'s clock faces (L) larger image

The 30 hour movement behind it (R) is a simple birdcage mechanism larger image
A fully researched history of John Fardon (2)'s life and his matrimonial problems amongst the Quaker community is contained in an article by Jill Adams, a member of The Deddington and District History Society.
A 'Tavern' - aka 'Parliamentary' - Clock by JF II was identified as such in San Francisco, California, in 2015

Thomas Fardon (1) (1757-1836) initially worked in partnership with John (3). After John's death he moved to Adderbury where his first wife Mary came from. Deddington Church clock (made by William Taylor of Oxford) was installed by Thomas in 1833. Thomas' daughter Ann married a Knibbs - another old and well known Deddington family - and a lot of interesting details about them can be found on the Knibbs family webpage. They had a son John (4). Thomas married twice more - Mary Hitchcock in Deddington in 1789 and Lydia Burbarrow (widow) in Deddington in 1814. Details of his will (transcribed by Jon Malings) can be found here.
Two examples of his work can be found in the Gallery

John Fardon (3) (1760 -1801?) The Deddington Parish Register has a burial entry for a John Fardon on 25 August 1801 "that shot himself"; he certainly had died before 1817 when his wife remarried. They had a son John (5).
John Fardon (4) (1781/82-1865) married Elizabeth Malings ( daughter of Samuel Malings b1743) in Deddington in 1802. He was 21 so must only just have finished his apprenticeship. The Malings were a well established Deddington family They had a son Thomas (2) in 1803. The family moved to Woodstock circa 1805 so could have been signing clocks as 'John Fardon Deddington' between 1802 and 1805. In 1817 the business in Woodstock seems to have been put up for sale with advertisements in the Oxford Journal 22 March and also in Hounds, Horse, etc

John Fardon (5) (1792-1820) In his will he is described as "watchmaker of Deddington".
Thomas Fardon (2) (1803-1887) took over the maintenance of the Deddington church clock after his grandfather Thomas (1) died in 1838. He gave up this contract c1845 possibly because he was appointed weights and measures inspector in Woodstock. In 1844 he isre corded in the Oxford Gazette & Reading times as chairing a meeting in Deddington. He is also listed in the 1851 census as living in Hensington, Woodstock. His occupation is given as "Bandmaster" !In 1871 He is listed in Woodstock Horsefair as 'watch and clock maker' and in the 1881 census in the Market Place as 'watchmaker and jeweller'.
---
There is some confusion over names at this time because of the similarities between generations and cousins and the custom of giving the same name for a child that had died to the next child of the same sex. But the clock making tradition continued for some years mixed in with being blacksmiths. This may have been to diversify in the face of cheap foreign imports which finally killed the dominance of the English country clock movement in the mid 1800s
Sadly, surviving Fardon clocks seem to be very few and far between in this area today. Only 4 are believed to be still in Deddington. A nice little story about looking for and finding a Fardon clock was reported on this website in March 2006. If you have or know of a Fardon clock then please contact us so that we can put you in touch with Tim Marshall who is collecting information on them and may be able to help you know more about your clock.
Thomas Harris (1732 - 1797)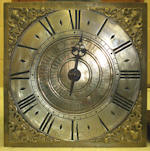 was another clockmaker who worked in Deddington.This is a good example of one of his clock faces from this time.

larger image (2.3MB)
.
He moved to Adderbury in 1762.
An example of his work
from this later period can be seen in the Gallery
No one knew where the Royal British Legion Club clock that hung on the wall of the former club building came from. Rumour had it that it came from Aynho Halt Station when it closed. but it did not have 'GWR' stamped on it as a railway clock would. The answer is more prosaic. The name FT Reid on its face is that of a Deddington Clock maker who lived in Deddington from sometime in the 1920's and had a workshop at Wakehurst Cottage on Castle Street (nearly opposite entrance to the Castle Grounds). He died here in 1948 and he and his wife Flora (d.1957) are both buried in the churchyard. The clock case, face and pendulum are of 19C origin. Indications are that he carried out major repairs - including refurbishing the face and putting his name on it - sometime in the 1920s/30s because that is when its present mechanism dates from. One can surmise that he did this for the RBL Branch's Club which opened its doors in 1925.
History & Design of Long Cases
Those who are interested in the history and design of the long cases in which the clocks were housed, will be interested in the very comprehensive article written by Mr Brian Loome - originally published in Antique magazine - for which we are grateful for his permission to quote in full.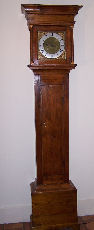 This is a good example of a John Fardon (2) country pine, longcase clock circa 1770. No doubt it was originally made for the servants' quarters because it was relatively inexpensive to purchase and complemented the rest of the country pine furniture normally supplied to servants.larger image
Clockmakers of North Oxfordshire

Deddington and District History Society were given a most interesting talk by Mr Tim Marshall in February 2006. We are most grateful to Colin Cohen for his record of this presentation which gives an indication of the large number and diversity of clockmakers in this area throughout this time. Amongst them were several branches of the Gilkes family who worked in Adderbury, Sibford and Charlbury.

Acknowledgements

I am very much indebted to the following people for the information in this article:
Jill Adams - also see her article on John Fardon (2)
Brian Loome - an authority on the long cases (see above)
Jon Malings - whose ancestors lived in Deddington and married into the Fardon family. I am particularly grateful for his family tree and notes which have been incorporated into the text.
Tim Marshall - whose expertise in Quaker clocks is very much appreciated.(see above)
John Vaughan (Castle Antiques)

Recommended reading
Norman Stone's excellent articles in the October, November and December 1994 issues of the Deddington News give a good overview of the family history.

Clockmaking in Oxfordshire by Dr. C.F.C. Beeson. Copies are obtainable from the Oxford Museum in Broad Street, Oxford.
Some Rural Quakers, Jack V. Wood, William Sessions, York, 1991 ISBN 1 85072 085 1
Mr Tim Marshal The Quaker Clockmakers of North Oxfordshire (2013) ISBN 978-0 - 9554460 - 6 - 1 For more information click HERE and to purchase a copy contact Tim by email or telephone + 44 (0) 1280 822 682


Further information about Oxfordshire clockmakers:
Photographs
Images of many clocks by Deddington clockmakers can be seen in our Gallery