DH
Created as a
Millennium Project
Rob Forsyth (editor) & Ethan Fowler

Preamble

This article resulted from a serendipitous (adj.ocurring by chance in a benefical way) meeting between Ethan - who is a G Grandson of Daisy May Beesley (1896 - 1976) - with a friend of ours while he was visiting Deddington to seek out his family's past. This chance meeting brought him to The Stile House (our house). I knew that a Harry Beesley and his wife Harriet Busby had lived here from 1932-62 and that they had had a Joinery/Undertaking business but I did not know that Daisy May had married Richard Fowler (1891-1972). The Fowlers lived in the Firs on the corner at the bottom end of St Thomas & New Street for several generations including Ethan's uncle, John Fowler. John was a technical draughtsman and did some drawings for building work at our house.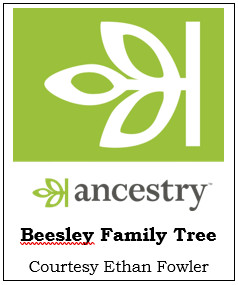 Ethan has kindly provided a link to the Beesley Family Tree [click on the logo left] on the Ancestry website. More detail and access to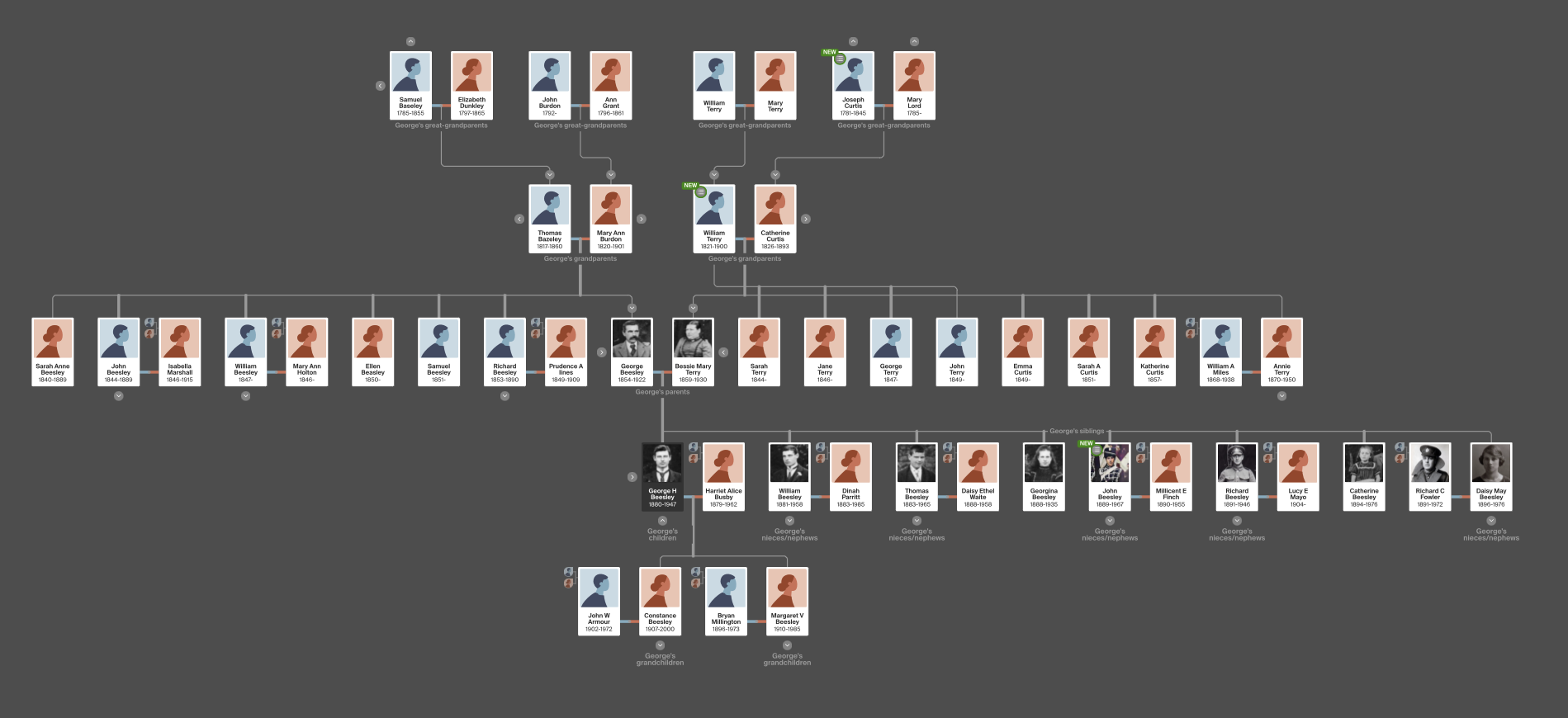 supporting documents are contained in the profile for each person.e.g. BMD certificates and census data etc. This does, however, require an Ancestry subscription. For non-subscribers a view of the tree - but without access to the profiles - can be viewed by clicking on the thumbnail of the tree [see image right] The image can then be zoomed as required.


What now follows is a summary of the Deddington connections in Ethan's own words. Any comments in (italics) are mine.
The Beesley Family in Deddington - by Ethan Fowler
George Beesley, son of Mary and Thomas, was born in April 1854 in Hinton-in-the-Hedges, Northamptonshire, less than 10 miles from Deddington. By the time of the 1871 census, at the age of 17, he was living at The Butchers Arms Inn, Church Lane, Deddington. He was a carpenter's apprentice to the innkeeper, John Bennet. (Now called 'The Old Malthouse' and is at the top end of the street and later belonged to the Solicitor John Fortescue)
George married Bessie May Terry, from Bridge Street, Banbury, on the 22nd of February 1879. Their first son, George Harry Beesley, was born on the 23rd of June 1880. The 1881 census lists George, Bessie and George Harry as living on Earls Lane in Deddington.Their second son,William, was born on the 31st of October 1881. Their third son,Thomas, was born on the 7th of September 1883 and their first daughter, Georgina, was born in 1888.

George senior's (i.e. George Harry's father) brother John (b.1844), who had moved along with his family to Putney, London, died in January 1889. George and Bessie's son John was likely named after him being born just after his uncle died on the 5th of February 1889.

The 1891 census lists George, Bessie, George Harry (now going by Harry), William, Thomas, Georgina and John Beesley as living on New Street, Deddington.

George senior's other brother, Richard, had died in 1890; So George and Bessie named their next child born on the 22nd of September 1891 as Richard.

George and Bessie had two more daughters, Catherine and Daisy May, born in 1884 and 1896 respectively. Daisy May married Richard Clifton Fowler.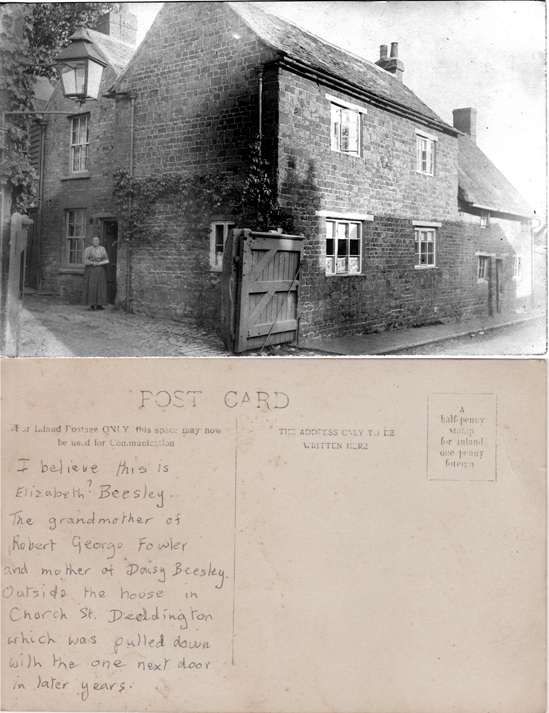 The 1901 census lists George, Bessie, George Harry, William, Thomas, Georgina, John, Richard, Catherine and Daisy May as living on Church Street, Deddington. It seems that George Harry, William and Thomas were working in the family business of carpentry and joinery.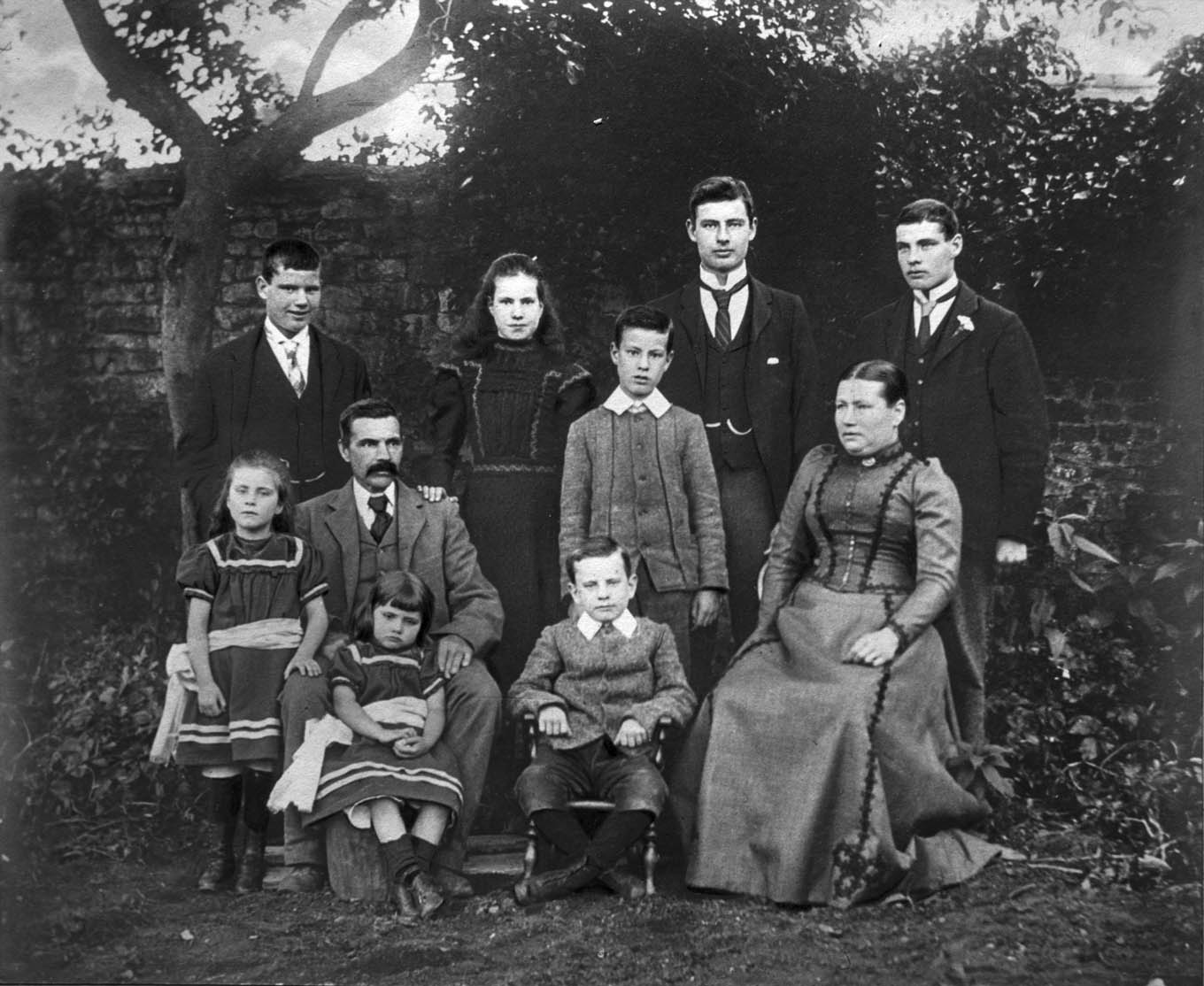 The Beesleys circa 1900 (l to r)
Back row: Thomas, Georgina, (George) Harry, and William.
Middle row: Catherine, George, John, and Bessie.
Front row: Daisy May and Richard.
click on images for larger version
The PC says the house was 'pulled down in later years'. The only signs left are lintels above former openings in what are now the garden walls of what was the Butcher's Arms at the north end and Weston House at the south end.

George Harry married Harriet Alice Busby of North Aston on the 12th of August 1903, and moved to North Aston. (where they set up an undertaking business)

William married Dinah Parritt of Claydon on the 6th of November 1910, in Claydon.

The 1911 census lists George, Bessie, Thomas, Georgina, John, Richard, Catherine and Daisy May as still living on Church Street. Thomas, John and Richard were still working in the family carpentry business, while Catherine was apprenticed in a bookshop (maybe boot shop - unlikely), and Daisy May worked in a "fruit shop".

George senior died in January 1922 in Banbury, Oxfordshire, at the age of 67, and was buried in Deddington, Oxfordshire.

Bessie died in January 1930 in Banbury, Oxfordshire, at the age of 70, and was buried in Deddington, Oxfordshire.
Beesleys in The Stile House - by Rob Forsyth
As mentioned in the Preamble, George and Harriet moved into The Stile House in 1932. At the time it had no name, shared open ground with Leaden Porch farmhouse next door and had quite extensive external buildings; so there was lots of room for a workshop for their business of joinery and undertaking. Don Walker, born in Deddington in the 1930s, remembers a curved wooden sign over the double gates saying 'Beesley - Joiner & Undertaker'.
They had two daughters, Constance (1907-2000) and Margaret (1910-1985). Margaret married a Bryan Millington who was a Poultry Farmer near Ardley and cousin of the Bryan Millington who lived at Leaden Porch next door.

This poses a question mark over where the Beesley Workshop referred to in the photos below was located.
click images to enlarge
The Beesleys had been carpenters/joiners by trade since 1871 living sequentially on Earls Lane, on New Street (but not The Stile House), Church Street and then our house on New Street. In the images Daisy May seems to be about 20-30 years old indicating that the photos may have been taken between 1916 & 1926. This could mean it was in Church Street or, if Daisy is older than she looks, at The Stile House. The building does not look in good repair and, bearing in mind the Church Street house was demolished sometime in the 1930s, it could well have been there. The jury is out. The number plate of the motorbike BD884 might be a clue as to date if one knows how to research it. (Subsequent research discovered that the Reg No. on the motorcycle combination was first issued in 1921 when Daisy was 25 so the most likely place for the pic was on Church Street)
John & Richard Beesley - Queen's Own Oxfordshire Hussars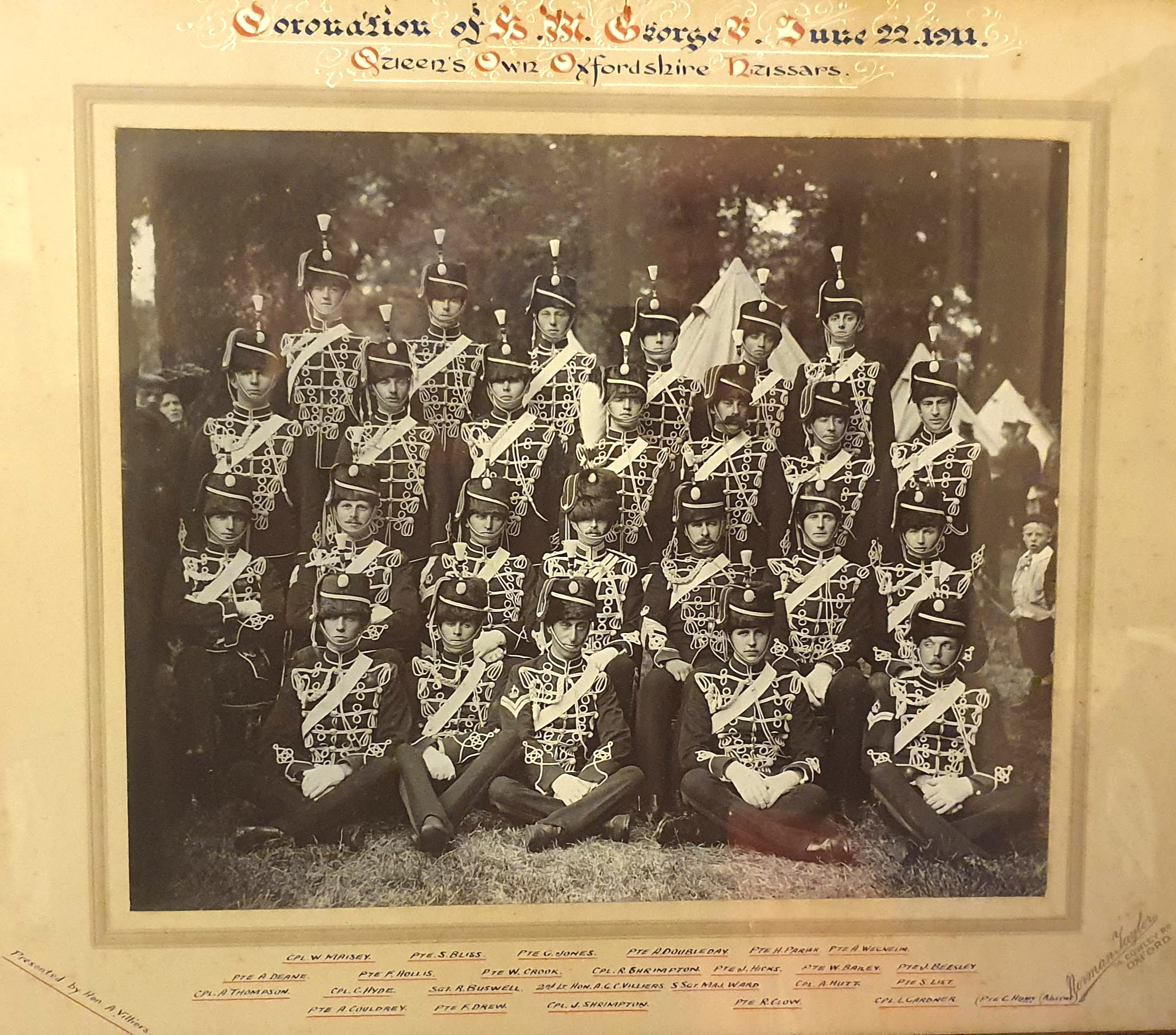 Both John & Richard served as Privates in the QOOH. More about their military service can be seen HERE

This splendid photograph has John in the 2nd row from the back on the right wearing full dress uniform on the occasion of King George V's Coronation on 22 June 1911.
click to see a larger version

The Gallery
The images above and more of the family can be seen in the Beesley Family album in the Gallery
The Fowler Family
An account of his Fowler relatives will be written by Ethan in due course. Meanwhile follow the link to read about Richard and William Fowler in the military HERE