Hosted by
Deddington Farmers' Market
Rob Forsyth

Frederick Joseph Sanders I (1876 -1932)
m Annie Hubbard on 12 July 1896
William Frederick Sanders II (1896 - 1952)

m Queenie Hunt

Walter George Sanders (1902 - 1971)
m Pauline Mollie Weston Wickins (1903 - 2005) on 16 June 1930

Patricia Sanders (b 1931)
Pauline Sanders (b 1934)
Clive Sanders (b 1941)
Albert Edward Sanders (b 1910)

Nancy Sanders (1907 - 1987)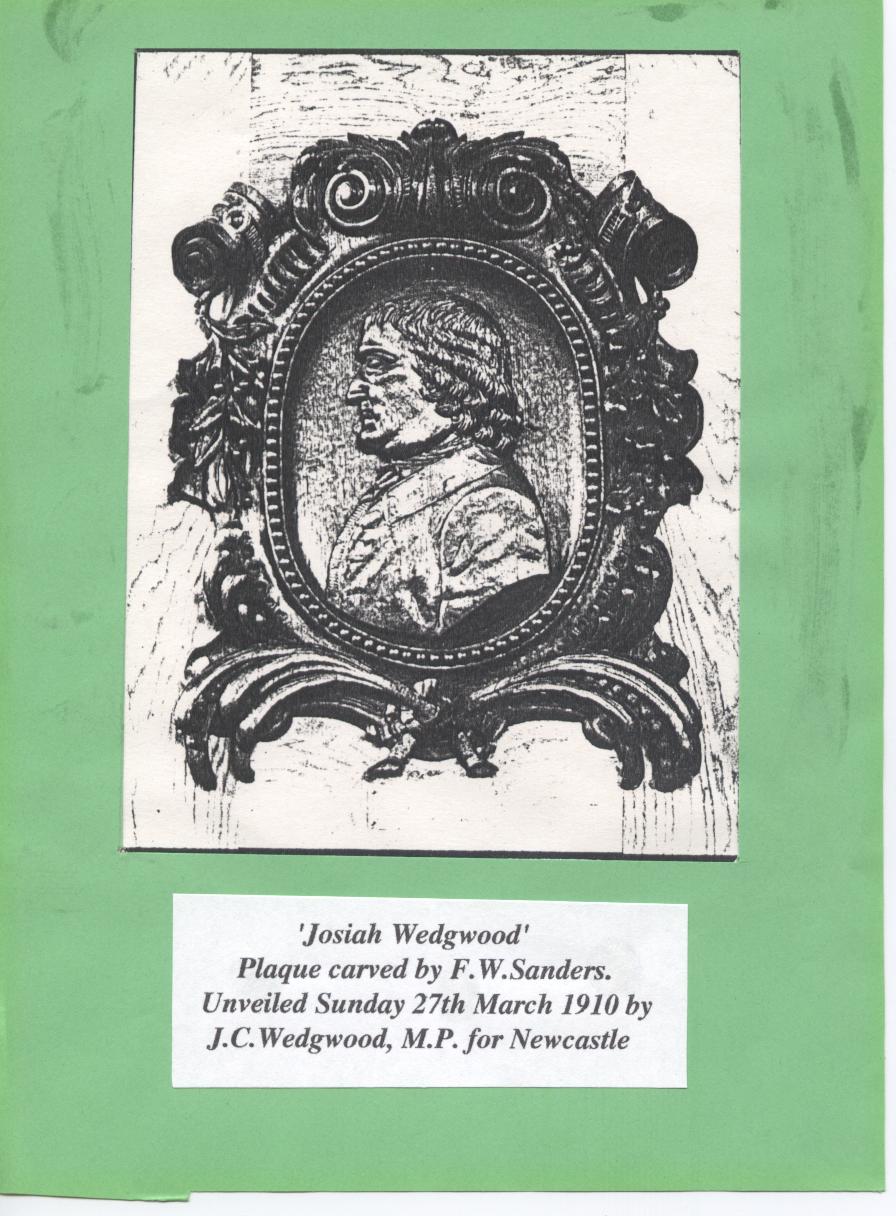 Frederick Joseph Sanders I arrived in Deddington in 1903 working as a wood carver. His skills, on one important occasion, were employed by the Wedgwood family for a bust to be placed in their local Methodist chapel - although they do seem to have used the wrong initials.

He served in the Oxfordshire and Buckinghamshire Light Infantry and Royal Berkshire Regiment during WWI and he can be seen in a group photograph (back row 3rd from left, moustache)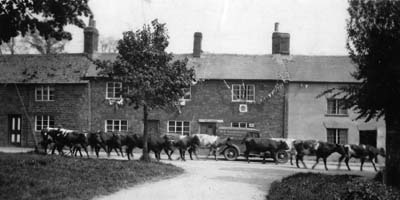 He and his wife Annie started a confectionery business in Council Street in 1919. Their son Walter took over when Frederick returned to Woodcarving. This photograph shows the shop and the Sanders van in 1935 - King George V Jubilee flags - in what is now Hopcraft Lane hidden behind cows on their way to French's farm next to The Old Schoolhouse.
(photo courtesy late Joan Fisher née French)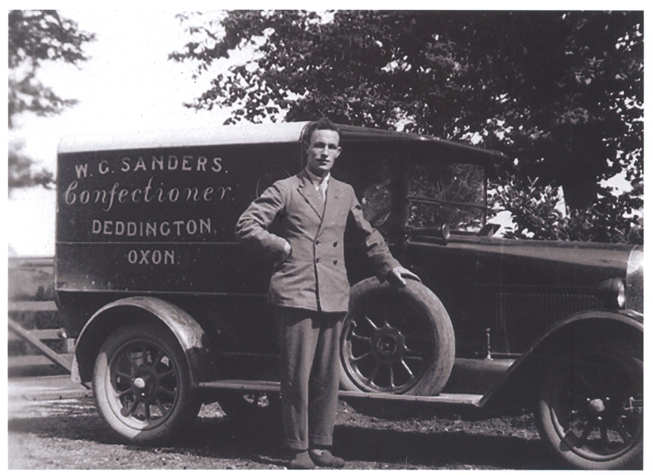 In 1926 Walter replaced his horse drawn delivery service with a van which cost £30.0s.10d

The outgoings of the business that year were £35.9s.51/2d. This included wages of 5s.0d for himself but £1.16s.0d for his mother - he was living at home - but takings only added up to £17.6s.9d. He also delivered newspapers, helped by Bill Malcher and the Ivings brothers, but one would nonetheless hope that this was an uncharacteristically bad month!

In 1930 Walter married Mollie whose parents farmed near Northampton and whose grandparents owned the Dun Cow Hotel at Dunchurch.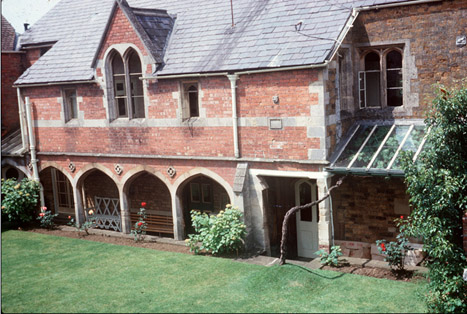 They first lived in Duns Tew where Patricia and Pauline were both born then, in 1939, they moved to The Priory in Hudson Street, the one-time home of Charles Faulkner, antiquarian and museum maker. Clive was born there in 1941. He would eventually take over the shop they created (to the left of this rear view of the house) which looked onto the main road, New Street.
(photograph courtesy of Clive Sanders June 1964)
Frederick Sanders was licensee at the Unicorn during the war and there is a photograph of Nancy outside it in company with Fred's wife, Queenie and some US servicemen.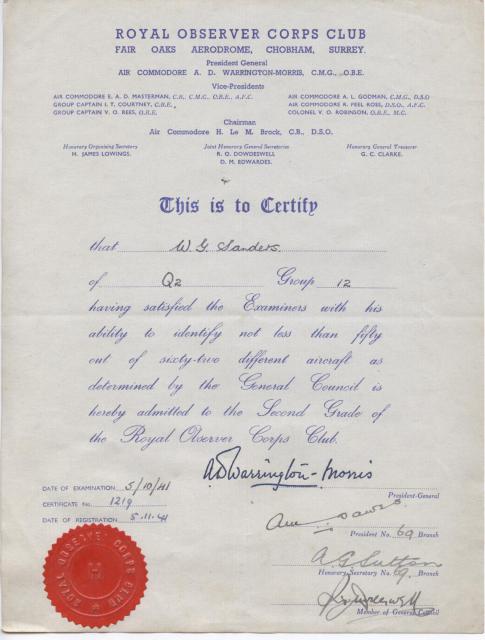 The war led to many changes. Walter became a member of the Royal Observer Corps - he can be seen in a group photograph (pdf) of the Deddington Observer Corps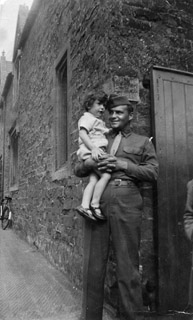 Mollie took in evacuees and billeted soldiers in the area above the shop. This is Clive in 1944 with US serviceman Jim Cole.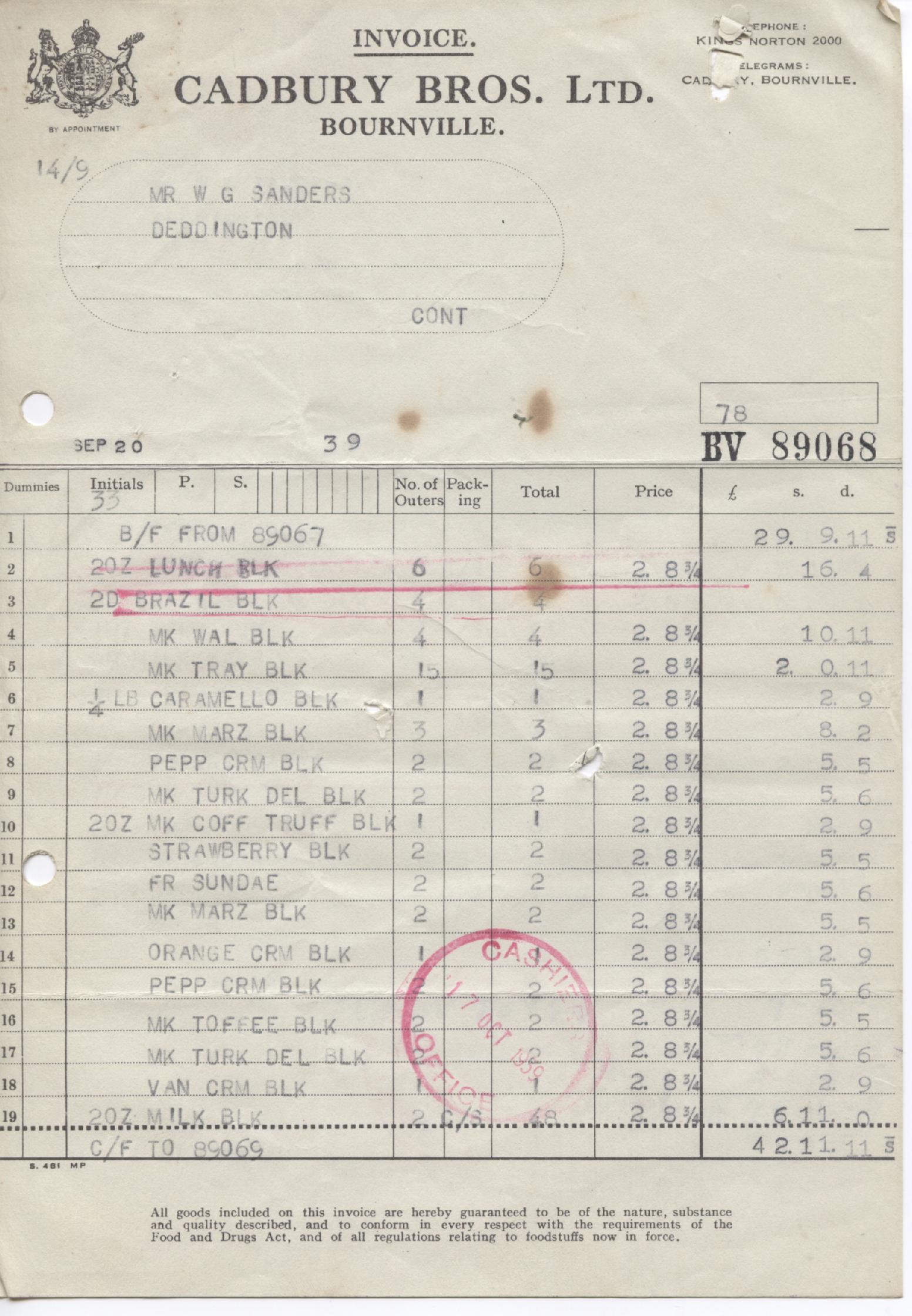 An invoice from 1939 gives some idea of the cost of sweets in those days. (click on thumbnail to view the invoice) but they were about to be rationed - until 1953!
After the war Walter and Mollie made the area above the shop into a hall suitable for meetings, wedding receptions, private parties, dances and so forth. They were an enterprising couple who made business in all sorts of ways. One important service was collecting, charging and delivering batteries on a routine basis. Another local enterprise was a portable public address system which could be fixed to a car for hiring out for village shows and fetes.

Interview with Walter and sister Nancy In 1963 Walter's daughter Patricia Lindsell interviewed Walter and Nancy. Patricia's verbatim record of this fascinating interview can be found by clicking HERE

In due course Clive took over the business and remodelled the shop into an ice cream parlour which was a particular favorite of US servicemen based at Upper Heyford (click on menu above for full size) thereby closing a loop with their father's generation who had been billeted above it in WWII - and may have had an influence on the young Clive's propensity for things American?

Walter died in 1971 but Mollie lived to the ripe old age of 102 (d 2005)
The 1983 May edition of the Deddington News carried an article about Mollie Sanders by Bill Marshall as one of a series of Profiles on Deddington People.
Clive's ice cream parlour closed in 1985 and eventually became a Chinese Restaurant, May Fu II, which then closed in 2020.
Clive Sanders sadly died in 2020 having lived in Banbury in retirement for some years,so ending the Sanders era in Deddington.