Hosted by
Deddington Farmers' Market
By Jon Malings


William Malings was born in Deddington in 1794, the oldest son of Thomas Malings and Ann Creek (nee Rose). He was a farmer and married Charlotte Bloxham, a farmer's daughter from Deddington. They had 8 children, all of whom survived to adulthood. Between them, William, his children and grandchildren, played an active role in the social and "political" life of Deddington and North Oxfordshire for a good part of the 19th century.


William Malings (1794-1865) Farmer, Souldern and Clifton
m. Charlotte Bloxham (1799 -1876)
Samuel (1823 -1904) Farmer, Launton
m. Sarah Bonner (1823 -1878)
William jnr. (1825 -1876) Farmer, Clifton
m. Eliza Fortnam (1825 -1872)
Urban snr. (1828 -1903) Farmer, Upper Heyford
m. Rebecca Savin (1829 -1877)
m. Sarah Burman (1843 -1939)
Charlotte Anne (1831-1916)
Elizabeth Bloxham (1832 -1900)
Anne (1834 -1905)
m. Seth Boddington
Joseph Edward (1836 -1886) Chemist,Druggist & Farmer
m. Emily Franklin (c.1836 -1895)
Robert (1839 -1900) Farmer & Farm Bailiff in Deddington: Publican Roebuck Inn, Drayton
m. Mary Griffin (1839 -1875)
m. Elizabeth Bennet Hone (1853 -1925)


William was christened at the parish church of St. Peter and Paul on October 9th 1794. When he married Charlotte Bloxham in Deddington on February 13th 1822 he was living at Souldern. Presumably the couple set up home in Souldern as the first 7 of their 9 children (born 1823 -1836) were all christened in the parish church at nearby Somerton.

Charlotte Bloxham was born in Wigginton, as was her father William Bloxham, a farmer, who married Susanna Watts of Tysoe. The family moved to Deddington before 1806, as evidenced by the christenings of some of Charlotte's siblings after that date. It appears that some of the extended family also moved to Deddington. Charlotte's grandfather, William Bloxham snr., was buried in Wigginton in 1817 aged 84 but the Parish Register notes that he was from Deddington. Her uncle Robert married Susannah Williams in Deddington in 1810. Their 11 children, including triplets Shem, Ham and Japhet, were all christened there and the Parish Register describes Robert as a "farmer, Clifton" for all baptisms (1811-1829).

Charlotte's brother William also farmed in Clifton until his early death in 1838. William and Charlotte moved back to Deddington sometime between the birth of their 7th child in 1836 and that of their 8th child, Robert Malings. He was christened in Deddington on July 1st 1839, the Parish Register recording his father as "William Malings, farmer, Clifton". It may have been William Bloxham's death that brought the Malings family back to Clifton from Souldern.


BACK IN DEDDINGTON 1838- 1865

William and Charlotte appear on the 1841 census with all of their 9 children, a servant and a nurse, presumable to look after the youngest child, "Infant Malings" aged 1 month. Infant was later to be baptised John Thomas. The family lived at "High Street South" in Clifton, Deddington where William was a "Farmer".

Other than the census and Parish Register, the first mention of William I have found is in the diary of the vicar of Deddington, William Cotton Risley. Risley kept a detailed record of his activities in Deddington long after he retired.

"Dec 4 1843: – Sent a paper each to J Poulton & W Malings of Clifton received from Mr Fardon yesterday morning relative to the Hailstorm Relief fund & their loss of crops."

William seems to have been a particularly unlucky farmer. Jackon's Oxford Journal for August 29th 1848 reported that Mr William Malings of Clifton received a payout of £53 8s. from the Royal Farmers Insurance for hailstorm damage to crops.

Again, on the 19th May 1855 The Journal reported the Royal Farmers Insurance making a payout of £51 8s. to Mr. William Malings of Clifton for hailstone damage.

William's mother Ann had one child, Rose, from her earlier marriage to Thomas Creek. Rose, who was William's step sister, married Thomas Davis, a labourer, in 1820 but was widowed when he died in 1836. Rose died in 1847 and was buried on April 25 "By Coroners Order" according to the note in the Parish Register.

For some reason the Coroner ordered an inquest into her death. The jury returned a verdict of "died from starvation" despite the fact that Rose was "on the parish" and apparently getting food and money from the Board of Guardians.

Given the jury's verdict it was obviously felt prudent to hold an enquiry into the circumstances of Rose's death. This enquiry exonerated both the Board of Guardians and the Medical Officer but we are left wondering why the Jury returned such a verdict and what the relationship was between William and his half-sister.

The full story of Rose's sad death is the subject of a separate article obtained by following this link.

Ironically, William was appointed Poor Law Guardian for Deddington in 1849. As he was a substantial ratepayer he would also have been eligible to attend Vestry Meetings though I can't find any reports of his involvement. The Vestry was Deddington's local government body until the parish council was formed in 1894. Ratepayers managed the village and a system of weighted voting was practiced according to the rateable value of the property each person owned or leased - one vote for the first £50, an additional vote for each £25, to a maximum of 6 votes. William, along with fellow farmers Messrs. Poulton and Gibbbard, had the maximum 6 votes

The 1851 census shows William living in Clifton with his wife and all his children except Samuel and William who had both recently married. His sons Urban (aged 23) and Joseph Edward (14) are "working on farm". William is farming 204 acres employing 4 men and 4 boys. His son William jnr. is farming 176 acres adjacent.

Little more appears in Jackson's Oxford Journal with respect to William. There is mention that he donated £1 to the Deddington Poor Relief fund in 1854 and, in 1863, issued a notice with other local farmers warning trespassers that they faced prosecution if found on his land hunting game. I have found nothing else until his death in 1865.

But in 1858 the Rev. Cotton Risley recorded in his diary that William was having problems with his son Joseph Edward, now aged 21. Risley was called to visit Joseph who had tried to cut his own throat. Joseph was clearly troubled by some religious difficulty and Risley visited him several times to discuss it.

On the 23rd of August Risley records:
"Old W Malings of Clifton came to talk over and complain of his son Joseph's conduct, he having joined himself to the Methodists, the reformed ones, and otherwise demeaned himself towards his parents very unlike a son."

A more detailed description of Joseph Edward and his life can be found by following this link.

The 1861 census shows that William was still farming at Clifton on 220 acres employing 6 men and 4 boys. Not strictly accurate as there is also a dairymaid, Ann Sherley of Hempton, living in the household along with William's wife Charlotte, his daughter Elizabeth and his three younger sons, Robert, Joseph Edward and John Thomas. Although the "boys" are all now adults they are not shown to have any occupation but it's a fair assumption that they worked on the farm.

William's son, William jnr., is still living "next door", farming 191 acres. Dutton's Directory of 1863 lists both William Malings Sen. and Jun. farming at Clifton


WILLIAM'S ESTATE
In his Will William left all his estate in Trust for his wife Charlotte during her lifetime. After her death everything was to be sold and divided equally between his surviving children. The only exception being his daughter Elizabeth Bloxham Malings to whom he left the income from £1000 held in Trust.

The clear implication is that Elizabeth was an invalid of some sort and certainly not expected to marry. I cannot find her on the 1871 or 81 census but in 1891 she is in Warneford Asylum in Headington. She died in 1900 and is buried with her parents in Deddington.

William also gave Elizabeth:
"One bedstead, with mattress, bed, blankets, pillows, quilt, and three pairs of sheets, and such other articles and furniture as my said wife or Trustees shall consider proper and necessary for a bedstead, bed, and bedding complete."

He also made the following bequests:

"Whereas I and my wife have given to each of our sons and daughter who have been established in business, certain articles of household furniture, but my two sons Joseph Edward, and John Thomas, and my daughter Charlotte Ann, have not yet been set up in business, and consequently have not had any articles of furniture given to them. Now my Will is and I direct that my wife shall have full power to select for and give to such of my said sons and daughter as may not during my lifetime have been established in business and had such articles of furniture given to him or her, such articles of household furniture as she may think fit and proper."

After his death William's wife Charlotte carried on in Clifton. The 1871 census shows her at Clifton Road, Deddington with her daughter Charlotte (but not Elizabeth), farming 221 acres employing 8 labourers, 4 women and 3 boys. As five of her six sons were farmers (William in Clifton, Robert at Castle Farm, John Thomas in Fritwell, Samuel in Launton and Urban in Heyford) and her daughter Anne had married a farmer (Seth Boddington) it's a reasonable assumption that one or other of them managed the farm for her. We get confirmation that it is William jnr. from a notice in the Journal in 1873.

| | |
| --- | --- |
| "Mr. William Malings is giving up his occupation of the Farm lately held by the Executors of the late Mr. Malings, sen." This notice makes it clear that that William was running both his own and his mother's farms. | |
| | The following week a more detailed notice of the auction describes the substantial live and dead stock to be sold. The only question is whether this stock belonged to William jnr., as the notice states, or was it part of his deceased father's estate? |
| The following month the Journal carries a notice announcing that Mrs. Malings (William's mother Charlotte) is leaving Clifton and auctioning some of the contents of her house. Presumably she was obliged to move out when her son gave up the farm. I have no idea where Charlotte lived after she left her Clifton house. | |
Charlotte died on October 12th 1876 aged 77, four months after her son William. "greatly beloved and respected by all that knew her" according to Jackson's Oxford Journal. Coincidentally, her grand-daughter Charlotte Bessie (Jessie) Malings, the child of Robert Malings and Elizabeth Bennett Hone, was born on that same day.
| | |
| --- | --- |
| Within a month of Charlotte's death the rest of her late husband's property was advertised for sale. The auction notice confirms some of the information in the Oxfordshire Return of Owners of Land made in 1873 which showed that William Malins was joint owner of 10 acres and 35 poles in Souldern with an estimated rental potential of £16 7s per annum. This property is clearly mentioned in the auction particulars. The Return also lists William Malins as owning 5 acres 2 rods and 28 poles of land in Deddington with an estimated rent of £8 10s per annum. It's not clear what this land is or whether the Cottage in the auction notice is part of this holding. | |

It should be noted that the other joint owner of the Souldern land was "Watts" which was the maiden name of Charlotte's mother. A Robert Watts was witness at Samuel Malings' wedding in 1849, Samuel being the eldest son of William and Charlotte. Perhaps there was some connection between Samuel's witness, the owner of the Souldern land and Charlotte's mother Susanna Watts.

The final act in the execution of William's Will was announced in the Journal on March 10 1877 although it's clear that the inter-related farming interests of William and his sons still needed some unravelling. In that same year son Robert left Castle Farm and son John Thomas moved out of Dovecot Farm in Fritwell. Were these changes connected to the death of William and the winding up of his estate?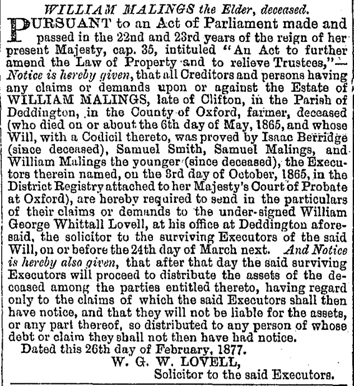 © The British Library Board. Jackson's Oxford Journal
© Jon Malings 2010