Hosted by
Deddington Farmers' Market
By Jon Malings

Chemist, Druggist and Botanic Practicioner in Deddington and local Methodist Preacher.
Joseph Edward Malings (1836-1886) came from a family of yeoman who had farmed in Deddington since 1700 and in Tysoe, Warwickshire for 200 years prior. His life and behaviour have a deep resonance today as he was deeply involved in matters of health, "alternative" medicine, religion and the rights of parents, as well as sub-prime mortgages and negative equity.
Joseph was baptised in 1836 in Somerton, Oxfordshire, the 7th child of 9 of William and Charlotte Malings (nee Bloxham). In 1865 he married Emily Fanklin, a farmer's daughter from Bainton, and they had five children, four of whom survived to adulthood.

Joseph Edward Malings 1836-1886 m. Emily Franklin c.1836-1895
William Edward Malings 1866-1953 m. Emily Markham 1870 – 1948
Emily Markham Malings 1900-1930
Charlotte Emily Malings 1863-1943 m. Robert Henry Liddington 1846-1907
Robert Henry Liddington 1900-
Thomas William Liddington 1902-
Winifred Irene Liddington 1903-
Joseph Edward Malings 1869-1869
John Edward Malings 1871-1918 m. Lizzie Golding 1872-1927
Gladys Amy Malings 1900
Emily Bloxham Malings 1872-1928
Horace Lloyd Malings 1900-1996

Joseph's father, William, farmed in Clifton from around 1838 until his death in 1865. Joseph is recorded as living with his parents in the 1841, 51 and 61 census. Other than that he presumably worked on the family farm, I have no detail of his early life until diary entries for 1858 (when Joseph was 22) by the Reverend Cotton Risley, vicar of Deddington...

15th May: Heard that poor young Joseph Malings had cut his throat in bed about 5 o'clock this morning, but not effectually let us hope as he is still alive. No reason at present given for the sudden and rash act, his health had not been good for some time past.

16th May: Sunday: After morning service I had an interview with poor young Malings of some duration; he was under the painful impression that he had sinned against the Holy Ghost and so cannot be forgiven. I did my best to divest him of the impression and to console and cheer him.

24th May: Called and saw poor young Jos. Malings again and had some more serious conversation with him about his recent narrow escape from Death.
30th May: I visited Widow Castle again and read prayers by her and also young Jos. Malings and did the same. He was much better, to all appearances quite himself again.
23rd August - Old W Malings of Clifton came to talk over and complain of his son Joseph's conduct, he having joined himself to the Methodists, the reformed ones, and otherwise demeaned himself towards his parents very unlike a son.


Despite his father's complaints Joseph clearly stayed with the Methodist Connexion and later became a local Methodist Preacher. In "A History of the County of Oxford " in the section on Deddington/Nonconformity it is noted that:

"John Calcutt, Deddington's postmaster, a leading Methodist in the mid 19th century, played a vigorous part in the town's political life, as did J. E. Malings, chemist, in the 1870s, being for a time, controversially, the vicar's churchwarden."

I haven't yet discovered what the controversy was in Joseph being "the vicar's churchwarden" though it does seem curious to me that a long term Methodist should also be a churchwarden..

In his father's Will all the Malings children were left equal shares of his estate on the death of their mother. In a codicil William notes that

"And whereas I and my wife have given to each of our sons and daughter who have been established in business, certain articles of household furniture, but my two sons Joseph Edward, and John Thomas, and my daughter Charlotte Ann, have not yet been set up in business, and consequently have not had any articles of furniture given to them. Now my Will is and I direct that my wife shall have full power to select for and give to such of my said sons and daughter as may not during my lifetime have been established in business and had such articles of furniture given to him or her, such articles of household furniture as she may think fit and proper "


Shortly after his father's death Joseph married Emily Franklin of Bainton in the Bicester Registration district. Whether he was still living in Deddington is unknown, but shortly after his marriage he and Emily moved to Sydenham in Kent, where his first child, William Edward, was christened in August 1866. In 1867 Mr. Joseph Edmund (sic) Malings appears in the Post Office Directory living at Wells Road, Sydenham, Kent, occupation: Chemist. I have yet to discover where he obtained his pharmaceutical training. His first 3 children were born in Sydenham (1866-9) but by 1871 Joseph was back in Deddington with his family, living in the Market Place. In the 1871 census he is described as a "Chemist, Druggist and Botanic Practitioner. Local Methodist Preacher"


| | |
| --- | --- |
| | In 1871 a Chemist's shop sold a wider range of products than today. Jackson's Oxford Journal ran regular adverts for Falkners Horehound of Balsam "for coughs, colds, bronchitis" and, as we might expect, Joseph was the Deddington agent. But, in another Journal advert, he was also listed as agent for Horniman's Pure Tea which "in Real Cheapness Strength and Flavour is Unequalled." |
Joseph's anti-vaccination stance
In 1873 John Whetton of Deddington printed a pamphlet, (published by J. Burns in London) with the title, Narrative of Three Prosecutions under the Vaccination Act. This work was offered for sale in green printed wrappers for twopence, or in a "Cheap Edition of the same for the poor," without wrappers, for one penny. In it Joseph Malings recounted the proceedings taken against him for refusing to comply with the requirements of the Compulsory Vaccination Act of 1867, and he posed the question: "We ought to know why the Government should seek (contrary to our natural instincts) to deprive us of our parental authority, and what right the State had to compel parents, nolens, volens, under threat of fine and imprisonment to have their children vaccinated."

While making known his views on the infringement of parental rights, Joseph also expressed his doubts on the efficacy of vaccination and his determination to resist the requirements of the Act "by all lawful and reasonable means."

He had begun his opposition while living in Sydenham when he refused to have his second child vaccinated. He duly received a Court Summons and his case was heard before a Stipendiary Magistrate at Greenwich, where he was fined ten shillings and ordered to pay costs of two shillings. In 1872, now living in Deddington, his third child was due to be vaccinated but he refused to comply with the order from the Woodstock Board of Guardians, and as a consequence received a Summons to appear before the Magistrates sitting at Deddington on 25 July. The day before the court case the Medical Officer from the Woodstock Union "intruded himself in my house in my absence, to examine the Child…", this power of entry having been granted under the Act.
In Court he was fined ten shillings and ordered to pay costs of twelve shillings and sixpence.
A week later he received a letter from the Court notifying him that there were additional costs to pay amounting to one pound fourteen shillings and sixpence, of which the Union Surgeon's fee was £1.1s, the certificate 3s 7d. and "hire of horse" 9s. 8d.

Joseph was thoroughly provoked by these supplementary charges as they had not been imposed by the Magistrates at the time of the case in Court, so he refused to pay.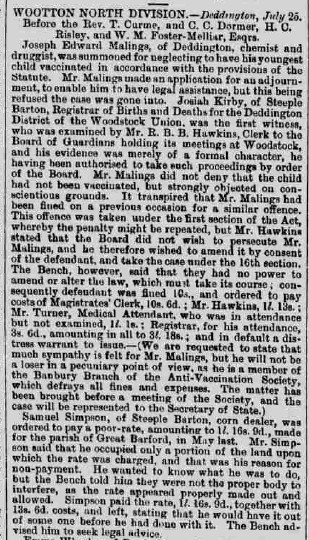 His third time in Court, on July 25th 1873, arose from the previous Court appearance. He did not attend the Court hearing at the Town Hall in Deddington, and on this occasion he had been ordered to bring his child with him. Prior to the hearing he had sounded out the Clerk to the Court concerning the possibility of obtaining an adjournment, but had been advised that such an outcome was unlikely. A policeman was sent to bring him to Court.
(click on thumb for larger version)
At the hearing Mr. R B B Hawkins, Clerk to the Woodstock Board of Guardians, stated that the Board did not wish to persecute Mr. Malings and requested that the charge be amended and taken under the 16th section of the 1867 Act, rather than the 1st. This was a sympathetic attempt to prevent Joseph from being fined, as he had been previously. The 1st section of the act allowed repeat penalties whereas the 16th did not. The Magistrates, Reverend T. Curme, C.C. Dormer, W.M. Foster Mellior and Holford C. Risley, said they had no power to alter or amend the law which must take its course. They clearly felt themselves in a predicament in dealing with Malings as he engaged them in a discussion on the merits of vaccination. To Joseph the issue was in essence a simple one; he felt that "he alone" was responsible for the health of his children. Eventually one of the Magistrates told him "somewhat sharply" that they were there to enforce the law, not discuss it.

Joseph was fined ten shillings and ordered to pay costs of three pounds and eight shillings. He refused to pay the surgeon's fee and was warned that a Distress Warrant would be issued if the total sum was not paid; he then informed the Clerk that he wished to consult the Solicitor for the Banbury Anti-Compulsory Vaccination Society, which he did. He was advised by the solicitor not to pay the surgeon's fee, and to write to the Secretary of State outlining the case and specifying the costs element.

Jackson's Oxford Journal, which reported the case, adds "We are requested to state that much sympathy is felt for Mr Malings , but that he will not be a loser in a pecuniary point of view as he is a member of the Banbury Branch of the Anti-Vaccination Society which defrays all fines and expenses. The matter has been brought before a meeting of the Society and the case will be represented to the Secretary of State."

Despite this, three days after the Court case a Distress Warrant was issued against him and, if in default, to serve seven days in prison. The police officer who served the Warrant granted a "stay of execution", and after further discussion, the medical officer's fee was reduced to ten shillings; but Malings was resolute and refused to pay. Whereupon, in his own words, "my goods were at once seized and removed to my great astonishment, inconvenience and annoyance." His amazement and incredulity were compounded when, as he described,
…the Bell-man 'Cry' my goods for sale, which unprecedented event occurred in the Market Place, Deddington, August 6th 1873, within sight of my own home.
He expressed his ire in a letter published in the Banbury Advertiser on 11 September 1873

To the fine and costs already imposed a new charge was added relating to the issuing of the Warrant and the costs of the sale of his goods, including one shilling for the "Crying Sale." By no means was this the end of the story. Clearly there had been a good deal of public sympathy and support for Malings, and this was manifested when a public meeting was held in the Market Place on the exact spot where the public auction of his goods had taken place five days earlier. There were many speeches, and then two motions were put to the meeting, the first proposed by Mr Ryder, and seconded by Mr Humphries, that the Compulsory Vaccination Act "ought to be repealed," was carried unanimously. The second motion proposed by Mr Webb, and seconded by Mr Norton, was that the "…proceedings against Mr. J.E. Malings are unjust and illegal" was also carried unanimously.

In concluding his review of his three Court appearances, Malings promised to publish a sequel; and at the same time he delivered some final parting shots at his near neighbour Holford Risley J.P. and his fellow Magistrates sitting in rural areas where, in his opinion, they had many opportunities for "indulging in their personal animosities."

At the Banbury Anti-vaccination League meeting on January 8th 1874 (Mr. C Gillett in the chair) Joseph "gave in detail an account of his three prosecutions under the Act, and stated that the last which took place at Deddington on the 25th of July, 1873, was of such a startling character , that after careful consideration, and at the urgent repeated requests of numerous astonished enquirers, he had resolved to publish verbatim the extraordinary proceedings of the Bench towards him on that occasion."

A letter of support from the Rev. J Turner, Vicar of Deddington, was read to the meeting. "This was followed by a long discussion, and the meeting unanimously coincided with Mr. Malings's proposal and tended to him their sympathy and hearty cooperation in carrying out his object."

Unfortunately, it seems that the "Sequel" was never forthcoming.
Joseph was not alone in his stance against vaccination. To read about more Deddington opposition to vaccination read this article 'Anti-vaxxers (sic) in the 19th Century' .

The Would-be Doctor - Alternative Medicine

By 1874 Joseph was "an associate member of the Medical Reform Society of London". I have found little information regarding this society, excepting some advertisements placed in various regional newspapers of the time which linked it with the Nottingham Botanic Institute. Again, I have yet to find any detail about this Institute.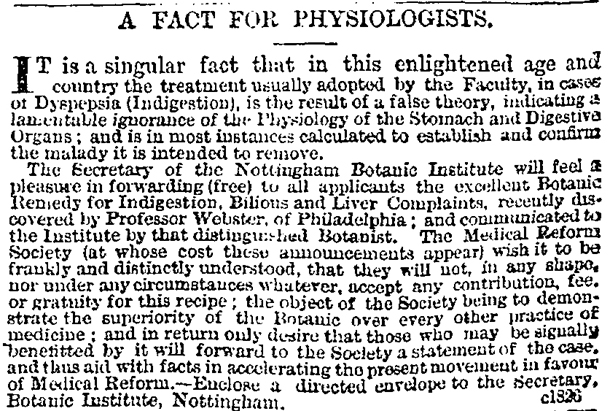 This advertisement appeared in the Birmingham Post, 7th September 1865.

In 1874 Whetton printed a notice from Joseph Edward Malins [sic] on behalf of The Deddington & District Workman's Medical Benefit Society: the aim of the Society was to provide "Medical aid in sickness" and thus avoid "the objectionable necessity of a Parish Doctor." Indications are that Joseph felt he could provide an alternative service to that supplied by the medical profession, probably by way of homeopathic, botanic and herbal remedies

In March 1875 Joseph attempted to write a death certificate for an 11 month old child, Ruth Bray, whom he had been treating. Jackson's Journal reported on April 3rd: "In consequence of the refusal of Mr Josiah Kirby, the Registrar for Deaths in the Deddington district, to receive what Mr. J E Malings of Deddington, Herbalist, supposed to be a certificate of the cause of death of Ruth Bray….an inquest was held on March 24th. Her father reported, "I sent for Mr J E Malings of Deddington because I thought he was a doctor. I thought so because he showed me the names of persons he had attended. I believe he came several times during the week. He was there twice on Saturday last…My impression was that Mr. Malings was a doctor, because I knew he had acted as such".

Edward W. Turner, a fully registered medical practitioner, gave evidence that the cause of death was inflammation of the lungs.

The report continues: "After the termination of the enquiry, when the room was cleared for the Jury to consider their verdict, Mr. Malings made his appearance and requested to be allowed to make a statement before the Jury, but as they were satisfied with the evidence the coroner requested him to leave the room, but he would not do so until threatened with ulterior proceedings. A verdict was returned in accordance with the medical evidence."

"Mr Malings signed his certificate, which was incorrect as to cause of death, as "Associate of the Medical Reform Society, London".

Joseph got a mention in another, less contentious, inquest in 1877 into the death of Emma Adkins, his brother John's mother-in-law. Jackson's Journal* reported: "the deceased complained of feeling weak on the Friday previously, but this was a usual complaint. On Sunday she remained in bed, and her daughter, Mrs. Malings, thinking it would be better to have advice, sent for Mr. J E Malings, her husband's brother, who prescribed a bottle of medicine….Mr. Malings who is not only a chemist and druggist but also an Associate, by examination and the payment of fees, of the Medical Reform Society of London, said that he usually made his medicines stronger but that he knew that the deceased objected to strong medicines. …A verdict was returned by the Jury, of whom Mr. Joseph Hopcraft was the foreman, "That the deceased died from natural causes".
*Editor's note:The Banbury Advertiser (pdf) also ran an article - highlit in yellow - giving all the details.
The ingredients for Mr Malings concoction were:
Sweet spirits of nitre now banned as ineffective and possibly fatal!
Ipecacuanha wine-taken to cause vomiting after poisoning among it's uses.
Syrup tolu-used in cough syrups.
Later years

Jackson's Journal paints a picture of the extended Malings family being at the centre of Deddington life during the 1860's and 70's. Whereas his brothers and their family's participate in Fetes, Flower shows, Vestry Meetings, Penny Readings, Board of Guardians etc etc, there is very little mention of Joseph in a social setting. Presumably he was focused on his anti-vaccination struggles, "alternative" medicine and religion. I can only find three minor references to him, other than those already mentioned.
1871: donated two shillings to the French Peasant Farmers seed fund…his brother Robert gave 5 shillings, his brother William and William's wife Eliza gave 1 guinea each.
1874: attended a meeting of the National School subscribers
1877: attended an Evangelical meeting in the Mission Hall
The third item, - the Evangelical meeting in the Mission Hall - is actually of great significance. A hint is that Joseph was the only layman to address the meeting.
It turns out that Joseph actually owned the Mission Hall, a building that still exists in Church Street. In the first half of the 19th Century the Mission Hall had belonged to the Methodists and, almost certainly, used as a place of worship. It's not clear when or how Joseph became the owner, but in October 1876 he raised £150 by way of a mortgage against the property, borrowing from a young heiress Laura Proffit White of Shotteswell near Banbury.
In October 1877 he borrowed a further £50 from Miss White and in December 1878 he took £58 from Harry Kilby, a Solicitor in Banbury, all repayable with Interest and secured against the Mission Hall.
It's not absolutely clear what Joseph was doing with the money he borrowed. It may well be that the initial amount was to fund his purchase. What is clear, from information that comes to light in 1879/80, is that he was certainly restoring and improving the Mission Hall.
But things were not going well for Joseph. On February 22nd 1879 a notice appears in Jackson's Oxford Journal. The Mission Hall "which has recently undergone a thorough improvement and restoration" is for sale by auction "by order of the Mortgagee. To view apply to Mr. Joseph Malings, chemist, Deddington." The solicitors were Messrs. Kilby and Mace, Banbury and Joseph had borrowed £58 from Harry Kilby, a solicitor in Banbury, just three months previous.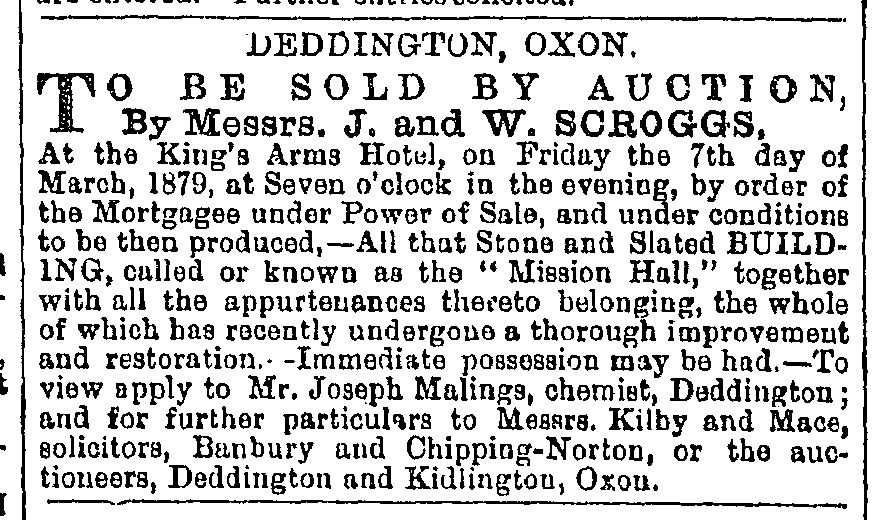 A short article in the Journal of March 15 notes that the Mission Hall has been successfully purchased "by trustees, and is now secured for Evangelistic purposes". (Editor's note: Follow this link to see more about The Mission Hall). As it turns out, the "Trustees" were the trustees of the Deddington Wesleyan Reform Chapel (Editor's note - just round the corner in Chapel Square).

The Indenture drawn up to convey the Mission Hall to them on May 14th 1879 indicates that as well as the capital sum Joseph owed one interest payment of £13 6s. 8d. to Laura White (on £200 loaned) and that he had been paying her half yearly, in April, suggesting an interest rate of around 13.33%. Harry Kilby was owed £2 18s. interest on £58 loaned for approximately 4 months, equating to an interest rate of around !5%.

The Indenture also shows that the Trustees bought the Mission Hall for £147 10s. against Joseph's borrowings (with unpaid interest) of £213 6s. 8d. from Laura White and £60 18s. from to Harry Kilby. In the event, Laura White received £147 from the sale so she lost £66 6s. 8d. Harry Kilby only received 10s. so he had lost £60 8s.

It's not clear whether Joseph had any responsibility to repay this money. It is interesting that in March of that year, as the auction was taking place, he negotiated a loan of £100 from his sister–in-law, Miss Franklin of Wendlebury, pledging all his household goods, stock in trade and crops as security. Perhaps this was to repay Laura White and Harry Kilby for the shortfall in the sale price of the Mission Hall?

In April 1880 Jackson's Journal reported "A meeting of the creditors of Joseph Edward Malings, of Deddington, chemist and druggist, farmer, who has been adjudicated a bankrupt, was held at the office of the County Court, Oxford on Friday the 17th inst." The debtor's solicitor, Mr. William Kinch, produced a medical certificate to the meeting showing the inability of the debtor to attend.

Liabilities were estimated at about £900, including £100 advanced on a Bill of Sale in March 1879 by a Miss Franklin of Wendlebury, a sister-in-law of the debtor, on security of the household goods, stock in trade and crops which were all estimated to have a total value of £140. Charlotte A Malings, Joseph's sister, was owed £48 9s.. Other principal debtors were Lawes' Chemical Manure Company £154 3s 9d., James W Hopcraft, Deddington £90, John Coggins, Deddington £53 13s., Richard Edmunds, Banbury £51 15s., P J Perry, Banbury £11 0s. 6d. and 7 others in Deddington, Banbury Coventry and London. Is it significant that none of Joseph's other relatives had loaned him any money?

From the names of some of the creditors (Lawes Manure Company, Richard Edmunds, seed merchant, P J Perry, horticultural builders) it's clear that Joseph was attempting to farm as well as run the Chemist shop. But most of the Deddington creditors (James W Hopcraft, brickmaker and builder, John Coggins, carpenter, John Johnson, letter carver) are in the building trade. I assume that at least some of the debts to these tradesmen were for work carried out on the restoration of the Mission Hall.

Despite the 1880 bankruptcy Joseph appears to have kept his business. In the 1881 census he is still shown as living in the Market Place, Deddington, carrying on his trade of Chemist and Druggist. Also present are his wife, Emily and his 4 surviving children, all of school age or thereabouts.

Joseph Edward Malings died on September 16th 1886 aged 50 and was buried in Deddington Churchyard. His wife Emily died in 1895 and is buried in the same grave.

In the 1891 census Emily is shown as visiting James and Mary Walker in Worminghall, Buckinghamshire. Mary Walker was born a Franklin in Bainton, the same as Emily. I haven't established the relationship between Mary and Emily yet. They do not appear to be sisters, so are possibly cousins.

His four surviving children continued to live together for several years. In 1891 the two boys, William and John were grocer's assistants. Their sister Charlotte kept house while Emily was a Dressmaker. Charlotte eventually married Robert Liddington, a grocer in Bicester, William stayed in Deddington for a while and became a coal dealer, but by 1911 had moved to Headington. John was a GPO postman in Charlbury in the 1901 census while Emily carried on as a dressmaker, did not marry, had an illegitimate son and lived with various relatives.
Source note: I've drawn much material from Brian Carter's 2004 paper on Printers and Publishers in Deddington on this website. It provided much of the detail about Joseph's antivaccination stance. I've also taken extracts from the diaries of the Reverend William Cotton Risley, again published on this website, and to contemporary newspaper reports in the online version of Jackson's Oxford Journal held by the British Library. Rob Forsyth has ben a great help providing information about the Mission Hall.

© The British Library Board. Jackson's Oxford Journal

© The British Library Board. The Birmingham Post

© Jon Malings 2010