Hosted by
Deddington Farmers' Market
The discovery of an overprinted 6d stamp on an 1896 receipt for 1/6d rent by David Hood – Deddington resident and keen philatelist – led to a search by several people, myself among them, as to who George Dancer was. In looking for the answer it clearly showed that when one explores one of the long-time Deddington families you are inevitably drawn in to exploring several more - Hayward, Berry & Wallin on this occasion


click on the image (l) and all other images to see larger versions

Who was George Dancer?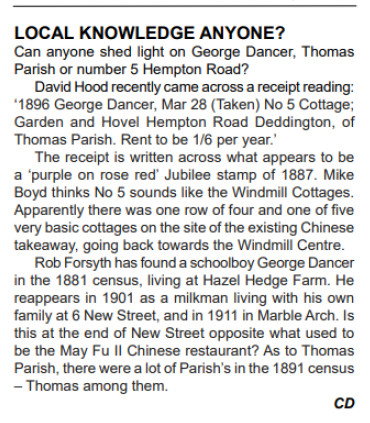 Answering the question required a search of all the extensive census records available on this website and the help of Janet Macey, Rodney Hayward, Carol Garrett and Mike Boyd.The result was a short article (l) published in the 2021 March Edition of the Deddington News (p.13) which duly led to more information forthcoming.
The tree on the left depicts the Deddington born descendants of William Dancer (b.1842) & Jane née Page of Kings Sutton.

More about their descendants in other families can be found by clicking on these links




The Dancer Family & Marble Arch
William and Jane (née Page) lived in King Sutton where three children were born - Sarah (b.1865), George (b.1873) and Alice (b.1879). They moved to Hazel Hedge Farm in Clifton in 1880 where William was born a year later. They are all in the 1881 Deddington census.

Their eldest daughter Sarah married James Berry of Deddington in 1889. See The Berry Family
George In the 1891 census he is a 'cowman/ag.lab' working for his cousin John at Hinton in the Hedges. In 1893 he married Rhoda Callow a Deddington girl and by the 1901 census they are living on New Street. He had become his own milkman/cattle farmer and it is he who paid the 1/6d to Thomas Parish for the rent of No 5 Hempton Road in 1896 and its hovel. This may be where he did his milking.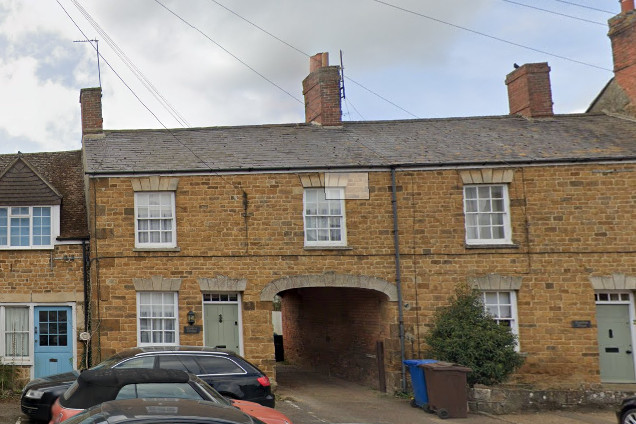 In the 1911 census he, Rhoda and their two youngest girls were living at Marble Arch in Deddington. This was the name given at the time to the present archway shown in the image (l) opposite the west end of Hudson Street Archway Cottage is at the back overlooking the fields and also Arch House. Originally they were a row of four farm cottages which were converted into the two houses in the 1970s.

George & Rhoda's youngest daughter Lily married James Levi Hayward in 1920.See The Hayward Family & their shop

One of Lily's three children, Peggy (known as Madge), married John Wallin the Baker. See The Wallin Family

Rhoda died in 1936 and George
in 1939
. As George's younger brother William (b.1881) had died in 1900 aged only 19 this brought to an end this branch of the Dancer family name.