Hosted by
Deddington Farmers' Market
Rob Forsyth

I am very grateful to Janet Macey (née Berry), GG Granddaughter of George Berry (b.1833), and her husband David for all their help with this article

George Berry (1833-1915) was born in Kidlington but his parents William and Martha moved to Deddington that year. He married Hannah Stanford in 1859 and they had four children including twin boys George and James. Hannah died in 1866 and in 1869 he married again to Susannah Clark with whom he had three more children.
Click on all images to see larger versions

George & Hannah's son James married Sarah Dancer in 1889. In the 1901 census they are living at Field Barn (3/4 mile due N of Castle Farm on the Clifton Road) where James is a carter/farrier. Their eldest son is listed as 'James W'. By the 1911 census he has become 'William James' and is known as William formally, but locally as Bill, thereafter.
1912. In a National Health Insurance document Bill is employed as a Gardner. On 18 December 1914 he volunteered for war service.

April 1915 - January 1919. Pte W J Berry No.067254*. Bill served as a groom in the 42nd Remount Squadron initially stationed at the Remount Depot at Shirehampton near Bristol and abroad in Salonica. While at Shirehampton he met Eva Wheeler who he married in Bristol in September 1919. They returned to live in Deddington at what is now 'The Steps' on New Street. They had three children Sidney (Sid b.1920), Kenneth (Ken b.1923) & Gwyneth (Gwyn b.1926).
More about Bill's service in two world wars can be found HERE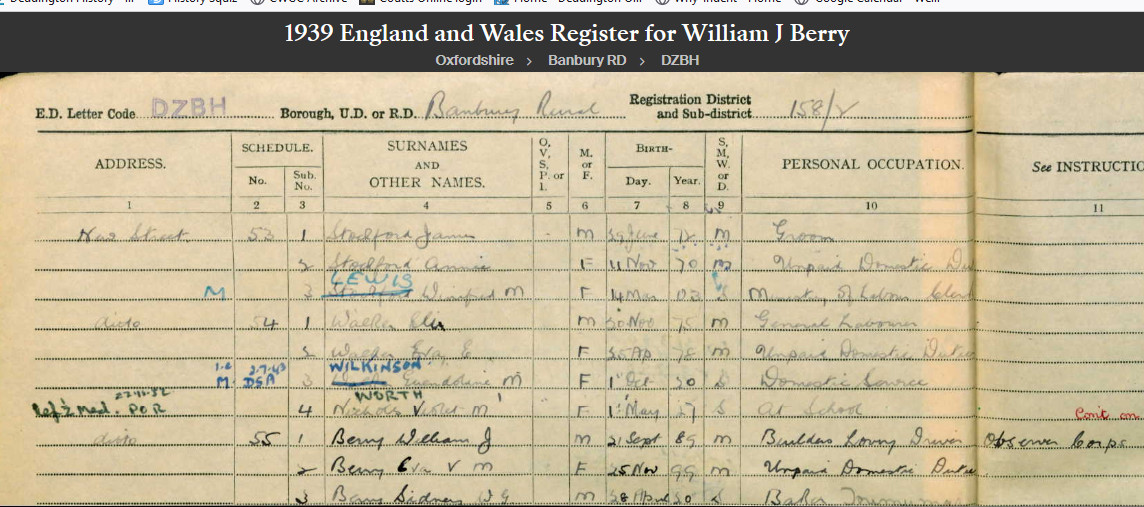 1939 Register Bill & Eva are still living on New Street with son Sidney. Bill is in the Royal Observer Corps. He can be seen in a photograph in an article about the Deddington Royal Observer Corps Observation Post on the Hempton Road. He is in the front row far left.

The family lived just down the road from Bill Course whose Bakehouse (still so called and is next to The Stile footpath) was also on New Street.
In an article about the Course family, Mark Viner recalls Bill Berry's sons, Sid and Ken, working as apprentices for his grandfather before WWII put a stop to it and they both joined up.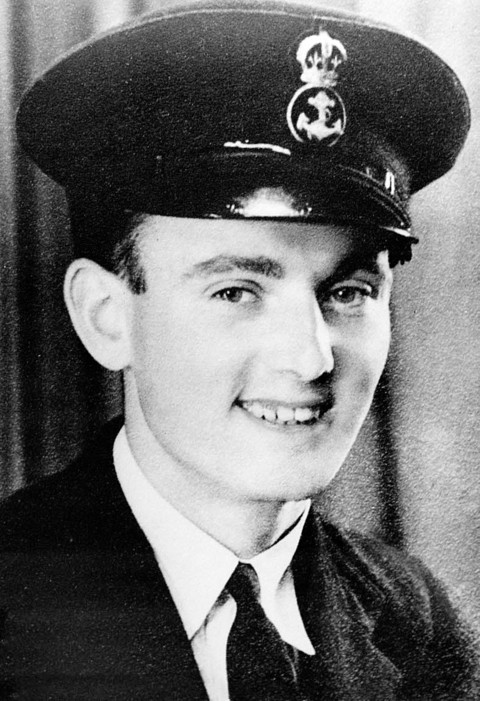 Sid joined the Navy in which he saw so much action on ships that he volunteered in 1944 to join submarines for a quieter life! He was a natural story teller and much more about him can be listened to and read - including being bombed and sunk - in an article about Leading Cook Sid Berry.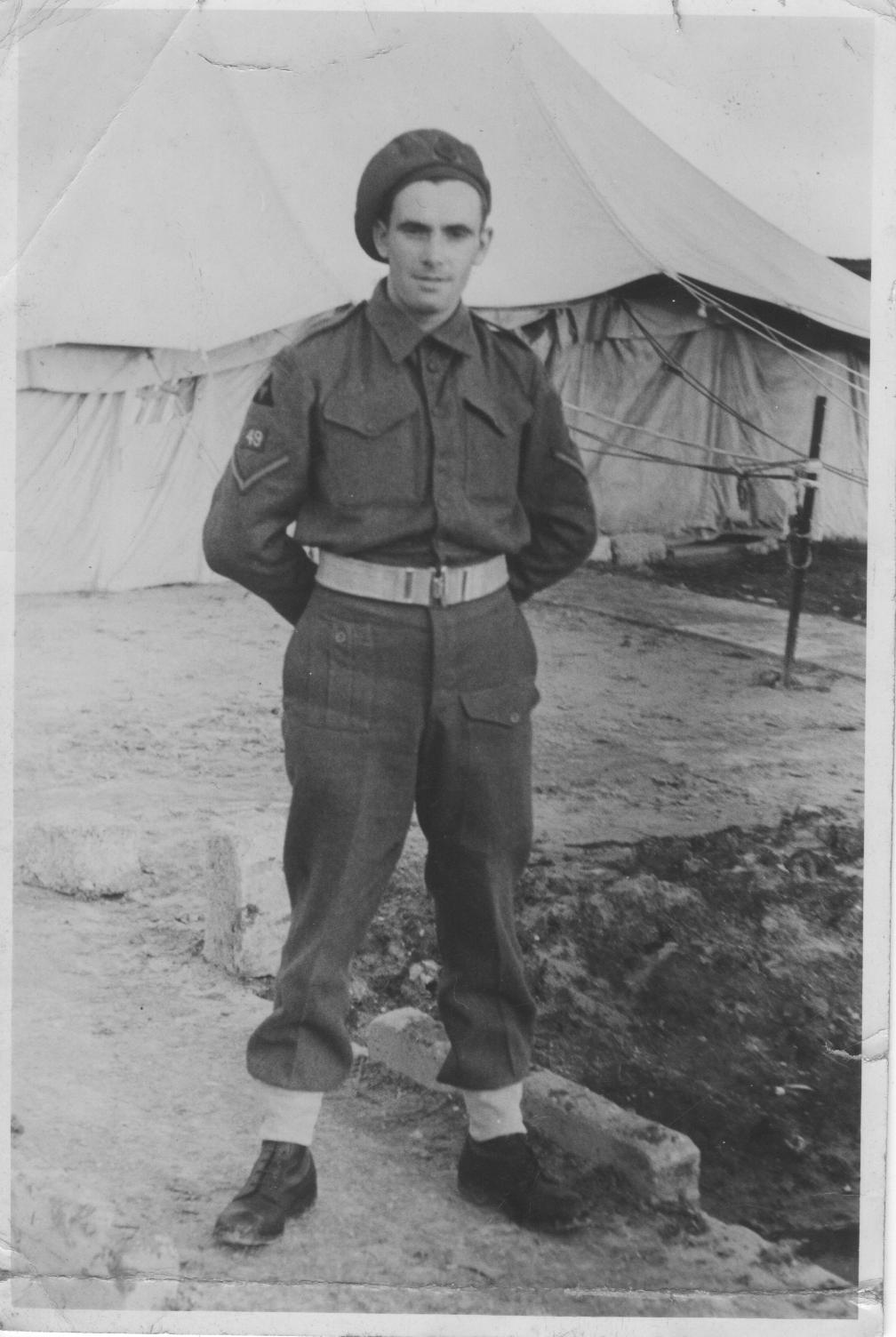 Ken joined the Army in May 1942 as a Driver and Transport Manager in 246 Field Company, 3rd Division, Royal Engineers. He was landed on the beach in France on D-Day+6 with some replacement vehicles for those lost on D-Day. He recalls that one replacement was needed because a D-Day driver had reversed his vehicle back into the sea – and wrote it off – trying to avoid driving over piles of dead bodies on the beach. He then drove his Company Commander through Europe to Germany, being shot in the neck by a sniper en-route, but only required two weeks to recover and so arrived in Bremen on 26 April 1945 still with his Company Commander. He went with 246 Company to Palestine (now Israel) and Egypt for a while before being de-mobbed in December 1946 in the rank of Sergeant. He moved to Banbury after war end.
Sid married Elizabeth (Betty) Kempsell and they had three children - George (Bob), William and Janet. The photograph below was almost certainly taken at the time of Bob's christening in 1949.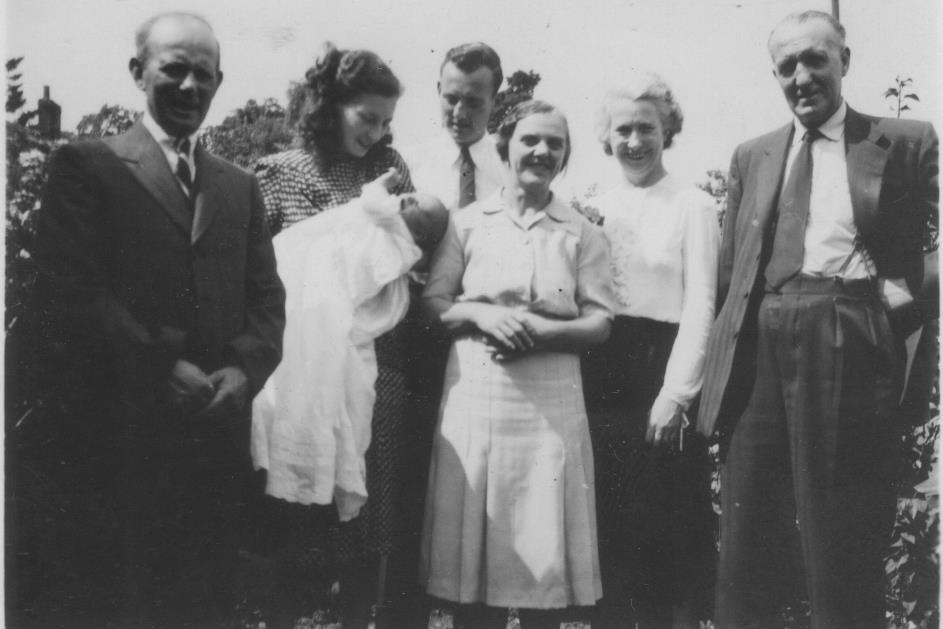 l to r: Bill, Betty with baby Bob, Sid, Eva, Agnes & Jim Kempsell (Betty's parents)
parents)
| | |
| --- | --- |
| | Betty died in 1969 aged only 43. Sid lived to the ripe old age of 86, active to the end in his extensive garden and orchard. He is leaning on the wall at his house on New Street in this photo. |
In this photo he is proudly wearing his war medals - which included the WWII Arctic Star which was shamefully not awarded to recipients until 2012 - and his Arctic Convoy white beret ready for the RBL Rembrance Sunday Parade in 2005.

As a fellow submariner I was priviledged to have known him and to have been able to hear his many stories of Deddington and his amazing war experiences.
More about:
Gallery