Hosted by
Deddington Farmers' Market
Deddington Map Group (DMG)
Published 1999
The following article is based on the original DMG Millenium Project leaflet (pdf) and is published with its kind permission
Deddington has occasionally featured on the national stage. It is positioned at the busy convergence of a major north-south road from Banbury to Oxford, and a lesser but equally ancient east-west route from Buckingham to the Cotswolds. For more than a thousand years this gave it the opportunity to observe, and if possible make a living from, the itinerant VIPs and throngs of lesser folk who have passed through. Estates in Deddington have been owned by many great figures in the past, though none was resident in the place.
Here is a brief account of some notable people and families who have lived here, who have brought Deddington to national attention, or whose connection with Deddington has been of lasting significance for the place.
View this map (PDF) if you want to see where these characters lived in Deddington, indicated by the numbers [1] through to [10].
The Early Years

Deddington seems to have been settled by the 6th or 7th century. Its name at that time is not known, but Daeda, who gave the place its present name (which means Daeda's 'tun', or settlement), lived much later, possibly in the 10th century. The last known Saxon lord of the place before the Conquest was Brihtwine. Brihtwine's house was almost certainly on the site later occupied by the castle[2] built shortly after the Conquest by its new Norman lord, the powerful warrior-bishop Odo of Bayeux, half-brother of the Conqueror. Odo, who was granted enormous estates across England, is best known today as commissioner of the famous Bayeux tapestry. Following Odo's rebellion in 1086, Deddington was seized by King William. It was at that time one of the largest and most valuable estates in the county.
The Middle Ages
By the 12th century Deddington had come into the ownership of the de Chesney family, who were almost certainly responsible for the shift of the settlement's focus westwards, away from the castle to Philcote Street, the Market Place, and New Street. The late 12th and early 13th century was a great period for creating new towns, and the de Chesneys laid out what were called burgages for occupation by merchants. Deddington never really matured as an urban community, but something of the character of a town has always adhered to it. By the end of the 14th century, the castle had largely gone.
One of Deddington's medieval rectors was Aymer de Valence (d. 1260), wealthy half-brother of King Henry III. Aymer, whose livings included the bishopric of Winchester, is unlikely to have devoted much time to Deddington.

There must have been great excitement in Deddington at the arrival in June 1312 of Piers Gaveston, one of the most powerful men in the kingdom. He had risen to eminence through the favouritism of his lifelong friend King Edward II. Immensely gifted and capable of great charm, he nevertheless alienated the greatest barons in the land by his arrogance and tactlessness. He had surrendered in Yorkshire to the Earl of Pembroke on the promise of his life and was being brought south when he was lodged in Deddington's rectory house 2 (now Castle House). Here he was seized by his implacable enemy, the Earl of Warwick, who carried him off to be beheaded at Blacklow Hill, near his town and castle of Warwick. Gaveston's brief and tragic visit is commemorated by Piers Row and Gaveston Gardens, off the Hempton Road.
Sixteenth and Seventeenth Centuries
William Billing (d. 1533), a wool merchant trading through Calais, was one of the richest men in this whole area. His damaged monument survives in the north aisle of the parish church[3].

Sir Thomas Pope (1507-59), Tudor courtier and founder of Trinity College, Oxford, was reputedly born in Leadenporch House 4 in New Street. His great fortune, which stemmed from his profitable position as administrator of the revenues of monasteries suppressed by his master Henry VIII, enabled him to buy Wroxton (north of Banbury) for a country seat as his family rose inexorably into the peerage and out of Deddington.
During the Civil War, Deddington's position on the road between royalist Oxford and parliamentarian Banbury involved it more than it can have liked in troop movements and skirmishes in the area. Troops were frequently quartered here, and in August 1644 King Charles I slept here, probably at Castle House 2. In 1649 Leveller troops, their radical politics a source of alarm even to their own officers, were quartered in Deddington. In those troubled times the maintenance of local institutions and business was in the hands of dedicated officials such as Edward Kempster (d. 1676), who was not only Deddington's registrar and parish clerk but also its schoolmaster, teaching in the schoolroom in the parish church.

Sir William Scroggs (1623-83), Lord Chief Justice, was reputedly born in Deddington. He is notorious for his partiality and cruelty during the Popish Plot trials inspired by Titus Oates in 1678.

The Fardon family, Quakers and clockmakers, worked in Deddington from the early 18th century. Examples of their work are still to be found. The clock in the tower of the parish church, though made by Taylor's of Oxford, was installed by Thomas Fardon (d. 1838) in 1833.
Deddington had its own short-lived newspaper in the mid-19th century, the North Oxfordshire Monthly Times, published from 1849 to about 1860 by local printer J.S. Hirons.
The Mason family, locksmiths and ironmongers in Deddington since the late 17th century, established an axletree factory around 1820. They acquired such a reputation for quality as to attract orders to supply axles for royal coaches, including Queen Victoria's coronation coach; indeed, it was the firm's boast that hardly a crowned head in Europe but rode in state above its axles. Mason's employed up to 80 people in the later l9th century, but in about 1896 the patent was sold to Walker's of Wednesbury, and the business closed. Its site is now occupied by the Royal British Legion[5] in the High Street.
The successful joiner's and builder's business of Robert Franklin (d. 1864) in Chapel Square was turned by his sons H.R. and W. Franklin into a firm with an international reputation for high-quality restoration work on church and college buildings in London, Salisbury, Oxford and elsewhere. Abroad, their contracts included the pulpit and chancel screen of Hobart Cathedral, Tasmania, Australia, where they are still to be seen. Henry Robert Franklin lived at Castle House[2] and William at The Blocks (now Featherton House)[6].
At their height the Franklin workshops employed as many as 200 skilled masons and woodcarvers. The firm closed in 1917. The site is now used by Johnson & Co., builders' merchants.
In the absence of resident great landowners, leadership in the town in the l9th century was claimed by a small, quarrelsome group of better-off farmers, tradesmen, professionals and clergymen. They included a remarkable trio of vicars: Richard Greaves (vicar 1822-36) was a well-known Evangelical preacher whose sermons drew crowds from the whole area. His curate John Hughes had an even greater reputation, attracting undergraduates who included the young John Henry Newman from Oxford. William Cotton Risley (vicar 1836-48) espoused conservative High Church views that were in marked contrast to those of his predecessor and not much to the taste of his parishioners. In retirement he continued to live here, fulfilling the self-appointed role of squire from Deddington House (now Deddington Manor)[7]. His successor, James Brogden (vicar 1848-64), was a drunken, querulous figure who resisted all attempts by his parishioners and Bishop Wilberforce to get rid of him, enduring to his death what he called "the tedium of being crossed by the small minds of Deddington".
A sort of clerical ascendancy was continued, albeit in quieter vein, in the 20th century in the person of Maurice Frost, who was vicar from 1924 and chairman of the parish council from 1938 until his death in 1961.
More 19th Century Notables

C. Duffel Faulkner (d. 1871), was another leading Deddingtonian of his generation. He was a lawyer and coroner, but his greatest interest was in collecting and studying antiquities, his expertise recognised by election to the Society of Antiquaries. He lived in Hudson Street, where he built the house known as The Priory containing a museum of local antiquities. His collection was dispersed at his death, but some fossils and carvings continue to adorn the curious buildings[8] opposite his house, which are now a cycle shop and a gunsmith.
Joseph Wilkins (1820-91) was a self-taught local signwriter and noted topographical artist who lived in The Stile 9. His depictions of the area, particularly his remarkable bird's-eye views, are now an important historical source.
Farming families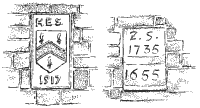 Among leading farming families, three may be mentioned which, together, span five centuries. The Appletrees at various times held Blount's Farm, Deddington, and Appletree Farm, Clifton; the Churchills farmed extensively in Clifton and were prominent local tradespeople and parish officers; the Stilgoes were farmers and mill owners, whose 17th-century house in Hopcraft Lane[10] bears dates from three different centuries.
Is It True?
Two well-known names, both related to trade, are often mentioned in connection with Deddington. One is William Bowler, who first produced his renowned hat in 1850, price 12 shillings. The other is Mr Harris, maker of the celebrated sausage. However, we have not yet seen any documentary evidence that either of them ever lived or worked in the parish of Deddington, although some members of the Bowler family did live in what was Eastleigh, New Street (now Bowler House).
Sources: The Bayeux Tapestry; English Heraldry, J. Dallaway, 1793; History of Deddington, E. Marshall, 1878; Supplement to Marshall's Deddington, W. Wing, 1879; The Story of Deddington, Mary Vane Turner, 1933; Clockmaking in Oxfordshire, C. F. C. Beeson, 1962; A History of Deddington, Oxfordshire, H. M. Colvin, 1963; The Victoria County History - Oxfordshire, Vol. II, 1983; From Hempton to Hobart, S. Stradling, 1985; National Portrait Gallery; Trinity College, Oxford; Centre for Oxfordshire Studies.
This leaflet forms part of the Mapping the Millennium series, funded by Rural Action. Other subjects: Churches and Chapels, Where to Eat and Drink, Nature Trail, Fields and Farms, Town Walk.
© 1999 Deddington Map Group