Hosted by
Deddington Farmers' Market
Queen Victoria's Golden Jubilee (East) Window, 1888
Extracts culled by Ruth Johnson from the Deddington Parish and Deanery Magazines, 1879–1930, edited by the then Vicar, the Revd Thomas Boniface until his retirement in 1924.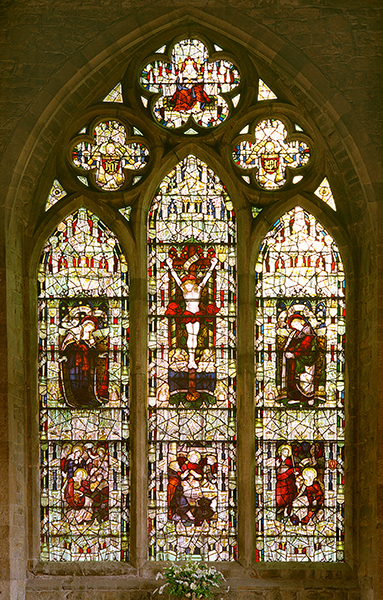 'Our three parishes celebrated Queen Victoria's 50th Jubilee in 1887 with much good feeling, loyalty and due honour. Many would never forget the happy day and tell their children, as yet unborn, all about it. In SS Peter & Paul Church Her Majesty's Jubilee was marked by a stained glass east window.'

…
'The parishioners of Deddington can now congratulate themselves in having the large east window of their fine church filled with good stained glass. The work was entrusted to one of the finest artists of the day, C E Kempe, Esq., of London.
The window was unveiled on Monday, February 13th, and dedicated at the special service held on that day. The Vicar, the Revd Thomas Boniface, spoke in his address of the twofold use of such windows: firstly, to beautify the house of God and, secondly, as a means of instruction. Several of the local clergy were present on the occasion and a full choir who sang the anthem "How beautiful upon the mountains" by Smith and Dr Steggalla's "Te Deum".'
A full list of contributors to the window fund is given in the October 1888 issue of the Parish Magazine: parishioners, clergy, amongst them the Dean of Windsor, friends of the church from other parishes, but also proceeds from bazaars and sale of work, the offertory at the Dedication Service, bank interest and £15 from the Ecclesiastical Commissioners.
The cost of the window, including fixing, came to £298 12s. and the wire guard cost was £10 10s., total £309 2s. The project to fill the east window with stained glass was set in motion in November 1886 when the Ecclesiastical Commissioners were restoring the chancel of the Church and proposed to repair the then plain glass window. The Revd Boniface writes in the November 1886 Parish Magazine that 'in the event of the scheme for a stained glass window being carried out we shall want all our friends to help'.