Hosted by
Deddington Farmers' Market
Rob Forsyth

| | |
| --- | --- |
| | |
| Mount Pleasant is on the left of the road | Click on images to enlarge |
| Courtesy of Packer Collection | Courtesy of Cherwell District Councl (CDC) |
In 2022 the Royal National Institute for the Blind (RNIB) who owned the property submitted a planning application to CDC to demolish the semi-derelict house and its adjacent barn in order to build three new houses on the land. Local residents objected to the application on the grounds of its historic value saying it should be locally listed and restored. I am grateful to Dr Tracey Parker of Hempton who provided me with much of the information in this article derived from her research into the house's previous owners.

17th Century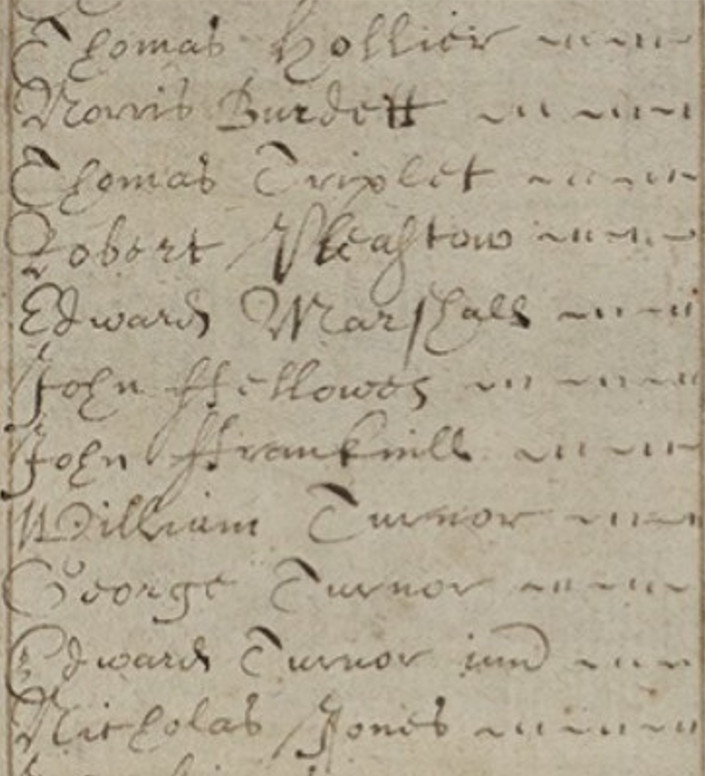 During the Civil War Hempton, along with Deddington, was a Royalist stronghold. Local legend has it that King Charles spent the night in 'Parish's Farmhouse' in Hempton's 'High street'. However, another source says he stayed in 'The Parsonage' in Deddington.
1642 Protestation Return This document listed all the men in the parish of Deddington who pledged allegiance to King Charles I. The whole document (3 pages) can be downloaded from the National Archive website. At the top of this extract is the name Edward Hollier. Michael Hollier, who is a descendant of the Hollier's and now resident in Australia, has provided the following information from his research into his branch of the family.

1669 William Hollier of Hempton was an appraiser for the will of William Bignell senior of Hempton dated 15 November. A transcription can be read on the Oxfordshire Family History Society website

1696 The will of John Hollier dated 1 May indicates he lived in Hempton. He divided his estate between his son John, not yet 21, and his wife Mary. Michael Hollier's transcription can be read HERE.

click on image to enlarge

There is therefore strong evidence that the Holliers lived in Hempton from before 1642 and probably in Mount Pleasant. The owner immediately prior to the RNIB - Michael Payne, son of Albert Payne (1916-2007) - anecdotally recounted to the Parkers that Mount Pleasant was older than their own property which was built in the 1650's and that the barn was older than both. He also believed that during the 1600's it was a coaching inn.
1808 Enclosure Act
click on images to enlarge
In these documents above relating to Hempton, John Hollier senior is the owner of plot 71 (map above left). The size of the land is shown (schedule above right) as 1 Rood 17 Poles under the column which also denotes that it is an 'old' enclosure. The documents relating to the whole parish can be viewed/downloaded HERE

Heads of Hollier Households

The following is a list derived from various sources. Years are approximate. The prevalence of 'Johns' marrying 'Marys' and 'Elizabeths' is a genealogical research challenge!

Edward Hollier b. before 1642
John (d.1696) & Mary

John & Martha née Townsend (d.1731)

Aubrey (1721 - 1772) & Mary née Seeley (d.1758)
John (b.1747) and Elizabeth née Parsons
John (1783 - 1849) & Mary Slatter (1785 - d.after 1848)
John (b.1826 - d.before 1911 census) & Elizabeth
John (b.1836) & Elizabeth

John (b.1860) & Elizabeth