Hosted by
Deddington Farmers' Market
Article under development

Rob Forsyth
Joseph was an agricultural labourer who lived in The Stile which is a footpath leading from New Street to Goose Green and runs as the boundary to our house. In 1850 he married Ann English from Barford St John and they lived in a cottage increasingly crowded with children and Ann's mother Temperance. The family tree shows they had 9 children - 2 of whom died in infancy.

He had a talent for drawing which eventually provided some escape from agricultural poverty. Sign writing was his bread and butter but he then became an artist. In the 1871 census he describes himself as a 'Painter'. He is now best known for his remarkable 'birds-eye views' giving a unique insight into the topography of the area.




Bird's Eye Views

Deddington (l)

Clifton (r)

click on thumbnails for larger images




Chris Day, Chairman of Deddington & District History Society tells us "The view of Deddington (c.1865) introduces us to another character of that period,
John Knibbs
,who died in 1901 at the age of 94. The view contains a local joke at John's expense, noted by
Mary Vane Turner
in her Story of Deddington (1933): when looking closely at the original, one can see the Deddington Rifle Corps drawn up by the town hall, while away far off in St Thomas's Street is their drummer, beating the big drum, quite alone. The joke is that the errant drummer, John Knibbs, was also ale taster to the manor court"
18th October 1845 A man named Wilkins came to sketch our tabby cat Jerry.

11th March 1865 I called at the Windmill on Jon Simons and Josh Wilkins, Mrs. Hall having called to say they had both been begging at Duns Tew. I left 2s.6d. at Wilkins's by her desire and told Simon's wife that Mr. Hall would employ her husband.
Editor's Comment - art never was a secure form of income! But did he help himself to some charity in this diary entry...
2nd April 1855 I finished the lamb stealing case, by committing Josh. Wilkins to the Sessions for trial.
Lower Heyford - George Dew diaries

Peter Deely, resident of Lower Heyford, refers to Joseph in his excellent local history book about Lower Heyford Village School (see bibliography at foot of article) which includes several sketches and paintings by Joseph. I am most grateful to Peter for permission to use material from his research.

Joseph went to Lower Heyford to do lettering on the wagons for John Dew, carpenter and wheelwright, at the request of his son, George Dew, builder and then registrar of births and deaths for the Bletchingdon Union. George Dew wrote about him in his diaries (to be found in the Bodleian Library ref: Dep a48, b108,b204). One of John Dew's tenants was Thomas Wilkins, from Deddington – who was not only a cousin of the painter, but married to Hannah English, Ann Wilkins's aunt! In fact it is quite possible that George Dew first came across Joseph Wilkins while collecting his father's Steeple Aston rents.

1866 Dec 1 Saturday Wilkins from Deddington brought me a view of the canal bridge
at Heyford as it appeared before the railway was made for which I paid him 1/- & father
gave him 6d, he being so poor….no one would ever think that so poor stuttering
creature possessed so great drawing abilities.
Dec 4 ..took a sketch for this part of L Heyford (part of Freehold Street, the only
thoroughfare in the village). It will comprise our house with a view of the chapel, Miss
Hore's, Charles King's where my father's grandfather (Thos. Dew) lived & Foster's
opposite where my grandfather lived and all his children were born,
Dec 17 Wilkins …..brought the Bird's Eye view of L Heyford...he took a sketch of the
station for my brother.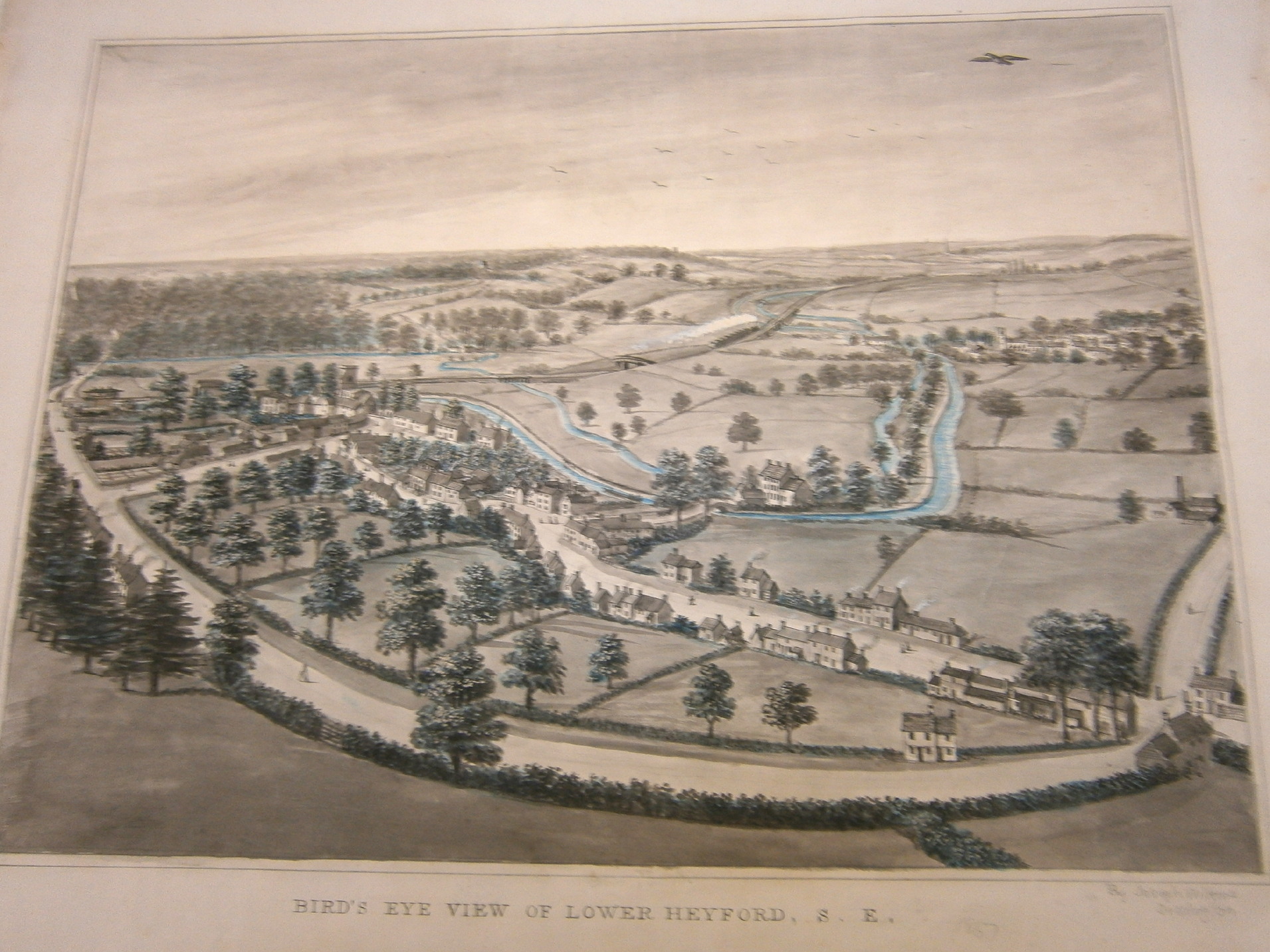 Lower Heyford
Click on thumb nail for larger image

Steeple Aston Village Archive (SAVA)
I am most grateful to SAVA for permission to use information and images from their archives.

The Dew collection also includes a Birds -eye View of Steeple Aston which George Dew probably commissioned. This shows the village from the Heyford Road end – which turns out to have several odd connections with the Dew family. In the right foreground is Lansdowne House built by John Dew about 1844, but sold to a relative after the death of John's first wife. The left foreground is dominated by Harrisville, where John Dew owned (and probably built) two of the cottages in this development of the 1850s.




Steeple Aston Church (l)

The Old Forge (r)

click on thumbnails for larger images




Also in the SAVA collection are two water-colour paintings of Steeple Aston which formerly belonged to the late Mrs Daphne Smith, of Holly Tree Cottage, South Side.

Steeple Aston Church. The painting is a good impression of the church from the south-east, if slightly inaccurate in some details – the side-windows of the chancel should have four main lights each, not six, and the niche over the porch door should not extend above the parapet and the Rectory is a little too far to the left.

The Old Forge. The figures in the painting are the carpenter and wheelwright, James Durran (1796-1880), and his wife Ann, who occupied The Old Forge for about 40 years. James bought the land at an auction held at the Red Lion in July 1840, following Charles Harris's descent into bankruptcy, and the buildings shown were erected soon afterwards. The business was eventually bought by another wheelwright, Nathan Field from Duns Tew, after Ann Durran's death in 1883.

Gallery Album

The images above and several more can be seen in Joseph Wilkins Album in the Gallery

Bibliography
Lower Heyford Village School, Peter Deeley
The story of the labours, lives - and loves - of three teachers who established one of the country's outstanding 'free' schools and gave almost a century of dedicated education to the children of ordinary folk.

The book is available, price £5, either by email to peter.deeley357@btinternet.com or put your address + £5 in an envelope and post through his door at 2 Knapton Croft, Lower Heyford, OX25 5NR or call him on 07512 205 903.