Hosted by
Deddington Farmers' Market
Richard Stilgoe

Zachary Stilgoe came from a branch of Stilgoes very different from the Deddington farmers who are our forbears. His grandfather Humphrey (1583-1651) was a shipwright in New Gravel Lane, Stepney, and possibly a first cousin of the Zachary Stilgoe who died in 1669 in the house in Deddington that still bears his initials. (An earlier Richard Stilgoe, son of Thomas of Deddington, was apprenticed to Humphrey in 1616. )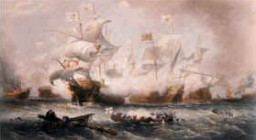 In 1627 Humphrey became Master Carpenter in H.M.S.Vanguard, a proper Man'o'war that had fought the Armada. In 1629 she was dismantled in order to build another ship, and presumably this dismantling was Humphrey's job.

Zachary's father was Humphrey's third son Jeremiah. Jeremiah lived from 1625 to 1662, married Esther Johnson of Whitechapel in 1647, and in 1661 became master of the Rebecca. He died abroad, while sailing her. I have his master's certificate, and a list on vellum of all his goods when he died. (He owned, among other things, a suit of Lynsey Woolsey, and twelve table-cloathes). After his death the Rebecca was shamefully used by Elizabeth Collier (who may have been another cousin) in 1676 to transport Sara Price to Virginia to sell her into slavery. In that same year Elizabeth Stilgoe, widow of Zachary's brother Jeremy, was fined three shillings and fourpence for assaulting Edward Yates "so that his life was despaired of". The London Stilgoes lived lives a good deal more exciting than our Oxfordshire ancestors!
Zachary, meanwhile, was in Ireland, on the river Kilmare in Co. Kerry, building a ship for a very great man. Sir William Petty, father of modern economics, was one of the founder members of the Royal Society, which for a time was the workplace of my son Jack Stilgoe, father of the 21st century Zachary.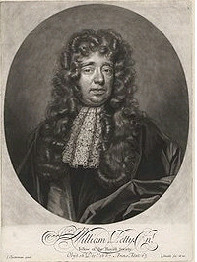 Sir William, among his polymathic achievements, invented the catamaran. In 1664 he demonstrated it – it was called 'The Experiment' - to Charles II, and Pepys, Evelyn and John Aubrey all mention it in their diaries. This is what John Aubrey says in Brief Lives: "Anno Domini 1663 he made his double-bottom'd vessel, of which he gave a model to the Royall Societie made with his owne hands, and it is kept in the repository at Gresham College. It did doe very good service, but Anno 16....happned to be lost in an extraordinary storm."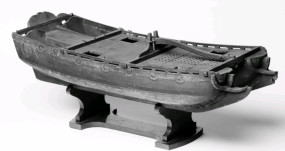 Indeed, after its promising start it later sank with all hands in the Bay of Biscay in a storm – partly because it only had 17 sailors on board instead of the 50 it needed, the others having been 'pressed' into another ship.
The ship Zachary was building for the very great man was not a catamaran. It was called the Orrery, after an Irish earl of that name. When she was completed Sir William, who knew something about economics, decided to make an economy. He decided not to pay Zachary II for building the Orrery, and in 1679 Zachary sued him. Unsurprisingly, Sir William won.



This must have ruined Zachary, who we next discover eight years later sailing under the flag of the British East India Company in

Madras

(now Chennai).

He is first mate in the Curtana, under Captain Weltden.

They are about to attack Mergui in

Burma

, and the Curtana was in such a disgraceful condition that the officers protested.
Mr Stilgo (first mate): "You know the fitness of the ship for such an operation as well as we do.

None of the guns on deck will house and to load them, the men will be forced to expose themselves.

That will be hot work, when they

come to pistol shot."
I don't know how accurate the dialogue is – it comes from 'Siamese White' by Maurice Collis, a book about the doings of the East India Company. We don't know whether the men had to expose themselves, but the Massacre at Mergui in 1687 was a terrible affair. We do know that Zachary II survived it, because in 1693 he is listed among the inhabitants of Madras as 'a sea-faring man'. In 1697 he is captain of the Dolphin. In 1699, on 27th April, he marries Elizabeth Stubbs at St. Mary's Church, Fort St.George, Madras.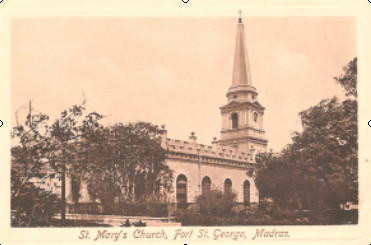 (What was she doing there? Why was there an English parish church in Madras?)


In 1700 he is captain of the Ruby, and on 17th January he sails in the Ruby for the Maldives. He is never seen again, and on 9 February 1703 Elizabeth Stilgoe marries John Meverell at the same church in which she married Zachary.
Zachary Stilgoe's grandfather was a cousin of my eight-greats grandfather Zachary Stilgoe, who is the ten-greats-grandfather of Zachary Stilgoe, b. 2007. I earnestly hope that the 21st Century Zachary's life is free from being cheated by knights of the realm, bankruptcy, massacres and being lost at sea: quite apart from your sister-in-law being fined three shillings and fourpence for assault.
The continuity of names dictated by the Deddington Zachary's brass box doesn't end there. I have a little sailing boat in a creek in Devon, thousands of miles from Chennai and the Maldives. As a small reminder of a seventeenth century bankrupt sailor, she is called Ruby II.