Hosted by
Deddington Farmers' Market
Work in progress
Percy Manning Miscellaneous Papers
Documents relating to the Parish of Deddington 1583-1914
David French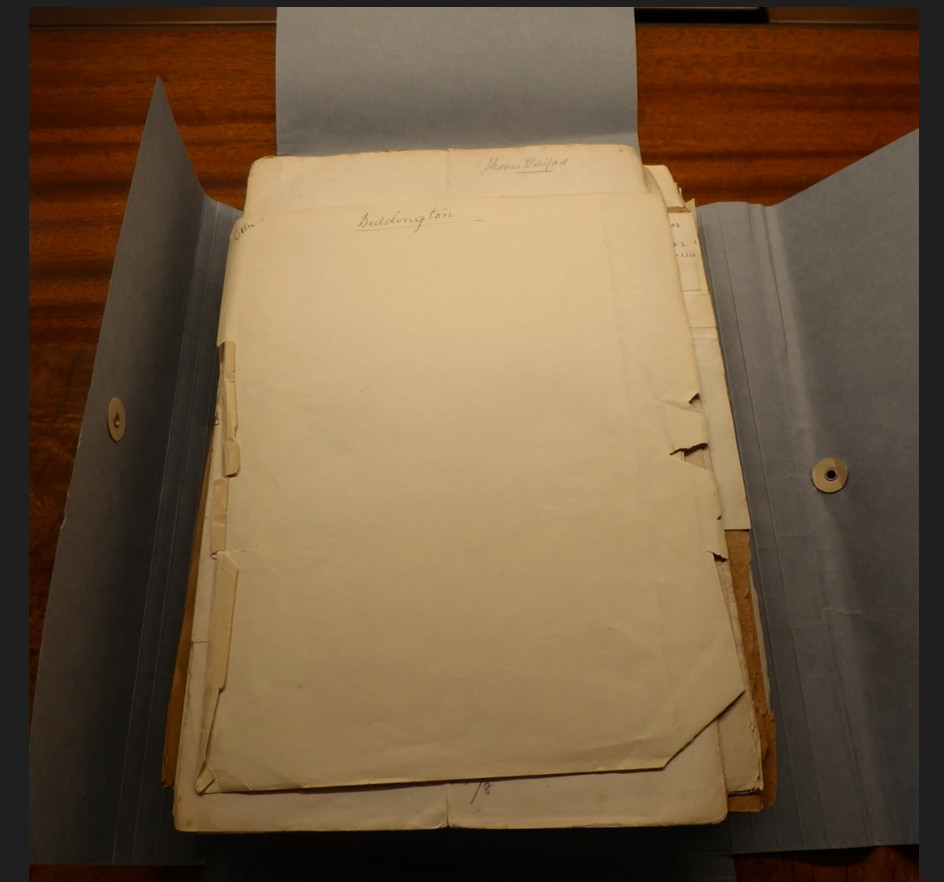 Bodleian Library, G.A. Oxon c.317 Volume 8 (of 26)
13" x 10"


click on image for larger version

Introduction
Percy Manning's dates are 1870-1917. He was a historian, antiquarian, folklorist and archaeologist, and is known as the "Man who collected Oxfordshire".
He was a leading light in the Oxfordshire Architectural and Historical Society and the Folklore Society, playing a major role in the revival of the custom of Morris-dancing.
During his lifetime he donated many of the artefacts which he had collected to the Pitt-Rivers Museum or the Ashmolean. The latter also purchased the bulk of his collection in 1921, after it had been put up for auction.
The Bodleian Library's collection consists of about 500 volumes of 19th and 20th century material, consisting of books on the antiquities of Oxfordshire and the University, some manuscripts, and local engravings and drawings.
The documents collected by Manning concerning Deddington are fairly random, covering some nine topics as summarised below. Of particular interest are the War Office records relating to the requisitioning of the Deddington church bells during the Civil War, and the unsuccessful attempt 66 years later to obtain the compensation which had been promised.

Summary
The following is a summary of the main topics contained in the collection and which document they are contained in.
Publicity for William Churchill's Deddington Household Stores
1/2, 1/3, 1/4; 6/1; 6/18; 6/26.

Charity Commission orders in respect of the Deddington Charity Estates
1/5 to 1/8.

Lists of sources of historical references to Deddington compiled by Percy Manning
2.
Manuscript notes by Percy Manning on MS. Arch. Oxon. (now at the Oxfordshire History Centre)
3/1 to 3/3; 4/1 to 4/5; 5.
Manor courts at Deddington
6/3, 6/4
"Pudding Pie" Fair
6/7/1 to 6/7/3.
Deddington, Heyford & Aston Benefit Building Society
6/8 to 6/15; 8/1, 8/2.
Deddington parish church
6/16, 6/17; 6/19/4; 6/22.
Requisition of Deddington church bells 1643, and unsuccessful claim for compensation 1709
7/1/1, 7/1/2. Editorial comment and transcripts


INDEX
A further summary of each document can be found HERE

TRANSCRIPTS
Transcripts of the documents can be found HERE