Hosted by
Deddington Farmers' Market
By Jon Malings

William Malings was christened in Somerton, Oxfordshire, May 1st 1825. He died at a relatively early age (51 years) for a Malings, and was buried on June 10th 1876 in Deddington. Like his father and all of his brothers, William was a farmer. He was probably the most significant member of the Malings family with regard to the social and "political" life of Deddington.

For all his adult life William farmed around 200 acres in Clifton adjacent to his father. He married Eliza Fortnam of Hempton in 1849 and they had two children, William John (1852) and Mary Ann Eliza (1856) Malings. Eliza's father was John Fortnam of Great Barford who was also a farmer.

William Malings jnr. (1825-1876) Farmer, Clifton
m. 1849 Eliza Fortnam (1825-1872)
William John Malings 1852 – 1916 Farmer and Commercial Traveller
m. 1878 (cousin) Charlotte Anne Malings 1851 – 1890
3 sons, one daughter
m. c.1893 Caroline Penson (c.1862–1897)
2 daughters
m 1901 Nellie Perkins (1871-1940)
2 daughters, one son
Mary Ann Eliza Malings (1856–1883)
m. 1883 Francis John Parsons Gunning

One of the difficulties in researching William's life is the confusion between him, his father and his son, all called William. This is made worse by the fact that William and William Senior farmed adjoining land. Sometimes the source refers to "Young W Malings", or "William snr." but at other times I just have to guess.


1840-1860

The first reference to William that I have found is on the 1841 census aged 15, living with his parents at High Street South. Clifton. His father is a farmer but no occupation is shown for William.

The Deddington Parish Register records his marriage on Nov 14 1849:
William Malins (sic) bachelor, of full age, a farmer from Clifton, son of William, a farmer
Eliza Fortnam, spinster, of full age, from Clifton, daughter of John, a farmer
Married by Licence.
The witnesses were William's brother Samuel and his sister Charlotte Ann.

In the 1851 census William is living in Clifton with his wife Eliza farming 176 acres, employing 5 men and 3 boys. He lived and farmed in Clifton all his life

The census also shows Eliza's parents, John and Mary Fortnam, living in the next house. Rather than being a farmer, as on William and Eliza's marriage register, John is now a "Proprietor of Houses". As an interesting postscript, a 1979 letter from Leslie Malings (1910-1987) records that when he reached 21 he inherited £349 from the Will of his great grandfather (this) John Fortnam who had died nearly 60 years before!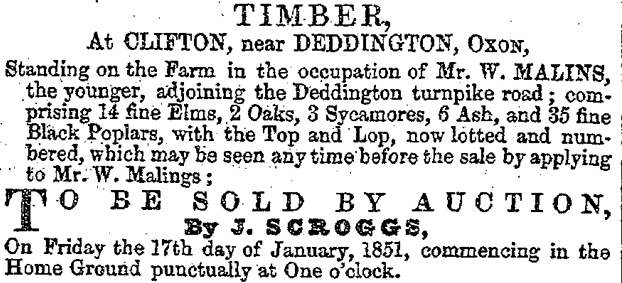 On January 11th 1851 Jackson's Oxford Journal announced an auction of timber from William's farm, situate on the Turnpike Road in Clifton.



In 1854 The Journal noted that William has subscribed £1 to the Deddington Poor Relief Fund. His father donated the same amount.

The Rev.Cotton Risley recorded in his diary on the 22nd March of that same year:
"Young Malins of Clifton came and I heard the case against one Rysmith for leaving his service - who rather than go to prison agreed to go back and serve his master properly for the time to come."

Labourers absenting themselves while under contract seems to have been a common complaint amongst farmers. William's brother Urban brought a similar case to the Petty Sessions some 20 years later.

Throughout the 1850's, as he became established as a farmer and family man, William started to play an active part in the political and social life of Deddington.

Given that he had young children it's natural that William took an interest in the Deddington National School. This had been rebuilt by public subscription in the early 1850's but by 1854 internal squabbling had caused it to close. William attended a public meeting in December 1855 to discuss its reopening and he was generally recorded as attending the annual subscribers meetings thereafter.

In 1858 Jackson's Oxford Journal reported that he has been appointed "surveyor" for Clifton, a parochial appointment

Being a ratepayer, his attendance at a Vestry meeting in that same year was also noted. In the following year he supervised the distribution of coal in Clifton, provided by the Deddington Coal Charity as well as attending a meeting for the subscribers of the Deddington National School. Given his connection with both of these it's possible that William was a Trustee of the Deddington "Feoffees" by 1858 although I haven't found any hard evidence of this until 1874.

The Feoffees had been established in the early 17th century to manage and adminster income from Deddington charitable trusts. Their principal task was to help residents of the Almshouses but by the 1850's they were using any surplus income to maintain the Deddington Coal Charity and support the National School. Kristin Thompson has written a history of the Feoffees.


The 1860's

By the time of the 1861 census William was living at Appletree Farm in Clifton with his wife Eliza and their two children. His acreage had increased to 191, employing 5 men and 3 boys.

His father William snr. had the adjoining farm of 220 acres employing 5 men and 4 boys, some of them, presumably,William's three younger brothers who were still living at home. Dutton's Directory 1863 lists both William Malings Snr. and Jnr. farming at Clifton,

William Snr. died in 1865 but it's not clear what impact this had on William or the rest of his brothers. In his Will William Snr. left most of his property to his widow Charlotte for the duration of her life and she did not die until 1876. In the 1871 census Charlotte, aged 71, is a farmer of 221 acres in Clifton employing 8 labourers, 4 women and 3 boys. It's inconceivable that she was running the farm on her own. Later evidence shows that her son William was managing her farm as well as his own.

Throughout the 1860's Jackson's Oxford Journal continued to report William's activities, from providing a barn and field for the annual cricket match and tea through purchasing stock at the Bicester Ram sale and the annual Kirtlington Park sale.



The perennial problem of trespass and poaching is highlighted in a notice from 1863 in which 8 of the local farmers, including William and his father, warn of the penalties for encroaching on their lands.


Throughout the 1850's and 60's there are a number of references to Mr Malings attending meetings concerning the National School in Deddington, including the one called in 1855 to discuss it's re-opening. At the 1864 general meeting it was noted that Mr Malings was in the chair. The motivation was surely the fact that he had two young children.

Along with his brothers, William also started to record successes at the Bicester Agricultural and Horticultural Association's annual show. Unlike his brother Samuel, who specialised in soft fruit and flowers, William won prizes for a 5 acre field of Beans, and another for the best 5 acre fields of Wheat, Oats and Beans.

As a significant farmer in the district William was prominent in "local politics"; his attendance at several Deddington vestry meetings being mentioned, including one which appointed him to the Church restoration Committee. In 1868 he and his brother Robert were elected Guardians for Deddington in the Woodstock Poor Law Union, and William was also appointed to the assessment committee. He continued his involvement in the Deddington Coal Charity.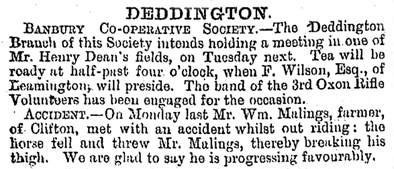 In 1869 Jackson's Oxford Journal reported that William has been thrown from his horse and broken his thigh. Accidents were not uncommon, the newspaper carried regular reports of such events. On one occasion William's brother Samuel suffered broken bones when his carriage overturned. Other stories involved Mr Iorns who was thrown from his horse in Clifton in 1851 and taken to William's house to recover and , in 1876, eighteen-year-old William Davis who was thrown from his runaway horse outside Mr. Malings' barn in Clifton and died.


The 1870's
The business of farming carried on regardless of a broken bone or several. In January 1871 The Journal carries an auction notice for timber from the farms of William and his brother Robert, a near neighbour. This is just one of several references to Robert and William acting jointly. They were both appointed to the Board of Guardians, attended Vestry meetings etc. so we have to surmise that some of the Malings family were on very good terms with each other.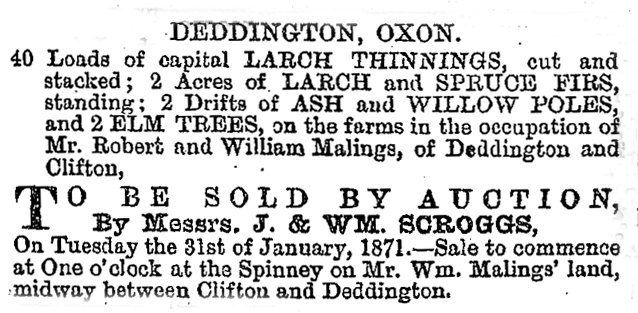 In 1870 Deddington was rocked by a "scandal" concerning Henry Churchill which was to drag on for more than 2 years. Churchill epitomised the establishment of the day; he fulfilled many important roles, as a solicitor, Coroner and Clerk to the Justices of the local Division of the Magistrates' Courts. He also served on many local committees including the "Deddington Sunday School Shoe Club" of which he had been treasurer and manager.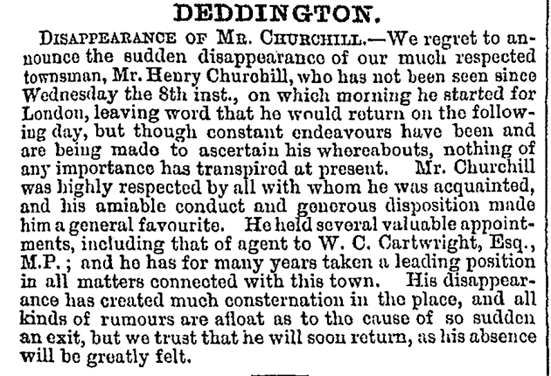 Henry disappeared without trace. The reason soon became clear; he was bankrupt and William and his brother Joseph Edward Malings were among his creditors. Henry Churchill was the solicitor who had drawn up William snr.'s Will so it's likely that he handled William's legal business also. At the initial meeting of the creditors, reported on October 8th 1870, William was appointed an Inspector along with Mr. E. W. Turner of Deddington, surgeon, and Mr. William Parish of Hempton, farmer. Jackson's Oxford Journal later carried several reports of creditor's meetings.

From Jackson's Oxford Journal February 11th 1871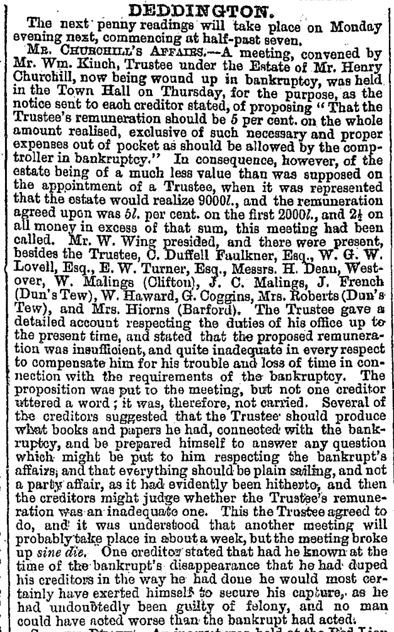 From Jackson's Oxford Journal October 26th 1872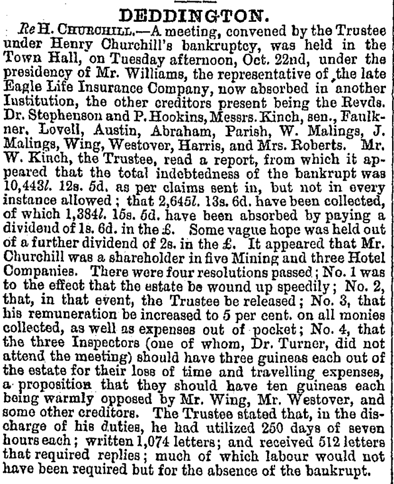 Despite Henry Churchill's bankruptcy and William's assumed loss, both William and his wife are listed as subscribers to the French Peasant Farmers Seed Fund in 1871. They each donated one guinea so clearly they had not been affected too severely.

As one might expect, the 1871 census records that William and Eliza were living at Clifton Road, Deddington, with their two children William John and Mary Ann. William now farmed 217 acres employing 7 men, 3 boys and 4 women.

An innocuous paragraph in The Journal on May 20th 1871 eventually ends up as an interesting court case. John Upton of The Crown Public House in Clifton applied to have the Beer-house licence transferred into his name. "All the principal landowners in the hamlet" signed a memorial stating that they objected to the transfer. Mr. William Malings appeared on behalf of the memorialists and the transfer was not granted.



Follow this link to see the details of Mr Upton's appeal against this ruling.


Civic Duties

William did not slacken in his civic duties in the 1870's. Jackson's Oxford Journal keeps track of his activities for us. He continued as a Guardian for Deddington Parish 1871-4. He was elected sidesman for Clifton in 1873 although he retired from this duty in 1874. In 1873 and 74 both he and his brother Robert attended the Annual Court's Leet and Baron as Jury members. The Courts Leet was "generally of a formal character" to quote Jackson's Oxford Journal, but the members of the Jury "surveyed" the town and had the power to levy "amerciamonts" or fines on properties which were not kept clean and tidy. After the inspection the members adjourned to the Kings Arms Hotel where "a capital repast was provided by Host Austin".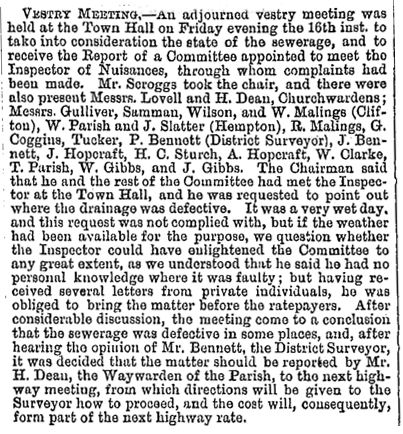 As a ratepayer William was part of the local government of Deddington. There was no elected council as today. Instead, the town was managed by the "Vestry Meeting" in which all ratepayers were entitled to participate. A report of the meeting in January 1874, when both William and his brother Robert were present, shows the sorts of things that the Vestry Meeting had to handle. In this case Sewerage and Nuisance.


In another example, the Vestry Meeting had set up a committee to find ways of enlarging Deddington Cemetery, which was getting short of space. William was on the committee and his brother Robert also attended as he had a significant interest in the outcome. The plan was to take one quarter acre of land from the farmstead which Robert was renting. This was eventually agreed and the consecration of the cemetery extension was reported in The Journal on October 10th 1874, William and his brother Robert in attendance.


In January 1874 The Journal reported on a meeting of the Deddington Feoffees. Although this is the first hard evidence we have, it's probable that William had been a member for some time, given his support of the Coal Charity and the National School in previous years.
The Final years

In addition to his Civic duties the Journal also reported some of William's other activities. In 1871 a notice revealed that he was acting as executor in the estate of Mr. John Hiorns of Great Barford.

In September 1872 William's wife Eliza died suddenly in Woodstock. It's not known why she was there although William's great aunt, Elizabeth, and her husband, clock maker John Fardon, had lived there and several of William's distant cousins still occupied houses in the village.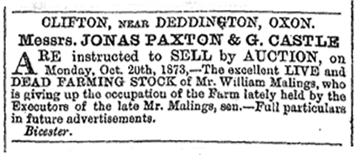 In October 1873 Jackson's Oxford Journal carries a notice declaring that "Mr. William Malings is giving up his occupation of the Farm lately held by the Executors of the late Mr. Malings, sen."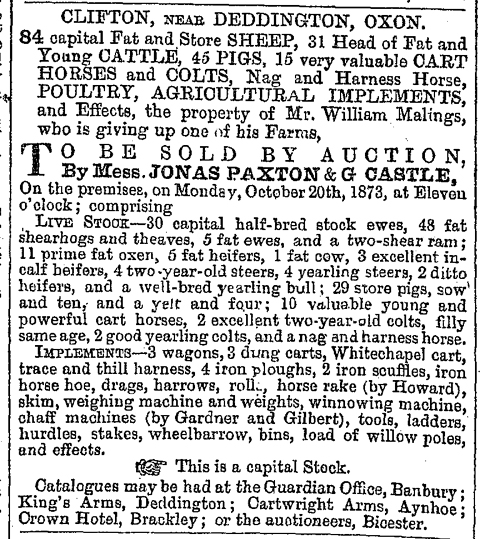 The notice makes it clear that William had been managing two farms for a while, his own and his mother's. The following week a more detailed notice of the auction describes the substantial live and dead stock to be sold. The only question is whether this stock belonged to William jnr., as the notice states, or was it part of his deceased father's estate?

William continued to participate in the Bicester Agricultural and Horticultural Association annual show. In 1875 he won 1st prize for his wheat crop and another prize for his corn.

In December 1875 Jackson's Oxford Journal reports that he exhibited stock at the Annual Christmas Sale and Show organised by Messrs Paxton at Aynho Railway Station. The following week, describing the butchers at the Christmas Meat Market at Oxford, The Journal lists Mr Jessop exhibiting William's Prime Heifer and Mr. John Lissey who has his superior wether sheep, both purchased at the Aynho auction.

William died on June 10 and was buried on June 14th 1876 in the North East corner of Deddington Churchyard with his wife Eliza. His tombstone inscription reads 'William Malings of Clifton, Died June 10th 1876. Aged 51'

I have no Will as yet, but we can presume his farm stock was passed to his only son, William John Malings, who continued to farm in Deddington for a few years at least. In 1881 William John is recorded as living in Castle Street, farming 415 acres, employing 11 men and 5 boys.

In 1877 two of William's brothers gave up their farms. Robert, who was at Castle Farm in Deddington advertised an auction on March 10th and on 22nd September a notice appears in Jackson's Oxford Journal announcing an auction at Dovecot Farm, Fritwell, "by the executors of the late Mr. William Malings." Perhaps he had provided assistance for both brothers and his son (and heir?), William John, wanted his inheritance back?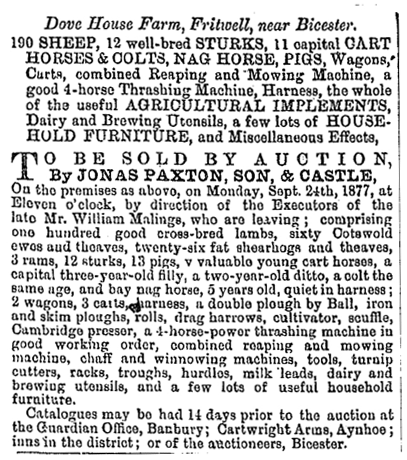 © The British Library Board Jackson's Oxford Journal

© Jon Malings 2010