Hosted by
Deddington Farmers' Market
By Rob Forsyth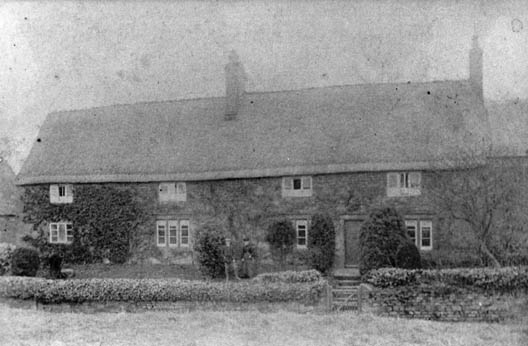 Home Farm, Clifton

The date of this photograph and the identity of the figures are unknown


This was the family home of Francis Beesley Garrett (1843 – 1912) who lived and farmed there with his wife Mary, and their two children, Ruth (b circa 1886) and their son.....

Francis Beesley Garrett (1891– 1955).
Frank served with the Oxfordshire Yeomanry during WW1. The Yeomanry were volunteer cavalry raised from amongst farmers. Someone else must have taken on the farm for the war years because Frank's father died in 1912.

| | | |
| --- | --- | --- |
| This photograph was sent as a Field Post Card from France on April 9th 1915 | | |
In 1914 he married Florence Rose Walker (b 1889 in Islington) who was a nurse at the John Radcliffe hospital. She was known as Rose.
| | |
| --- | --- |
| During the Second World War Frank was in the reserved occupation of farming so he joined the Royal Observer Corps unit in Deddington. This is a photgraph of him in ROC uniform - obviously at a function of some sort because his wife is wearing a hat...... | |
......and also in this group photo in front of the observation post on the Hempton road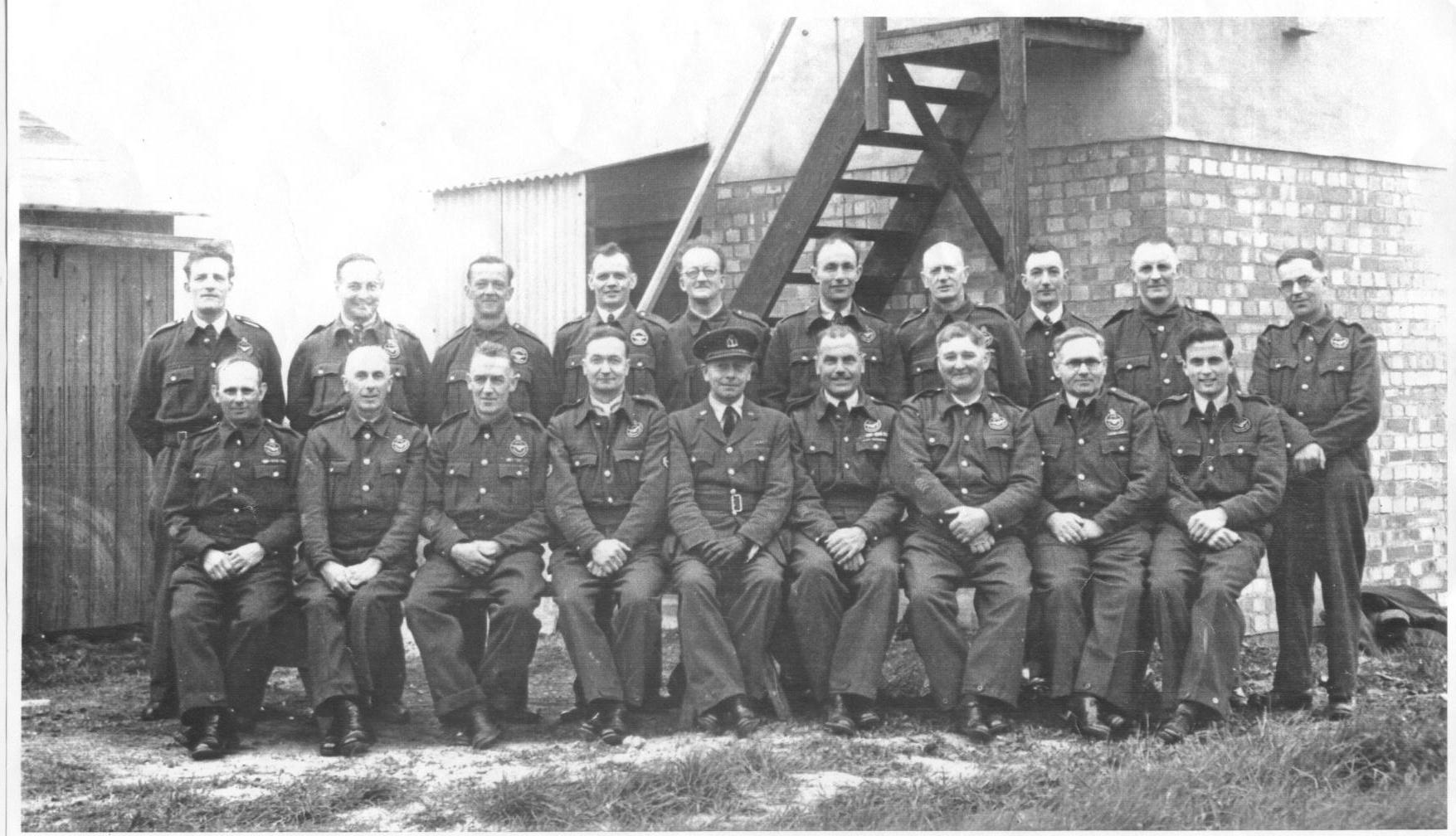 Back row: (1)Jack Malcher, (2) Charlie Fuller, (3) Arthur Humphries, (4) Arthur Newell, (5) Gill, (6) Walter Sanders, (7) Frank Garrett, (8) Fred Deeley, (9) George Clark, (10) Percy Franklin.

Front row: (11) Bill Berry, (12) George Cotteral, (13) Bill Holiday, (14) George Deeley (Ldg Observer & 2 i/c), (15) Observer Officer (later Observer Lieutenant) K W J Grigg, (16) Chief Observer Douglas Hopcraft, (17) Smith, (18) Ernie Dodd, (19) Bob Churchill.
Frank and Rose had 4 sons and a daughter. Three of the boys - Frank,Tom & Ken - and daughter Mary all went off to the war but John was required to stay behind to help run the farm with his father.

Flight Sergeant Francis Beesley Garrett (1917 – 1943)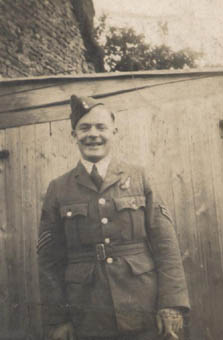 Francis was a Tail Gunner in 467 Squadron, Royal Air Force Volunteer Reserve (RAFVR), based at Bottesford.He died on 18 August 1943 age 26 on a raid on Peenemunde flying in Lancaster Bomber LM342 PO. The aeroplane was lost on its first Key Operation with a total of just 42 hours flying time. LM342 was one of the two 467 Squadron Lancasters that were lost on this operation. They took off at 21.45 hours on 17 August 1943 from RAF Bottesford and the aeroplane crashed in the Baltic while approaching the target. All the crew were killed.
His death is memorialized in 3 places: Panel 136 of the Runnymede Memorial, The Deddington War Memorial and a wooden plaque which was originally in Clifton chapel. It records the names of the two Clifton boys who died. The plaque was moved to Deddington church when the chapel closed.
The text accompanying a photograph of the crew of his aircraft LM 342 contains some more details on the circumstances of the crash.

Corporal Emily Mary Garrett
(1918 -1992) Mary joined the RAF in 1942 and trained and worked as a telephonist at RAF Honiley, Wroxhall in Warwickshire.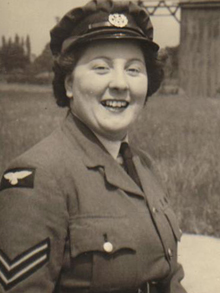 Thomas William Garrett (1920 - 2000) Tom joined the Ox & Bucks Light Infantry in 1939 and served in the Far East. He did not like talking about his experiences - which he implied were pretty tough - so his family know very little about his service time.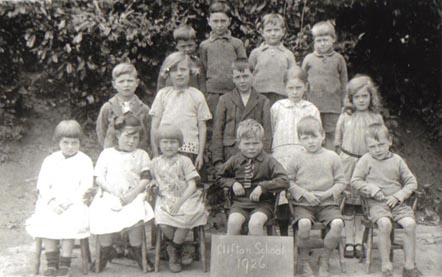 Clifton School 1926. Tom is 3rd boy from the right.


| | |
| --- | --- |
| Tom –'somewhere' in the Far East | |

Corporal Kenneth Garrett (1924-1991) Ken served in the RAFVR from 1942 -1946 driving low loaders (known as 'Queen Marys') which recovered crashed aircraft. From 1943 to 1946 he was stationed overseas in Egypt, Alexandria and Iraq, Basra. He met his wife Edith, who was a WAAF, while they were both doing driver training.


Leading Aircraftwoman Edith Elsie Garrett
née Minty (b 1925)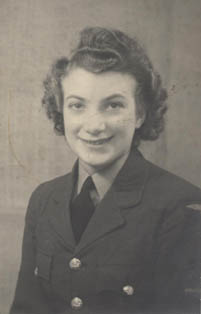 Edith served in the WAAF from 1942 – 1945. She trained as a driver at Morecombe where she first met Ken. She then deployed to a Beaufighter airfield in Lincolnshire as an ambulance driver. After a couple of years she moved to York to Bomber HQ driving staff cars.
Ken and Edith were married in Chesterfield then came to live in Deddington where they ran the Post Office stores for many year only retiring in October 1985.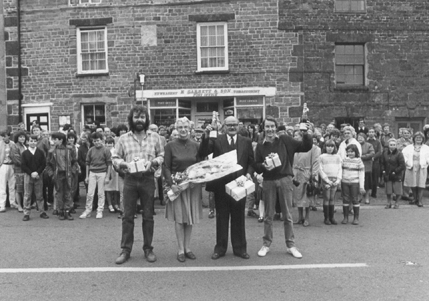 Photo taken on the occasion of their retirement. Son Andrew is on their right and Peter on their left.
John Garrett (1923 - 1973)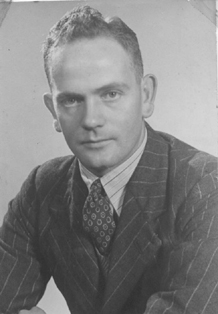 The youngest son, John, was in the reserved occupation of farming and so continued to work on The Home Farm throughout the war. When his father died in a tractor accident in 1955 he and his wife Edna took over the farm. Sadly John also died in a vehicle accident in November 1973. It is thought he fell ill at the wheel and crashed.
I am most grateful for all the help I have received from Edith Garrett and her daughter-in-law Caroline, wife of Peter. All the above photographs are from the family album. They may also be viewed in the Gallery.