Hosted by
Deddington Farmers' Market
Rob Forsyth
Bartholomew Callow (1884 - 1964)
Village Musician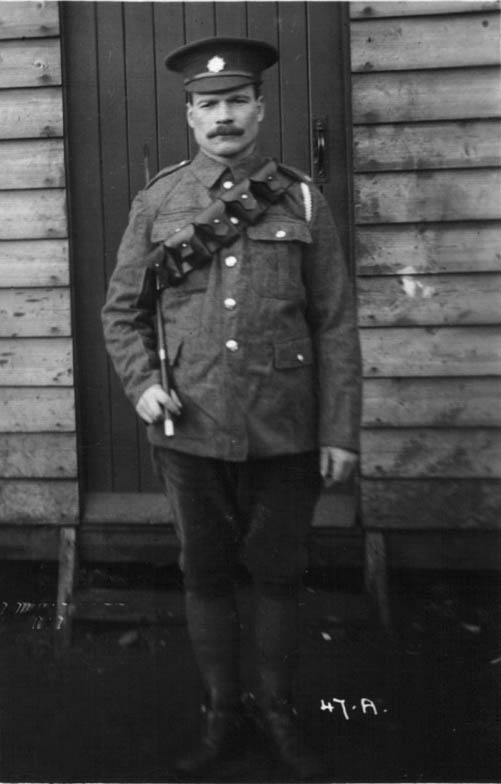 Private Callow served in The First World War in the Army Service Corps


I am indebted to Desirée Harper and her brother Chris Hartwell (the children of Bartholomew's daughter Ada) for their permission to publish this information about their grandfather and also for the photographs.

Bartholomew was one of a family of six brothers and two sisters. He was a natural and talented musician and singer. His favourite pubs were his two locals - The Duke of Cumberland's Head in Clifton and The Great Western Arms at Aynho station. In both of these there would always be 'a good company' on a Saturday evening with music led and orchestrated by Bart.
He lived in Pepper Alley in Clifton with his wife Kathleen and their 3 children - Ada, Fanny and Bill. Kathleen and the children are in the photo below which was taken on 23 March 1916 while Bart was in France. The occasion was the Diamond Wedding of Kathleen's parents James and Anne Harris who are seated in the centre of the picture.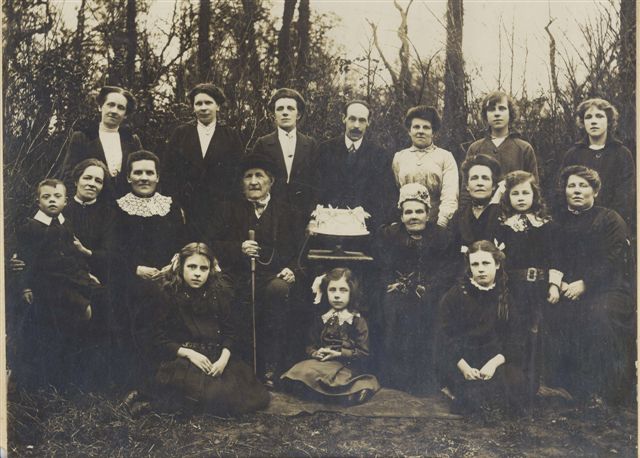 Kathleen is sitting just to the right of her mother (looking at the picture) with Fanny standing in front of her left shoulder; Ada is kneeling in front of them both (right hand girl of the three kneeling) and Bill is sitting on the lap of an aunt on the very left of the group.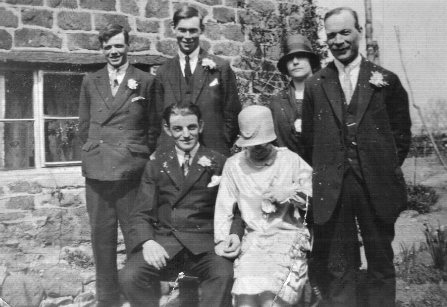 Bart is shown on the right of this photograph at Ada's wedding to Reg Hartwell taken in 1929. Kathleen had died before this.

Bartholomew Callow m Kathleen Harris
Fanny m Ernie Hitchman
Ivan (now resident in Banbury)
Elan (now resident in NZ)
Ada m Reg Hartwell
Desireé m Albert Harper
Chris
Bill

Bart died in 1964 aged 83. A very full account of his life and musical talent has been written by Professor Michael Pickering of Loughborough University in one of a series of articles about country musicians. We are most grateful for his approval to link to this comprehensive and interesting article.
Prof. Pickering mentions Deddington in other pieces that he wrote in the 1980s on Adderbury. They are listed below.

'Janet Blunt: Folk Song Collector and Lady of the Manor', Folk Music Journal, 3, 2, 1976. pp. 114-49.
'The Four Angels of the Wind: Popular Cosmology in a Victorian Village', Southern Folklore Quarterly, 45, 1981, pp. 1-18.
'Schooling Children in Edwardian England', Cake and Cockhorse, 8,8, Spring 1982, pp. 232-40.

"Good News from Home": Notes on the Problem of Identification in Song Performance and Reception', Folk Song Research, 1:4, March 1983, pp. 39-41.'Mischief, Pranks and Spare Time: Aspects of the Leisure of Edwardian Village Youth', Cake and Cockhorse, 9:4, Autumn 1983, pp. 98-111.
'The Past as a Source of Aspiration: Popular Song and Social Change' in M. Pickering and T. Green eds. Everyday Culture , Open University Press, Milton Keynes and Philadelphia, 1987, pp. 39-69.
Michael Pickering, Village Song and Culture, London and Canberra, 1982 is available via Amazon