Hosted by
Deddington Farmers' Market
Matthew Bishop of Deddington in Oxfordshire
by Brian Carter

Copies of this book can be downloaded as a pdf format document from here.

This is an article by Kristin Thompson reviewing the book in the December 2008 edition of the Deddington News.
"Brian Carter, erstwhile Deddingtonian, has now written three publications with Deddington connections. His latest is Matthew Bishop of Deddington in Oxfordshire - A forgotten voice from the 18th century.
Matthew Bishop was born in Deddington and his autobiographical foray covers a decade of his life from 1701 to 1711.Being of a 'rambling disposition' he joins the Navy in 1702 during the War of Spanish Succession, seeing action in Spain and Gibraltar and later proves to be a wily press gang operator in Ireland.
He marries in 1706 but deems that his Queen commands his duty and that his wife must accept neglect and off he goes to join the Army, subsequently fighting at Oudenard (1708) and Malplaquet (1709). His army career ends in 1711 with an expedition to New England and Canada.
Brian Carter has brought this colourful person to light with fluency and scholarship, testing the accuracy of Matthew's accounts, for the vigorous narrative is often short on historical detail and long on self-congratulation. Brian also seeks to verify the Deddington connection as Bishop is noticeably absent from other historical records. He finds a Matthew Bishop mentioned in parochial records as being baptised on 16 September 1683 and there is a possible reference to a daughter (1714) and son (1715) born and baptised in Deddington. After which Bishop disappears from the parish records.
The final section of Brian's study deals with Matthew's place in the literary genre of Life and Adventures. This is a fascinating addition to Deddington's history.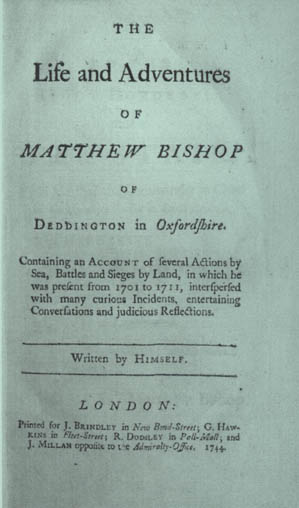 Editor's notes
Th
e illustration of the cover to Matthew Bishop's original book above is reproduced, with thanks to Oxfordshire Studies. It is also the frontispiece to Brian Carter's most interesting study into whether Mathew's story is fact, fiction or faction
published by The Elmore Press, 2008.
For those who would like to read the original of Matthew Bishop's book itself, this can be done in the reading room of Oxfordshire Studies in the central library at the Westgate Centre.

Brian has written two other publications:
A short biography of Cardinal Newman . This includes his relationship with Deddington - where he preached his first ever sermon - and is available by clicking on the link in Brian's introductory article on this site.
Printers and Publishers in Deddington 1840 - 2004. This can be downloaded as a pdf from here.