Hosted by
Deddington Farmers' Market
Rob Forsyth

I am most grateful to Marguerite Weigand who gave me the tip about the Southam Heritage Centre who very kindly put me in touch with Alan Griffin who, in turn, provided a copy of his own article for the SHC, a copy of the Banbury Guardian article and the link to the film clip by Welsh TV.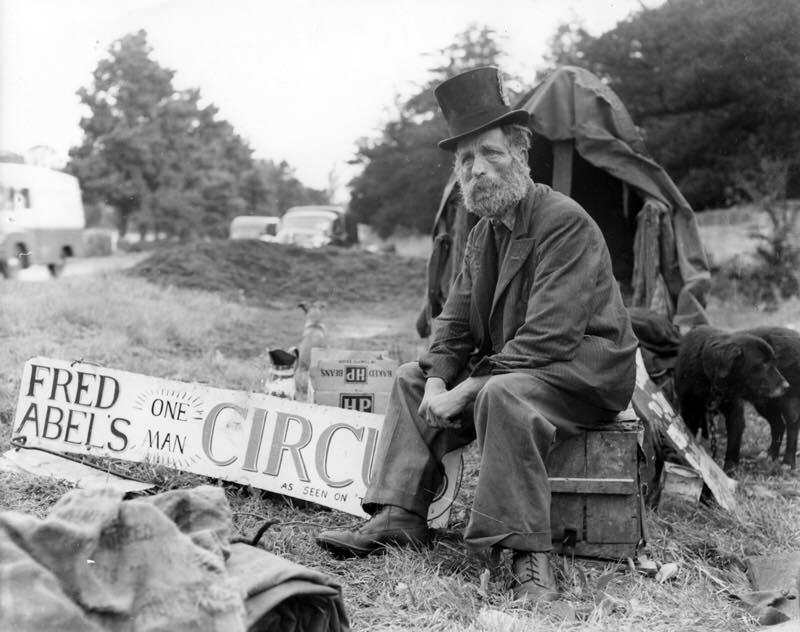 Fred Abel (1909-82) No one really knew why Fred lived on the road or exactly where he hailed from although it was rumoured he was a Norfolk man (correct - see editor's note below)but he was a fixture in the Deddington to Southam area for many years. He is especially remembered by the children he entertained with his flea circus, tame rats and rides on his two donkeys. Inevitably he was plagued by vandals and assaulted a couple of times and was eventually persuaded to give up traveling to take up residence in a chicken shed converted for the purpose. Fred lived happily there until suffering a heart attack in 1979. Had it not been for our local policeman at the time - Alan Rampley - he might have died then and there. Alan had him admitted to the Horton General Hospital where he died in February 1982 at the age of 72.
Editor's note: Subsequent research by Tom Weigand and Alan Griffin has elicited the following additional information from the National Records Office


John Frederick Abel was born 25 May 1909 in Mitford Norfolk.
Father, John, d.1926 in Mitford aged 71.
Mother, nee Grumett, d.1921 in Mitford aged 50.
The 1911 census has Fred and his parents living in Dereham, Norfolk. Their surname is spelt Able but it is the Abel's and it tells us his mother's first name was Rose.

The following three articles, a film clip and photographs give a good description of the life of a very lovable character - click on the links to view:
A film clip about Fred made by Welsh TV (1960)

Edward Salisbury - Banbury Guardian (2002)

Ruth Johnson - Deddington News (2006/07) Ruth's article contains additional contributions from Michael Boyd and Maureen French
Alan Griffin - Southam Heritage Centre (2016)