Hosted by
Deddington Farmers' Market
Domesday
Evidence of an Iron Age hill-fort at Ilbury, and the discovery of Romano-British remains east and north east of the Oxford road, suggest that there has probably been a substantial settlement hereabouts since prehistoric times. By the 6th or 7th century, considerable agricultural development must have taken place, followed by the establishment of the "tun" (place) of Daeda's people in the 10th century. Practically nothing is known about these pre-Conquest years. By 1086, at the time of the Domesday Book, Deddington and Clifton consisted of 36 hides.
There was a 10 hide estate and 1 further hide at Hempton, while Ilbury was 1 hide and 1 virgate. A hide equalled 100 to 120 acres, and was originally considered an area of land sufficient to support a family. A virgate was a variable measure of no fixed size. There were then perhaps 500 inhabitants of the parish, mostly employed in agriculture.
Hempton and Clifton each had its own mill, and there were two at Deddington. The arable land had a high annual value for the time. Bishop Odo of Bayeux, half-brother of William the Conqueror, reserved just over half that land for his own profit.
The Middle Ages
In the early Middle Ages each farmer's holding was divided into many strips, scattered across the township and intermingled with the strips of his neighbours. Farming was therefore of necessity a more collaborative activity than it is today. Everyone needed to agree what would be grown where and when, and where animals would be allowed to graze. The strips lay in two great, almost hedgeless, fields, each alternately planted with crops and left fallow.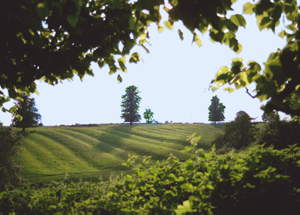 Farmers would sow seed on ridges raised up within their strips, and remains of ridge and furrow now under grass can still be seen today. Later, a four-course rotation was introduced and by the 13th century crops of wheat, rye, oats, peas and beans were cultivated.
By 1195 it is recorded that the livestock on the "demesne" (the land held in the King's name), consisted of 54 plough oxen, 6 draught horses, 3 bulls, 24 sows, 3 boars and 249 sheep. Sheep and their wool became increasingly important and, by the late Middle Ages, Deddington's pastures were sufficient for as many as 4,500.
For further information about Deddington's farming history, visit: