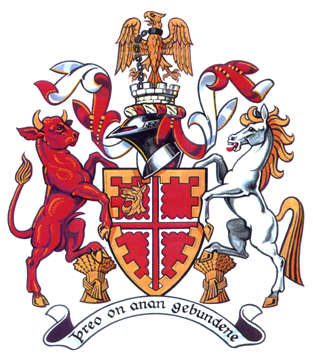 Sponsored by
Deddington Parish Council
Rob Forsyth
| | |
| --- | --- |
| Oxford's first newspaper | Banbury's first newspaper |
Deddington has always been a significant presence in North Oxfordshire and featured regularly in local newspapers and journals; indeed, until the opening of the Great Western Railway on 2 September 1850, it was more significant than Banbury. However, the railway line by-passed Deddington providing only a 'Halt' at Aynho Junction. Banbury's new mainline station, convenient to the centuries-old stockyards with ready access for transporting livestock and other goods to London, transformed the old drover's town. Today it has a population of some 46,500 while Deddington has much the same number of people as in the mid-19th century.
The digitising of hundreds of historic newspapers by the British Newspaper Archive (BNA) allows us to access the Oxford and Banbury papers from the mid 18th century onwards and form a good idea of the issues that affected life in the Parish.
Information on how to access the BNA can be found HERE. You will see that access to some editions are free via libraries and educational establishments but to access all editions will require a subscription.

Oxford

Jackson's Oxford Journal 1,2, first appeared on 5 May 1753. It continued to be published until 1911. It has been the subject of an extensive research project - see Compendiums below. It was followed by University & City Herald (1806-70), Oxford City & County Chronicle (1837-1929), Oxfordshire Telegraph (1858-94), Oxford Times (1862-1910) and Oxfordshire Weekly News (1869-1926).3
Banbury
The first Banbury periodical was The Guardian; or Monthly Poor Law Register produced in 1838 by William Potts and then re-founded in 1843 as The Banbury Guardian and is still in existence in 2021 as a weekly paper. The Banbury Advertiser (1855) was the mouthpiece of militant non-conformity and radicalism in its early years and survived until 1973 when the Guardian bought it and closed it down. However, its former editor started up a new paper The Banbury Cake (1973-2017) which still exists online. Another successful paper was The Banbury Beacon (1850 -1905). Less successful, and of which there are no copies in the BNA, were The Banbury Herald (1861-9), The Banbury Evening News (1877) and The Banbury Evening Telegraph (1893-5).
1 Sometimes referred to as The Oxford Journal or just The Journal. Similarly, 'Banbury' is often omitted when referring to one if its newspapers
2 The links to Oxford and Banbury papers are courtesy of The British Newspaper Archive
3 The years quoted for the five Oxford papers that followed on after Jackson's Oxford Journal cover the periods that editions are viewable in the BNA; they may not be the actual years of first/last editions.

Compendiums
Two members of the Parish Archive Group, David French and John Plumbe, have spent a considerable amount of time researching the British Newspaper Archive in order to collect together as many references as they could find relating to the following subjects:

These years contain over 300 references to the Parish many of which are advertisments or notices but , nonetheless, contain a wealth of information about contemporary life in the three villages. 24 topics of particular interest have been identified and expanded upon.(David French)

This is a work in progress to be published in 2022. (David French)


Brogden was a very unpopular Vicar because of his drinking and gambling habits which led him into frequent debt requiring the sequestration of his property. He was also regularly absent from his duties leading to a petition (unsuccessful) to the Bishop for his removal.(David French)


The earliest reference is a letter home in The Banbury Advertiser from a soldier in the Soudan (sic) describing a recent battle in Egypt. There are then over 60 references to Deddington men who received bravery awards, were wounded or killed in action in WWI,WWII and on National Service in Malaya, along with topics about the war's effect on the Parish. (John Plumbe)