Hosted by
Deddington Farmers' Market
St Peter & St Paul Parish Church

This Roll of Honour contains the details of all the soldiers whose names are inscribed on the War Memorial, including the additional 23 names that were discovered during the research for A Parish at War.
They can also be seen on the Memorial Plaque on the North wall of the church among the nine WWI Grave Marker Crosses. Two belonged to two of the three Hancox brothers. The story of how they came home was published in the November 2020 edition of the Deddington News.
Courtesy of David Rogers who kindly gave permission to reproduce the details of this RoH
Congregational Church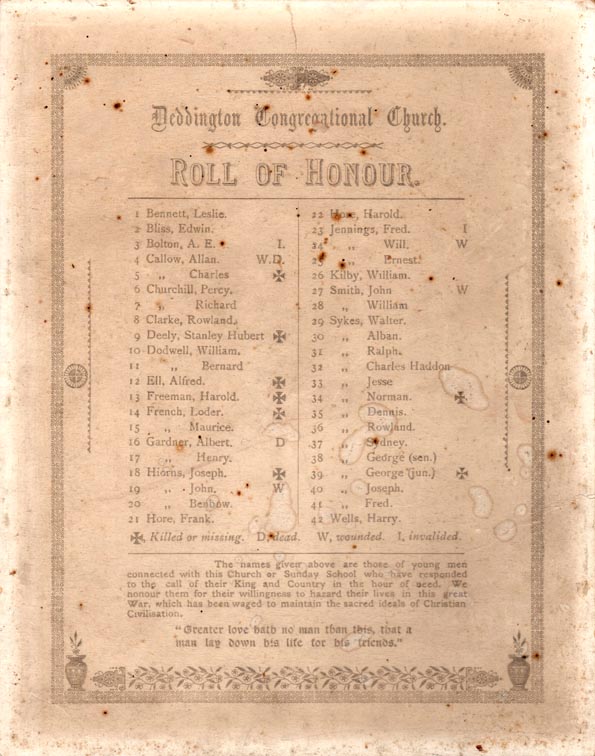 This Roll of Honour lists members of the Congregational Church who served in WWI. It is in the possession of Andrew Jacob whose mother Dorothy (née Newell) was the wife of Eddie Lines who was associated with the Congregational Church for over 50 years. The names of those who were killed/died are also on the Parish Church RoH above. The original is very faded and clearly had been hanging in sunlight for many years. It measures 27.5cm x 21cm and is printed on thick card.
Click on the image (l) for a larger (pdf) version and to see the inscription on the reverse

Intriguingly, there is a name and address in Canada of a Florence Dipper hand written on the reverse and dated 1936. Julian Dipper who is a Deddington resident did some research to see if she was a relative. She is not but we did discover that she came from Gloucestershire, married Henry Dipper and emigrated to Canada in 1932 on the SS Duchess of York. She returned to UK three times in all and died in Gloucestershire in 1962. One presumes she had a connection of some sort to Deddington before 1932.
More about Florence and John can be found HERE