Hosted by
Deddington Farmers' Market
Rob Forsyth

1869 This photograph (l) is of prospectus issued as handbill by The Deddington, Heyford & Aston Benefit Building Society (enrolled 1854). It is pasted into Volume 1 (Folio 229) of the Coggins Scrapbooks held in the Bodleian Library in Oxford.
The Solicitor named on the handbill is Charles Duffell Faulkner (1827-94). He lived at The Priory in Hudson Street (then called Hudson's Lane) in which his father - confusingly also called Charles (1798-1871) - had established a private museum and also in a building on the opposite side of the street. More about his father can be found (link to be inserted idc).

Also in the Bodleian, in the 'Percy Manning Archive', are a number of items relating to the Society including several annual statements of account and lists of members - 16 out of 69 were Deddington residents in 1877.

1867 A newspaper report shows its accounts are in good shape.

click on images for larger versions

The official stamp of the Society (l)

1855 A report of an early meeting (r)
1868 Cassey's Directory has reference to Henry Churchill and Charles Duffell Faulkner (as C.D F.. & also C Duffell F...) both still acting as Director and Solicitor respectively. There is also reference to C.D's father Charles.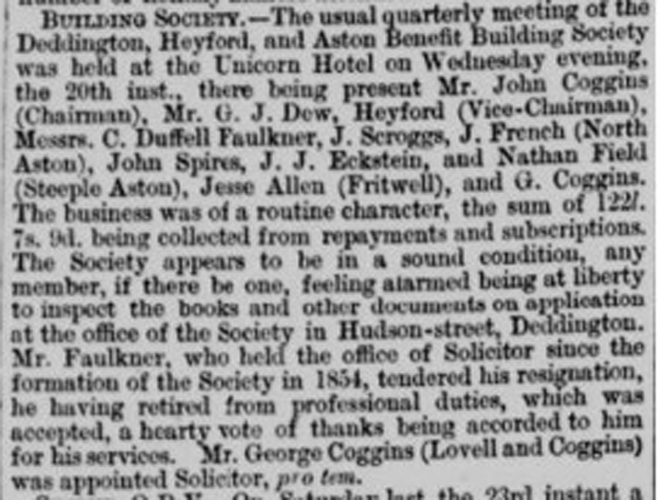 30 June 1883. The Oxford Journal (r) reported that at the Society's quarterly meeting C. Duffell Faulkner had resigned as Solicitor to the Society, having retired from professional duties. His successor was George Coggins who was a partner in the firm of Lovell and Coggins, acting in Deddington and King's Sutton.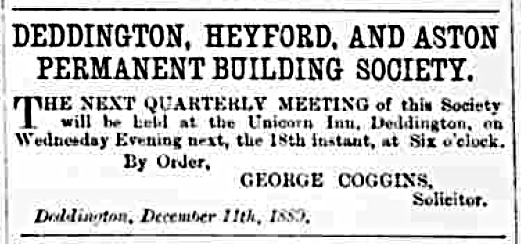 In 1888 The Society was wound up and replaced by The Deddington, Heyford, and Aston Permanent Building Society as this 1889 notice (l) of its next meeting shows.
Acknowledgement
Much of the material in this article is the result of extensive research by David French in the Bodleian Library.