Hosted by
Deddington Farmers' Market
Rob Forsyth

This article is the result of David French's extensive research into newspaper articles in the 1850s.

In the mid-nineteenth century, almost every town had its own building society. There were estimated to be some 1,500 building societies in England by 1853.
Deddington as a small market town was no exception. In April 1852 a meeting was held at the Red Lion Inn, Steeple Aston, with a view to establishing 'The Steeple Aston, Bicester and Deddington Building Society'. The Deddington representatives were local solicitors Henry Churchill (32) and C.D. Faulkner (25). A committee of nine, including C.D. Faulkner, was appointed to look into the feasibility of the proposal.
The committee made good progress, and at a "numerous" meeting at the Red Lion, Steeple Aston, in April 1853, it was resolved to establish 'The Deddington, Heyford, and Aston Benefit Building Society'. Trustees, officers and bankers were appointed, including Thomas Calcutt of Deddington as secretary (pro tem). C.D. Faulkner spoke extolling the advantages of building societies. A prospectus was issued in September 1853, and the building society was formally enrolled in 1854.
Following its formation, meetings were held quarterly, rotating between Deddington twice yearly, and Lower Heyford and Steeple Aston once yearly. Henry Churchill was elected chairman of the directors.
The business of the building society seems to have got off to a relatively slow start. The quarterly meeting in March 1855 reported that two mortgages had been granted. Two more new mortgages were reported in June 1855. In April 1856 it was reported that there were 26 investing and 4 borrowing members. By March 1858 10 mortgages had been granted. In June 1859 it was reported that the Society was now in a "very efficient state of repair"*
The second part of the nineteenth century also saw the development of 'Penny Banks' designed to facilitate saving by the poorer sections of the labouring classes. A Penny Bank was opened in Deddington in July 1859, with 65 initial depositors, who had paid in £2 7s. 10d. The Rev. W.C. Risley was President, and Henry Churchill Secretary.
The Penny Bank was open every Saturday and Monday evening between 7:30 and 8:30 p.m. at the Old Infant School Room, Church Lane.
The Deddington savings bank initiative proved to be very popular, and by the end of December 1859 there were 160 depositors who had paid in £67 13s. 2d. As the poster setting out the simple rules for depositors concluded: "Take care of your pence, and your pounds will take care of themselves."
1869 This photograph (l) is of prospectus issued as handbill by The Deddington, Heyford & Aston Benefit Building Society (enrolled 1854). It is pasted into Volume 1 (Folio 229) of the Coggins Scrapbooks held in the Bodleian Library in Oxford.
The Solicitor named on the handbill is Charles Duffell Faulkner (1827-94). He lived at The Priory in Hudson Street (then called Hudson's Lane) in which his father - confusingly also called Charles (1798-1871) - had established a private museum and also in a building on the opposite side of the street.

In the Bodleian, in the 'Percy Manning Archive', are a number of items relating to the Society during 1877-87 including several annual statements of account and lists of members - 16 out of 69 were Deddington residents in 1877.
1867 A newspaper report shows its accounts are in good shape.

click on all images for larger versions
The official stamp of the Society (above l) An 1855 report of an early meeting (above r)
1868 Cassey's Directory has reference to Henry Churchill and Charles Duffell Faulkner (as C.D F.. & also C Duffell F...) both still acting as Director and Solicitor respectively. There is also reference to C.D's father Charles.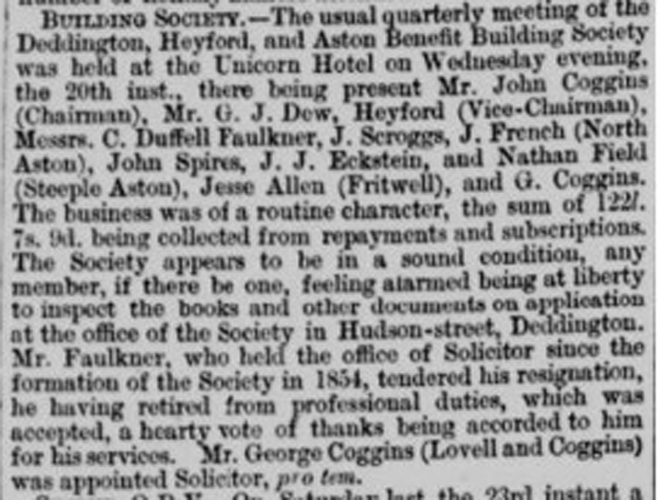 30 June 1883. The Oxford Journal (r) reported that at the Society's quarterly meeting C. Duffell Faulkner had resigned as Solicitor to the Society, having retired from professional duties. His successor was George Coggins who was a partner in the firm of Lovell and Coggins, acting in Deddington and King's Sutton.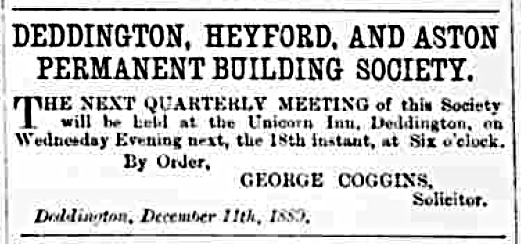 In 1888 The Society was wound up and replaced by The Deddington, Heyford, and Aston Permanent Building Society as this 1889 notice (l) of its next meeting shows.