Hosted by
Deddington Farmers' Market
Rob Forsyth
In December 2016 I was contacted by Mary Horlock, great granddaughter of the artist Joseph Gray . The text and images that follow are taken from her book Joseph Gray's Camouflage details of which can be found at the foot of the page.

'My great grandfather... served as a camouflage officer with Tom Van Oss in the war. They were good friends and there are many references to Tom in Joe's letters, including the one that discussed his shocking death when carrying out a coastal reconnaissance.'
'Tom Van Oss was stationed at York and Joe would travel there often from London ( he was a Major in the Royal Engineers and Signals Board, operating out of Aldwych). I believe at least three of the photos I have of Joe at York aerodrome were taken by Tom. One is attached. It shows Joe perched on a plane with Capt Kenneth Dalgliesh standing next to him.'





'I also have a photo of a group of camouflage officers after their training at Farnham, and you will see Tom smiling, cross-legged at the front. Joe had annotated it.'

click on thumbnail for a larger image

Tom really seemed to enjoy the challenges of working in camouflage. In a letter dated 2 Nov 1941 he writes to Favell of giving lectures to over a thousand men in a crowded cinema. 2 audiences of 700 elsewhere, and another of 600. He said that he was off on a sea inspection the very next day "I'm praying for a calm sea inspection and a dropping of the N.E. wind...The next days are all booked up – oh dear there is always such pressure. I long desperately for the tranquil studio and one's own time… Will one ever get back to such a life I wonder?"
And tragically it never happened. His patrol vessel the 'Ouzel' was sunk by a mine the next day.

Joe was terribly upset and in a letter dated 5/11/41 he wrote to his lover, Mary Meade....

"... We are very lucky really in spite of everything. When one thinks of what millions of people have to go through. Poor Mrs Tommy Van Oss – they had four young children I think. I will write to her tomorrow. Tommy was really one of the most brilliant chaps we had and it is a great loss. He and another of our chaps were killed doing reconnaissance of Coast Defence Batteries – as have told you we do it from air and sea. They were at sea and the ship struck a mine. It is unlikely it was anything bigger than a destroyer. Probably one of those fast armed launches like the one I had. At any rate Beddington said it would be likely instantaneous. It happened the day before yesterday (very hush. Don't forget. Most secret.)"

Tom was terribly unlucky and his loss hit the camouflage corps hard. They were a tight knit group. I remember Richard (Ed:Tom's eldest son) told me his mother received great piles of letters of condolence.
---
Joseph Gray's Camouflage
Details of how Mary came to write her book, a synopsis and how to purchase copies can be found HERE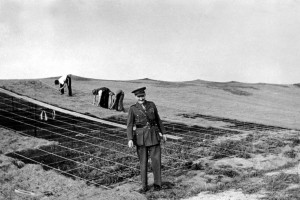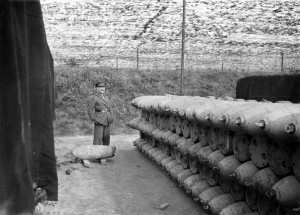 Major Joseph Gray standing on the steel wool cover he designed c1941 covering, in this case, a bomb store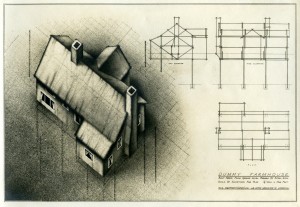 but also used to create buildings.