Hosted by
Deddington Farmers' Market
A personal account of a serendipitous telephone call
Rob Forsyth
On 7 June 2016, along with a small group of Deddington friends, I took a ferry to France to visit the First World War battlefields and pay our respects to Deddington soldiers who died on them. Mid-channel I received a message from our village Librarian telling me that someone called Elsie Moorcroft from Liverpool wanted to talk to me about a Deddington soldier. Intrigued I made contact with Elsie who told me that she had recently purchased a Royal British Legion Poppy which came with the name of a specific soldier to remember – hers was Rifleman Norman William Sykes of Deddington.
Elsie wanted to know if I could tell her more about him? I could because he is one 70 Deddington men who died in WWI and are recorded in A Parish at War. His entry reads:

Norman William SYKES1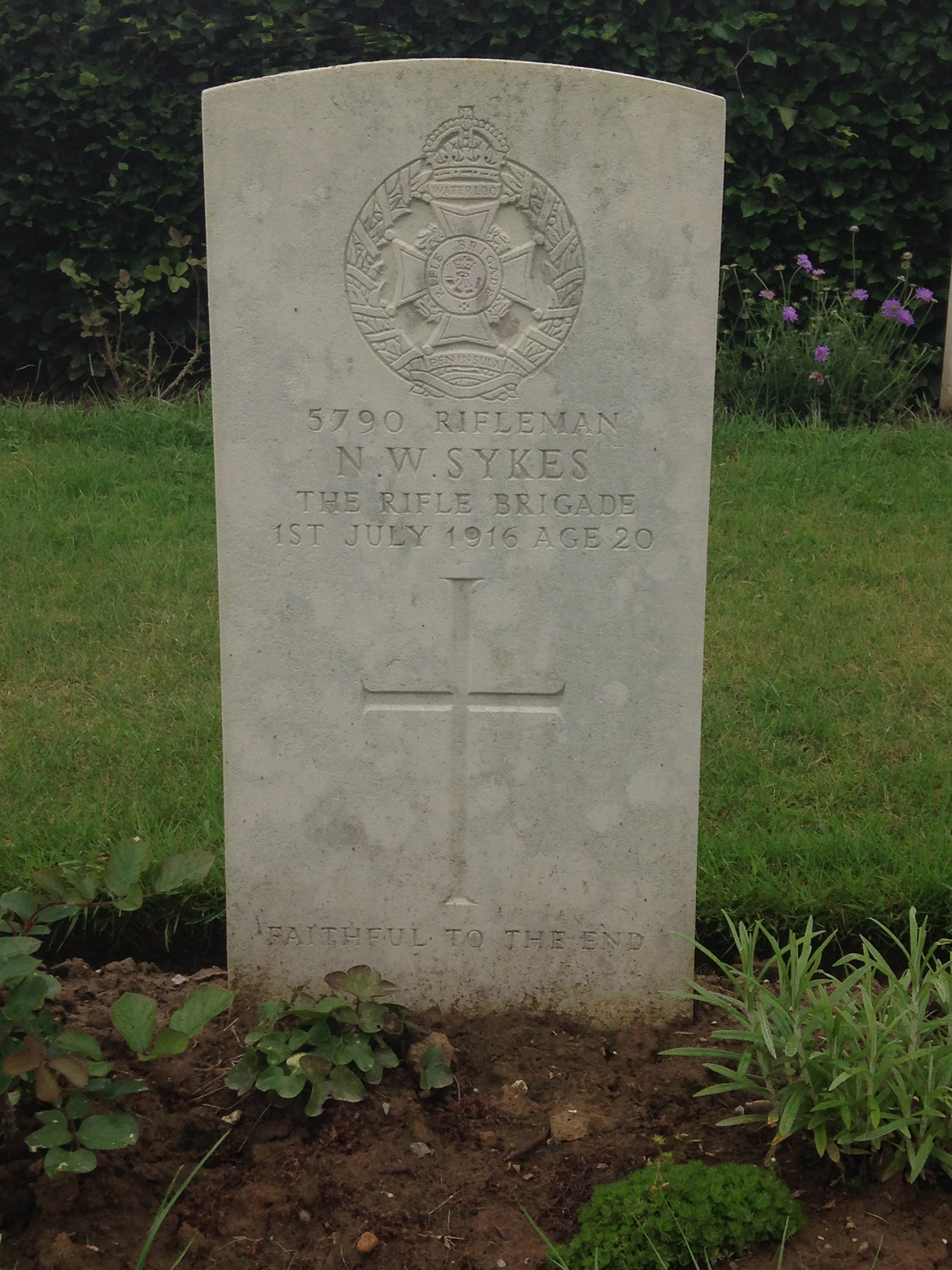 Rifleman, 1st Battalion, Rifle Brigade (The Prince Consort's Own), 11 Brigade, 4th Division.
He was killed in action near Albert on 1 July 1916 age 20.
He is buried in grave B5, Thistle Dump Cemetery, High Wood, Longueval2.
He was born in Deddington, the son of Henry and Martha J Sykes, of North Aston3,4 & 5.

Because Norman is buried in a grave near where he was killed - unlike many of his friends who have no known grave - we were able to visit it. A small detour from our planned itinerary took us through open countryside to a long muddy footpath leading to a field where we found Thistle Dump cemetery containing just 137 graves.
The tranquillity and beauty of the surrounding French countryside was in stark contrast to the shell-scarred battlefield of 100 years ago. In silence we paid our respects at Norman's grave, pondering that it was a remarkable conjunction of circumstances that had brought us there. Some things are just meant to happen.
click on thumbnail for larger image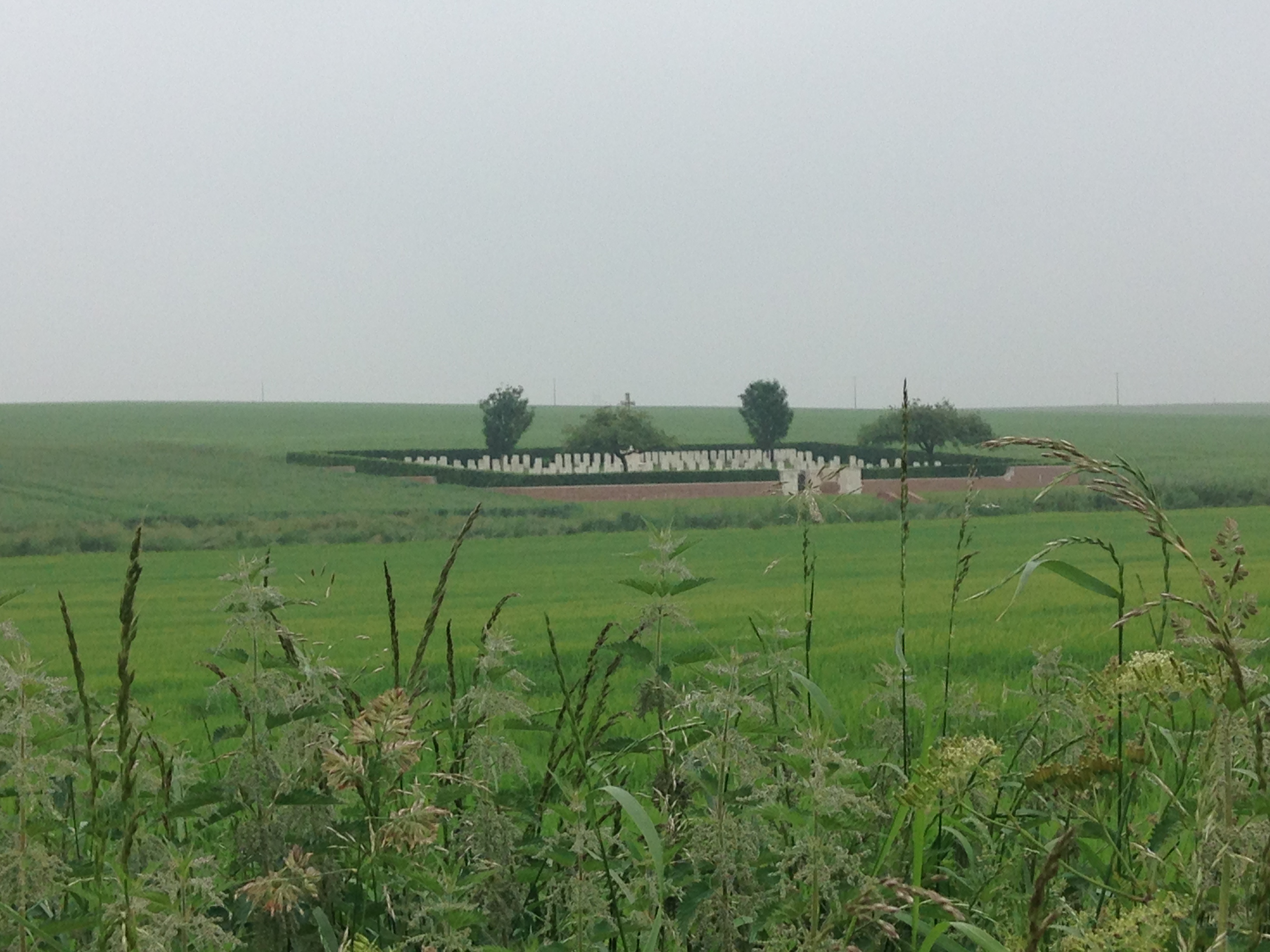 Thistle Dump Cemetery

Elsie Moorcroft is the 81 year-old daughter of a WWI soldier, Lance Corporal Thomas McWha, Croix de Guerre, twice Mentioned in Dispatches, who also fought in the Battle of the Somme with the Scots Guards. Not surprisingly she was as moved as we had been by the conclusion to her phone call to our Library.

At 7.30am on 1 July – the exact time Norman and village friends went 'over the top' (two others died on 1 July and four later in the Battle of the Somme) – three blasts on a whistle were sounded at the War Memorial in Deddington in memory of our seven men and the 19,240 who died on the Somme battlefield.
Note1 A Parish at War (p.33) The book is obtainable on loan or purchase from Deddington Library or via www.Amazon.co.uk
Note2 Location of Thistle Dump Cemetery (No 83) The town of Albert lies to the East of Montauban off the map.

Note5 The Sykes family had moved to Lime Kilns Cottages located on east side of Dane Hill half way to North Aston village by 1901. Father Henry was a Lime worker. " A two story building and two Lime Kilns occupied a small field beside the A4260 immediately south of Dane Hill cottages (Eds note: now Bray cottage). The lime was used for making mortar, as a disinfectant domestically ( lime wash) and as slaked lime for sweetening agricultural land''(source: North Aston Archives).


Photograph courtesy of North Aston Archives

Percy Jessie Bernard Marion
Henry (father) Norman Martha (mother) holding Cyril
Elsie Dennis

John Sykes takes up the story...
Editor's note:
John is the foster-son of Bessie May, wife of Bernard Sykes, Norman's elder brother (see family photo above). What follows is an edited extract from
a monograph published by John
(8Mb pdf) within the family with the assistance of Roger Moore, Bernard's nephew. We are most grateful to them both for their agreement to publish a most interesting history of a local family with its roots in Deddington and North Aston.(
NB any missing page numbers are blank pages that have been removed in this online version
)
---
Norman volunteered for the Army in 1915, just after reaching the eligible age of 18. He was assigned to the Rifle Brigade. He was killed on 1 July 1916, the first day of the Battle of the Somme. Roger remembers his mother Madge telling him that when she was thirteen her brother Norman was killed on the first day of the Battle along with many hundreds of other poor souls, and when they received the news of his death by telegram their mother (Martha) would never believe that he died and carried that belief for the rest of her life.
The following extract is from a detailed report received from the War Graves Commission on the action in the course of which Norman was killed. It makes instructive reading:
"Norman Sykes was in the 11th Brigade of the 4th Division, a Regular Army Division, which attacked the Quadrilateral Redoubt (Heiden Kopf) at the end of Serre Road, the site of Serre Road No. 2 Cemetery. The 4th Division was under the command of Lieutenant-General Hunter-Weston's VIII Army Corps. This Corps suffered 662 officers and 13,636 other ranks casualties on July 1st 1916. They did not achieve their objectives and Commander-in-Chief Douglas Haig was moved to write in his diary that "few of VIII Corps left their trenches", an appalling slur on the gallantry of all these men. (NB: Haig later retracted his derogatory remarks about VIII Corps, which were based upon misinformation, and apologised).
The Rifle Brigade and the Somerset Light Infantry were held up at the German wire until a Rifle Brigade officer shouted 'Come on lads, let them have it!' The R.B. and S.L.I. then got into the second line of German trenches. A heroic Seaforth Highlander corporal of the 10th Brigade, hurling grenades and swearing in broad Scots, was shot dead by several bullets as he got into the German trench. By the afternoon the British survivors were isolated and surrounded. G.T. Rudge, a 17 year-old in the 2nd Essex, killed a German and thought: 'He looked old enough to have a family and I felt very sorry'. He was the first man he had killed. By evening the survivors were scrounging in the German dug-outs for food, avoiding the cold stew and black bread for fear it was poisoned, but eating some British bully-beef they had found, and smoking German cigars. The Quadrilateral Redoubt was evacuated in the small hours of July 2nd , the survivors bringing back prisoners and souvenirs. Parcels from home for casualties were distributed amongst the survivors. Rifleman Norman Williams Sykes was among those killed in this action, and was awarded posthumously the British War Medal ' in memory of his services with the British Forces during the Great War'
In 1996 Roger went on a tour of the war graves. He vows that he will never forget the experience. He visited the Thistle Dump cemetery which is some six miles from the Serre Road area where Norman lost his life. Roger could not understand why his body was taken to Thistle Dump as there is a war-graves cemetery near to where he was killed" (
see footnote
).
---
Footnote:
Lt Col Graeme MacDonald led the June 2016 tour on which myself (Rob Forsyth) and four other Deddington men paid our respects at Norman's grave thanks to Elsie Moorcroft's timely phone call. Graeme kindly provided the following amplifying information about why Norman is buried at Thistle Dump Cemetery:
"In order to account for why Norman was buried so far behind the German lines I surmise that he did not die in the assault on the Quadrilateral Redoubt when his body would have lain in No Mans land from whence the dead were recovered much later after the Germans withdrew to the Hindenburg Line. They were buried in temporary graves and later re-interred in Serre Road Cemetery, the nearest to the Quadrilateral Redoubt, as John rightly says in his monograph.
However, it seems far more likely to me that Norman could have been wounded in the assault and left behind when his company retreated. He would then have been evacuated by the Germans to one of their dressing stations some distance to the rear where he subsequently would die of his wounds. The Germans would have buried him nearby. In the next months, the British successfully drove the Germans back well beyond where Thistle Dump Cemetery now is, which is some six miles behind where the German front line was on 1 July. The British re-interred soldiers buried by the Germans at Thistle Dump along with soldiers killed in this later advance."
For more information about the action in which Norman was killed Graeme strongly recommends
The First Day on the Somme
by Martin Middlebrook which is available in bookshops and
on Amazon.
Photographs in Gallery

Images relating to the Sykes who served in both WWI and WWII are in the Sykes album