DH
Created as a
Millennium Project
Rob Forsyth

I am most grateful to June Hutt whose husband, John William Rowland Hutt, is a grandson of John Bartlett Hutt, the eldest of three brothers who served in WWI. His two younger brothers were killed in action in WWI. June visited Deddington to see our War Memorial and had a chance conversation with our Vicar, Rev. Annie Goldthorp, who put her in touch with me.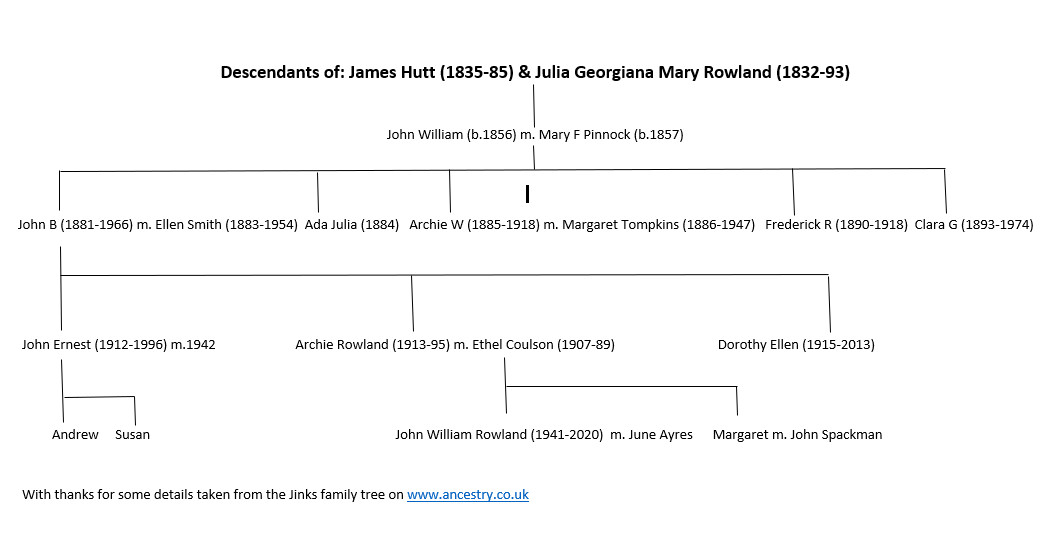 The Hutt family. The three brothers were sons of John William (b.c1856 in Water Eaton) and Mary Frances Hutt (b.c1857 in Standlake).
Click on image to enlarge

In 1891 the family are living in Ogbourne St George, Wiltshire, with their three sons, John (9), Archie (6) and Frederick Rowland - known as Rowley - who is a baby of 11 months. John is a farm bailiff.

In 1901 they have moved to Crawley in Oxfordshire. John the elder is described as a farmer. Son John (19) is now away from home working elsewhere. Archie (16) is working on the farm. Rowley is probably still at school and has been joined by a sister Clara Georgina (b.c1893).
In 1911 Mary is living in North Aston with Archie. She is housekeeper to William Clifford a farmer at Park Farm and, following in his father's footsteps, Archie is the farm bailiff. Rowley (21) is also now away from home. John is living in Steeple Aston 2 miles away with daughter Clara (17) as houskeeper. John is living in Steeple Aston - or is it Sandford St Martin 5 miles away? - presumably because they had decided Archie should have the bailiff's job in N Aston.

Post 1914 a family post card - post mark year illegible but they did not marry until 1914 -from Archie's wife Margaret indicates that sometime after this Mary was living in Hawkesbury, Gloucestershire.
In 1921 they are both living in Preston Bagot, Warwickshire, with daughter Clara. John is an invalid. This is very close to Claverdon which is where the Commonwealth War Grave Commission state they were living. John died in 1927 and is buried there.

Gunner John Bartlett Hutt No.198843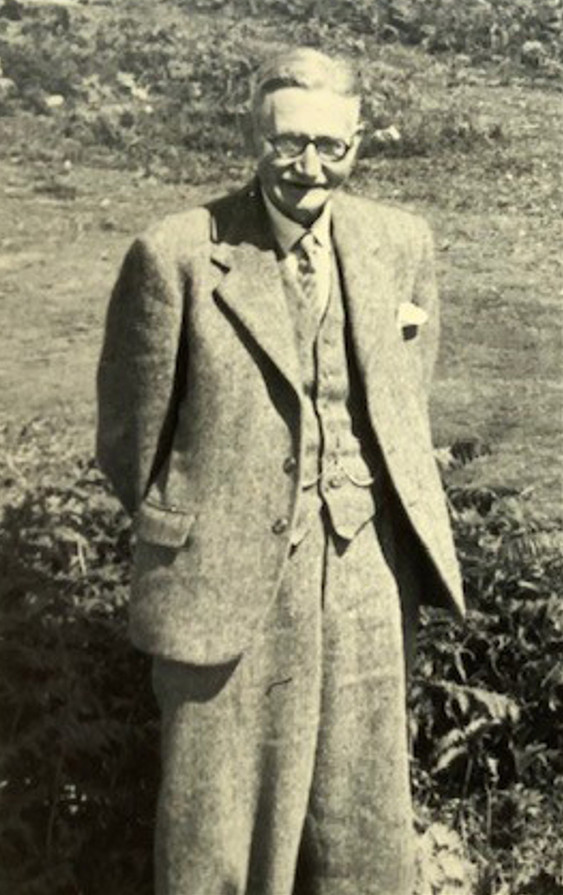 John was born in 1881 in Warmington, Warwickshire.Theis photograph (click to enlarge) ) was taken when he was 80.

In 1901 he is working as a chemist's assistant in Irthlingborough near Wellingborough, Warwickshire.
In 1911 he is managing a pharmacy in Sheffield. In April he married Ellen Smith in Nottingham.

In 1912 they are living in Cardiff and they have a son John Ernest. In November 1913 a second son, Archie Rowland* was born followed by a daughter Dorothy Ellen in 1915.
*Archie became a career soldier in due course and the father of June's husband.

WWI He enlisted in 1915 into the Royal Garrison Artillery but his somewhat singed from WWII bomb damage Service Records (pdf) show that he was not mobilised until February 1918. After signal training in Dunfermline, Scotland, he joined 126 Seige Battery and was posted to France. He demobilised in March 1919.


Staff Sergeant Major Archie William Hutt No. 204649
Archie was born in 1885 in Warmington. He joined The Oxfordshire Yeomanry (The Queen's Own Oxfordshire Hussars) in which he served for some 12 years before the war. In the image on the right the Yeomanry are parading at Chipping Norton Show. Archie will be somewhere in it.



click on images to enlarge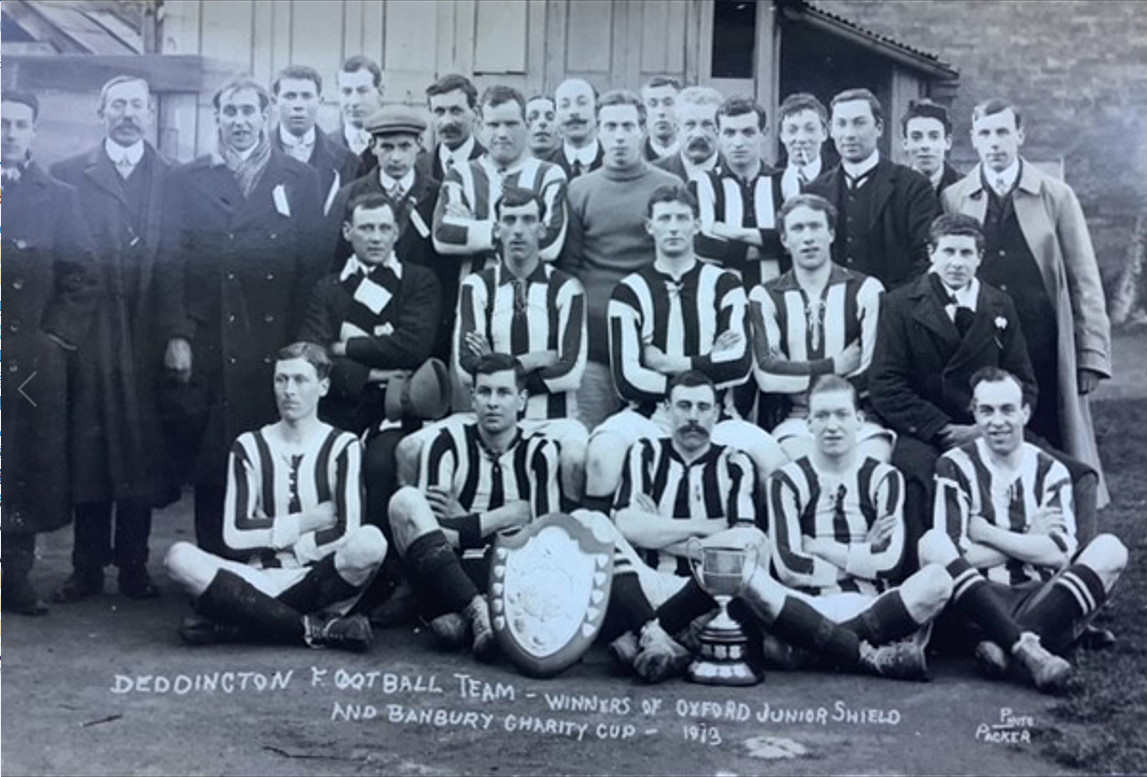 He socialised in nearby Deddington where he was Captain of the Deddington Football Club in 1913 when they won two competions; he can be seen in the centre of the 2nd row of the team in the image (l) and he won a County cap. Local newspaper articles about Archie and his football skills can be seen HERE and his watch chain with match winning medals HERE

Just as importantly, he met and courted Margaret Tomkins, a Deddington girl.
click on image to enlarge

Archie and Margaret were married in Deddington on 9 October 1914.
click on image to enlarge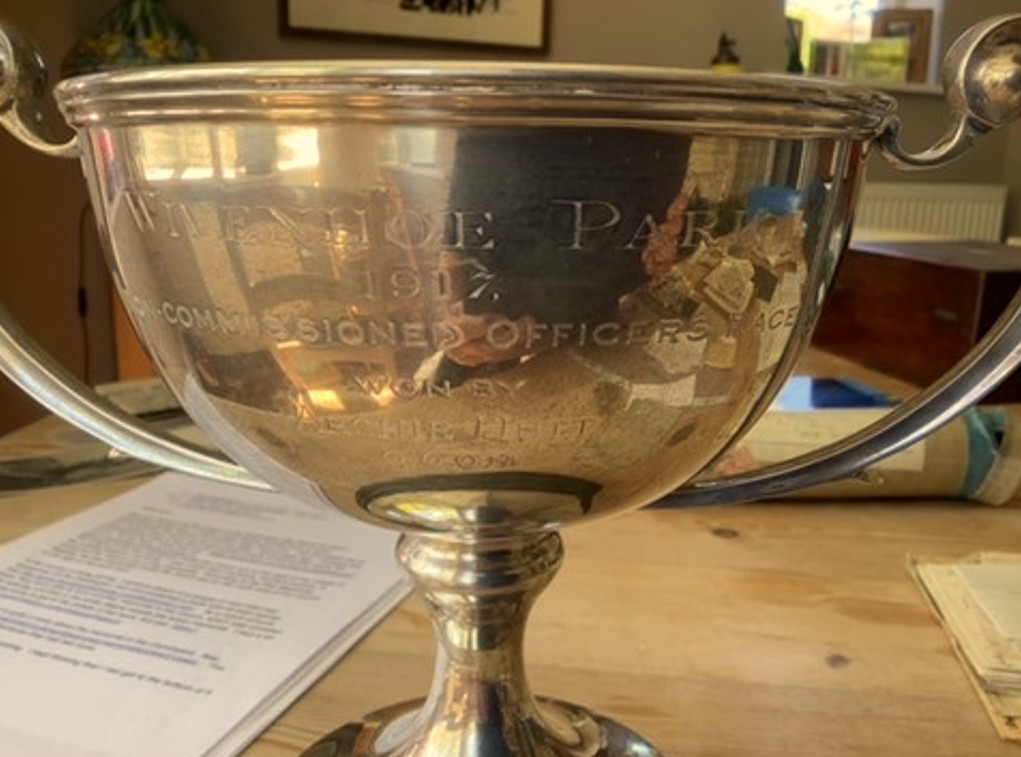 WWI. He rejoined the QOOH on the outbreak of war. He was wounded and sent home to recuperate. He was at home in 1917 because he won the 'Wivenhoe Park' cup for a horse race for non-commisioned officer's that year. (click on image to enlarge)

On returning to France in December 1917 he was attached to The Oxfordshire and Buckinghamshire Light Infantry, 14th Division, 42 Brigade, 5th Battalion. He was killed in action at the Battle of St Quentin on 21 March 1918. He is buried in grave 141, Montescourt Lizerolles Communal Cemetery. His Regimental CO wrote in condolence tp Margaret. He said that another half hour later he would have been safe because he was about to set off back to England for an instructor's course. He also commented on Archie's footballing abilities.

The War Diary for 14th Division gives an account of the fighting on 21 March but only lists officers killed by name. Archie will have been one of the 'about 180 other ranks casualties' referred to. It is a sad fact that the numbers involved were too great to record in the diary.
The Army's Record of Victory and British War Medals awarded to soldiers in the Ox & Bucks includes Archie.

Contemporary newspaper reports of his death acknowledgehis service in the QOOH and his standing in the community as a county football player and farm bailiff.
The army record ( see foot of linked page) of the amount Margaret received by way of outstanding pay shows how little compensation widows received for the deaths of their husbands.

Private Frederick Rowland (Rowley) Hutt. No.207278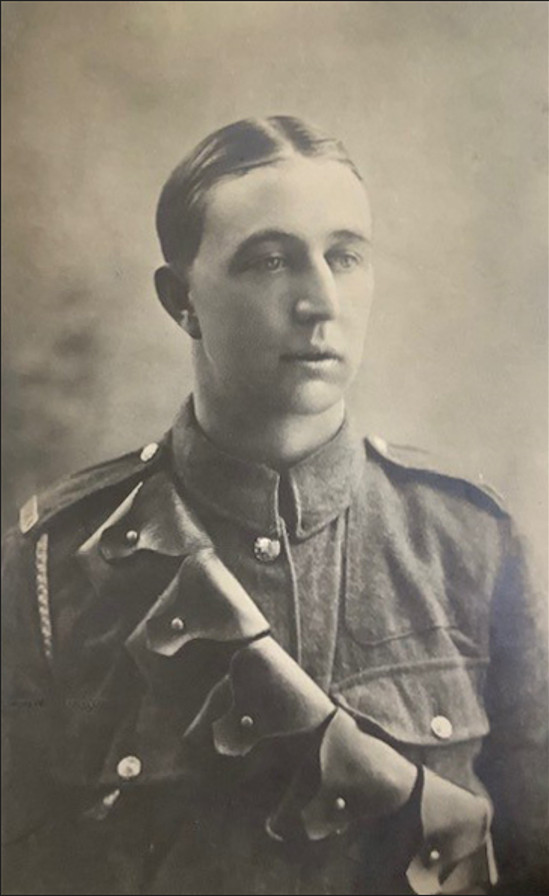 Rowley was born in 1890 in Ogbourne St George.
In 1911 he is farming at Broughton Grounds near Banbury. His birth place is incorrectly spelt as Hogbourne St George!

click on image to enlarge
WWI He initially served in the 2nd Battalion Ox & Bucks Light Infantry with service number 2285412 and later transferred to the 3rd Battalion, Worcestershire Regiment with the service number207278 .
He was recorded as missing presumed dead during the attack on Kemmel Hill on 26 April 1918 during the Battle of The Lys - also known as the 4th Battle of Ypres. His death is recorded on the Tyne Cott Memorial, Panel 76

The Army's Record of Victory and British War Medals awarded to soldiers in the Worcestershire Regiment includes Rowley.

Other sources

A Parish at War Important note: Frederick Rowland's details contained on p.28 are not correct. They belong to another Frederick Hutt who served in the Ox & Bucks. In fact the medal records show there were at least 11 Hutts who served in the Ox & Bucks in WWI! Nonetheless, we apologise most sincerely to the families of both men for our mistake.
The details on p.28 for Archie William are correct.

Gallery The images in this article and others are contained in the The three Hutt brothers Album