Hosted by
Deddington Farmers' Market
Rob Forsyth

| | |
| --- | --- |
| Circa 1912 | |
Click on images to zoom

Victoria County History
"Clifton school was built by H. R. Franklin in 1870 on a site given by W. C. Cartwright. At first the day school had an attendance of 13 boys and 18 girls, and a night school was held twice a week in winter. There was a house for the single certificated teacher. School pence were paid, and by 1873 an annual grant was received, which in 1902 was 38; average attendance was then 39. The schools of Clifton and Deddington, though governed by separate trust deeds, were by the 1890s under joint management, with one fund for voluntary subscriptions. From 1922 Clifton children aged 10 or over went to Deddington school. Clifton school was closed in 1945, sold in 1958, and later demolished."*.
*It was not demolished but became a private house. See General Information below.

As I Remember - an auto biography by George Harris
George Harris grew up in Clifton in the late 1930s.


He devotes Chapter 11 of his autobiography to his schooldays.

Click on the image (l) to download a large pdf of the whole book.

General Information

The school was under joint management with Deddington School. Its records are in the Parish Archive and some have been scanned and the list can be viewed HERE

A list of Headteachers and some further information has been kindly provided by Kevin Benfield whose parents converted the old school and renamed it St Michaels.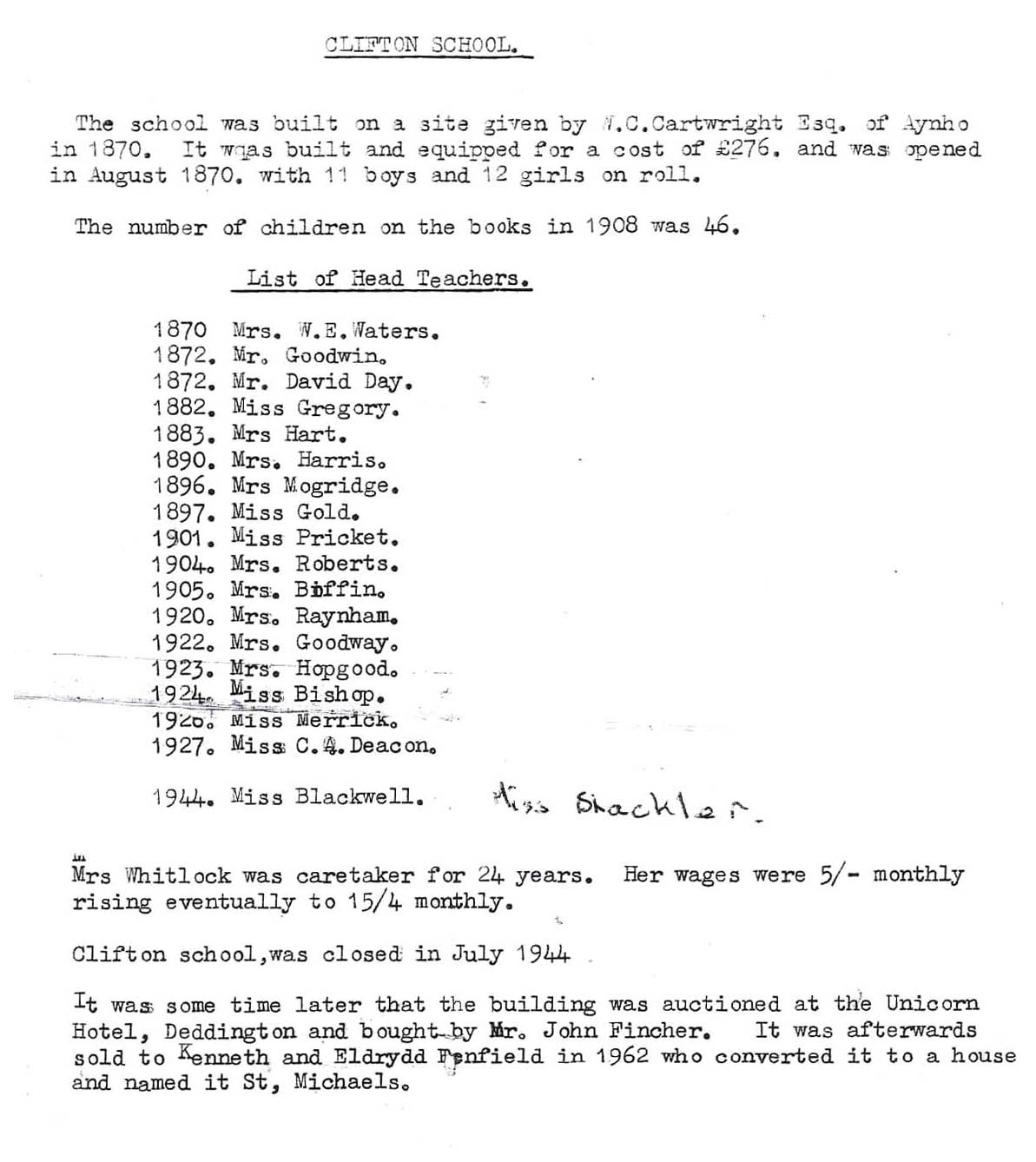 Childhood memories
Philip Pinfold and sister Marguerite remember that the school was still all intact when they were children in the 1950s. All the desks were still in the room as were lots of books. "Horace French, who was a bit older, used to act as the teacher and us kids sat at the desks. I think there was also a Dunce's Hat". Marguerite remembers that, as well as Phil and herself, there was their brother Doug, Malcolm Smith and his brother David. " We had a lot of fun playing school in there, It was like one day the kids went home after school leaving the books, paper, pencils , etc and never came back, because it was all still in there; quite ghostly looking back on it now!".There is a link to photos of the interior of the school below. The Dunce's hat is not visible!
The Coronation celebrations were held in the school in 1953.

Photographs & plans
Clifton School More images, including floor plans of the school building and some interior photographs, can be found in this album in the Gallery