Hosted by
Deddington Farmers' Market
Jackie Williamson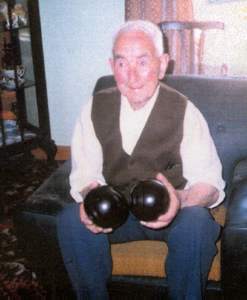 Reminiscences and anecdotes of Fred Deely, who lived in Deddington all his life and died in 1998 aged 94.
Recorded and published as 'Tangled Tapes' by Dorothy E Clarke and reproduced here with her kind permission.
Sitting opposite me, rosy-cheeked and bright eyed, Fred began:
"Most folks that visit Dedd'nton come to me. Only the other day in the Churchyard two gen'lemen from Canada, whose ancestors were buried there, reminded me of ol' Joseph Clarke who 'ad the farm. When I wen' ter school 'is eldest son, Frank, about l9 or 20, went to Canada. I bet they was some relation to 'im.
Then there were a woman come from North Wales. She come down to see where 'er 'usband's brother lived in Dedd'nton. She asked me if I knew 'im. Yes, I said, I knew 'im. 'Is name were Fred Finch, the Blacksmith A very strong man and 'is language were some'in' terrible! 'E lived in the little cottage down by the Church, and when 'e were dying 'e asked for the 'Cons' Minister to give 'im the last rites. (Me Dad laughed 'E could do with the rites!) That's 'im she said, I've slept the night at Mrs. Fuller's, 'ad a lovely breakfast and supper, and I shall come down again, I love this village . . . "
For an extract of Fred's reminiscences in his own words, download this audio clip (MP3 file).