Hosted by
Deddington Farmers' Market
Rob Forsyth
Rob Forsyth
I am extremely grateful to the three descendants of the Gardner and Fletcher families whose individual research has provided the bulk of the information in this and the other articles linked from it. They are:

Lynne Scaife - the GG Granddaughter of Mary Fletcher, wife of Robert Gardne
Karen Rose - the GGG Granddaughter of Jane Fletcher, sister to Mary Fletcher

Lin Malt - whose ancestor (by marriage) married Isabella, daughter of Mary Fletcher
---
Joseph Gardner (1779-1818) of Barford St John and Sarah Gardner (nee Tandy 1774-1859) of Ilmington, Warwickshire had eight children of which two sons had Deddington connections and both were transported. They were Robert (b.1807) and Joseph (b.1811).

Robert Gardner
Robert was baptised 8 October1807 in Barford St John.
He married Mary Ann Fletcher (bapt.11 June1810 in Chipping Norton) in Adderbury on 22 February1830. The marriage entry says "Robert Gardner of Barford St John and Mary Fletcher of Deddington, bachelor and spinster." Witnesses were Harriet Parish and Ruth Hawkins.
They had four children:
Robert Gardner bapt: 21 January1831 in Deddington. He is believed to have died shortly after birth.
Mary Anne Gardner bapt: 04 November 1832 in Barford St John. There is no definitive trace of her after the 1851 census where she is a servant in Banbury.
Elizabeth Gardner bapt: 07 April 1833 in Deddington. Died the same day or the day before.
Sarah Gardner born about 1837, bapt. 17 March 1839 in Banbury Union Workhouse. It states 'father: pauper'. She married Elijah Payne of Deddington in Deddington 18 October 1857 and later moved to Yorkshire.


Records show that he committed two offences:

1828
Prisoner age: 26 .
Court and date of trial: Oxford Lent Assizes [Oxfordshire] 1828. (Feb – March 1828).
Crime: Larceny.
Initial sentence: 12 months' imprisonment.
Annotated: 9 April 1828.
Petitioner(s): The convict and eight previous employers of Barford St John [Oxfordshire].
Grounds for clemency: He has an afflicted mother and two small brothers whom he helps support; an honest and punctual young man.
Convicted on 3rd September 1828 at Oxford Assizes and sentenced to 1 months hard labour at the Oxford House of Correction. (Prison). Certificate of conviction for "running away, & leaving his wife & children, chargeable to Little Barford".

1841



In February 1841 he was convicted of Larceny at Westminster Quarter Sessions and sentenced to be transported for 7 years (l) - noting that he had previous convictions in Oxford Assizes - and on 11 May he was sentenced to be held in the prison hulk Euryalus pending transportation. Prison hulks (r) were not a good place to be.


Click on images for full size



He was subsequently transported to Van Dieman's Land in the Lord Goderich. This record is a little short of details and he has gained an 'e' in his surname.

Click on image for full size




The ship arrived on 11 November 1841.
In abt.1846 he died in Sydney General Hospital Lunatic Asylum.

Joseph Gardner
Joseph Gardner was born 1811 and baptised 1 January 1812 in Barford St John.
He married Eliza Carpenter (1816 - 1881) of Weedon Bec on 25 July 1836. They are living in Barford St Michael at the time of the 1841 census. They had three children
James (1837-1886)
Ellis (1839-1895)
Elizabeth (1842-1882)




He was convicted of Highway Robbery on 10 October 1840 for which he received 1 month imprisonment (l). He was convicted of much more serious offences of Larceny at Oxford Assizes on 12 July 1845 and sentenced to 12 years Transportation (r).


click on images for full size




He was transported on 6 September 1845 on the Pestonjee Bomanjee (l) to Van Dieman's Land. The ship's surgeon reported that he was very well behaved and 'could read a little'. The ship arrived 30 December 1845.


Click on image for full size
He was given his 'ticket of leave' (r) i.e. pardoned, in 1858.
Click on image to see the (undated)Ticket of Leave record.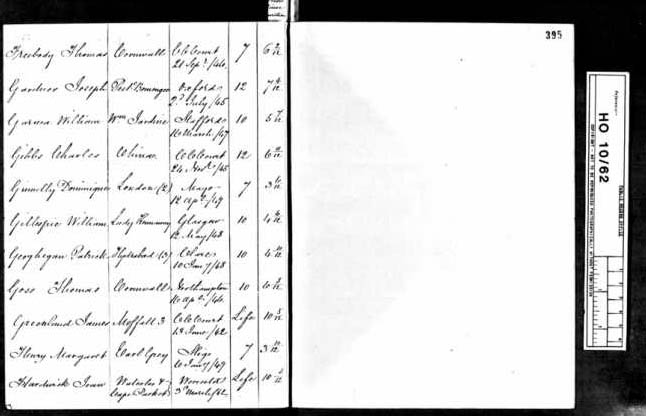 In 1861 he married Ruth Cunningham (1835-1885) in Castlemaine, Victoria. Such marriages were accepted for convicts whose wives in England were unable to join them by an Act of 1604 (see extract) which allowed for 're-marriage' if a spouse had been abandoned for more than seven years. They had six children.

He died on 4 April 1883 in Marong, Victoria at the age of 72.

The Fletcher sisters
Mary's story and those of her sisters Jane and Sarah continues HERE.
Useful Links:
Back to the article on 'Transportation' Note: There is an entry in 1839 for a Richard Gardner who married Mary Ell of Deddington but is not directly related to Robert and Joseph as far as is known - but did complicate research!

Private Charles Fletcher WWI. died October 1914 near Ypres

The Gardiner Family - includes some Gardners