DH
Created as a
Millennium Project
Deddington & District History Society, 8 February 2006
A talk by Mr Tim Marshall about the Quaker clockmakers of North Oxfordshire

It has not been possible to reproduce pictures of the actual clocks and photographs that accompanied the talk. However images of clocks by several of these clockmakers can be found in our Gallery.
We were treated to a most extravagant 'show and tell': Tim Marshall's talk was a lightning excursion through the little-explored history of north Oxfordshire Quaker clock making, covering the period mostly from 1700-1770 or perhaps 1780 and extending up to end of the English clock-making period c1830. What would anyway have been an interesting talk was made the more so by the speaker providing a tableful of clocks from the period from his own collection and borrowed from other generous local owners. They were only made in this style in this corner of north Oxfordshire with other pockets near Charlbury and Burford. He said that they were as distinctive of the area as is the ironstone!
The two Gilkes families of Adderbury used a distinctive diamond half-hour marker and a ring under the hour. Clocks were made in other country areas, but there is no consistent and distinctive style, as there is around here.
Tim Marshall's earliest Quaker clock was by John Nethercot of Long Compton, with very fine and sharp spandrells. So many of the other Quaker clocks were unsigned, and there is no real explanation for why this should be. Two others by Thomas Gilkes of Sibford are in a similar style with the same motifs and a variation on the spandrels, one of about 1730 has as calendar and seconds and he is regarded as the father of local clock-making; one of his sons went to Charlbury as a clock-maker and his other son, Richard, was at Adderbury from 1735-36 onwards.
Another example by Thomas Gilkes of Charlbury has pretty engraving round the centre of the dial, his two sons also became clock-makers in Charlbury and at Devizes in Wiltshire and seem to have had connections to clock-making in the Channel Islands. Yet another Gilkes was in Shipston-on-Stour, but the relationship is not clear. He, too, was making clocks about 1730, while Richard Gilkes of Adderbury was most active from about 1740 to 1750. There is a Thomas Gilkes clock in the Banbury Museum.
A Richard Gilkes of Adderbury eight-day clock in a very ornamental case made for one of the big Adderbury houses perhaps. The case is Japanned onto oak and was probably made in London.
A John Fardon of Deddington clock was one of the exhibits, perhaps from 1730s with fleur de lys half-hour markers. He was trained by Thomas Gilkes of Sibford Gower. The Fardon movements were different from the Adderbury clocks and there were more bass used in them, and made while John Fardon II was probably not doing very well.
John Fardon married out of the Quakers while in London and had been disowned by them by 1758. He married twice and his sons both became Deddington clock-makers. He must have rejoined the Friends as he is buried in Adderbury's Quaker burial ground, but both sons were hhristened in the church from the 1780s onwards.
Thomas Harris of Deddington was another clockmaker working about 1760 - after John Fardon I, there were several other Quaker clock-making families in the area - William Green of Shipton-under-Wychwood, for instance.
William Williams of Adderbury was one of the last of the English makers in about 1830, when cheap foreign imports put them out of business.
Banbury seems to have been ringed by village clock-makers, who would appear to have been more successful than the town makers, certainly to judge by the survivals. Gilkes clocks seem to be most prolific among the survivals and perhaps this is an indicator of his output.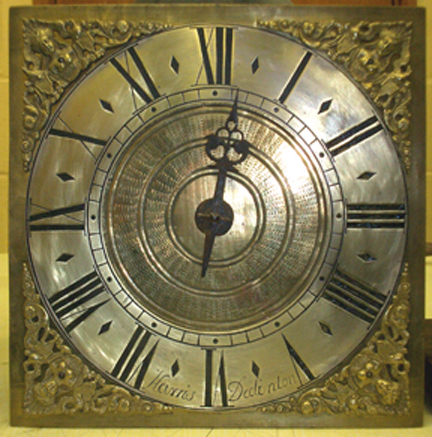 Clock face by 'Harris of Dedinton', perhaps spelt as spoken! The engraver would be hired in rather than the clock-maker doing it himself.
for larger version click on image.

Further information about Oxfordshire clockmakers: