Hosted by
Deddington Farmers' Market
Sarah &Thomas Hayle and Anna Hayle – Compensation on abolition of slavery
Rob Forsyth

In 1833, the year in which the Abolition of Slavery Act received Royal Assent, slave ownership was widespread amongst the gentry and professional monied classes in much the same way that investment in equities is today. Many well-off farmers, doctors, country parsons and shop owners had a share of plantation 'livestock' as slaves were called. One of the facts about the history of slavery to emerge in recent weeks has been the surprising revelation that the £20M the Government borrowed (40% of then national income), with which to pay compensation to the owners of slaves under the Act, was not paid off until 2015. Not so surprising was that this compensation – over £2Bn today - was a big enough bribe to quell any real opposition to abolition. Politics never change.

It was interesting to discover that a family in Deddington – always a microcosm of the larger world – received compensation for the slaves they owned on Jamaica plantations. That I know this is entirely due to our eldest granddaughter researching the subject at Sussex University for an essay. She entered the name of Deddington into an extensive database of slave owners compiled by University College London (UCL). Three names appeared which she passed to me and I probed deeper.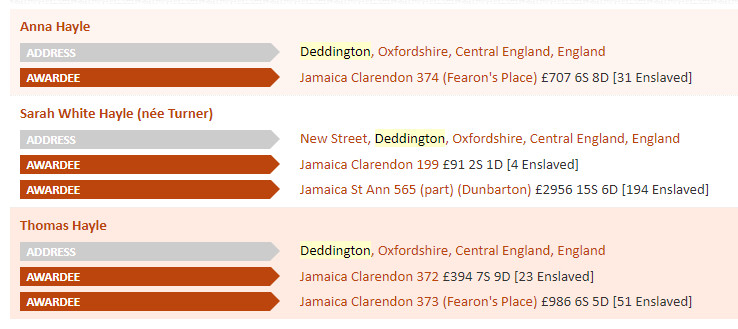 Thomas Hayle (32), Surgeon, and his wife Sarah (28*) were recorded on the 1841 parish census as living on New Street together with Thomas' half-sister Anna (50) and the Hayles two children aged two and 6 months.

click on image for full page view.
* this entry appears to say 25 but census age recording is often innacurate. Other sources, including later census, give her year of birth as 1813 which makes her 28 in 1841.
Further research on the UCL website and elsewhere revealed that Thomas and Sarah had both been born in Jamaica as children of plantation owners. At some stage Sarah had inherited a large share in a plantation called Dunbarton from her grandfather and Thomas and his half-sister both owned slaves on another plantation called Clarendon. Between the three of them they owned 276 slaves and received compensation in total of £5137 8s 5d. This is the equivalent of £615,500 today. 60% of this sum was due to Sarah because of her inheritance. This must have been akin to winning a Lottery Jackpot. Possibly as a consequence of this sudden wealth, the family moved to Jesmond – a well-off suburb of Newcastle – before the 1851 census .

With very large individual sums like this involved, it is no wonder that such a vast amount of money had to be borrowed by Government and became part of the National Debt. 183 years seems an overlong time to pay it off but an HM Treasury 'Freedom of Information' statement last year explained that this is not unusual because of the nature of the borrowing which was in the form of undated Gilts paying a 'coupon' (interest) of 4% .

Rev'd Cotton Risley is not recorded as being a slave owner and his diaries, which start in 1835, make no reference to the subject other than on 29 October 1853 - some 20 years after the Act but slavery still existed with other nations - "…a black man named Benson came…" "…the black gent for the use of the new Schools which I could not grant to lecture in against slavery." "…he came just as I was washing for dinner – sent a message to him but did not see him". One can only speculate why he 'could not grant to lecture in...'.
Additional research
Sarah White (née Turner) was born in 1813 on the Clarendon Plantation in Jamaica. On her marriage on 28 August 1838 she is described as ' came from London, Hampstead'. She was the daughter of Dutton Smith Turner (1755-1816) and Mary Gale Turner (née Redwar (1777-1822) and granddaughter of Henry Redwar of the Dunbarton estate. Mary Gale Redwar had inherited a share in the Dunbarton estate from her father's brother, William Gale Redwar. Sarah was one of a large group of claimants awarded 1/16th of the compensation for the Dunbarton estate. They were described collectively as 'representatives of William Gale Redwar'.
Sarah's brother Edward Turner was an eminent chemist. He was a lecturer in Chemistry at Edinburgh University between 1824 and 1827 and 'collected around him the remaining unsettled members of his family - a clever boy and four young, handsome and accomplished sisters'.

Thomas Hayle was also born in Jamaica. He was the son of William Pasey Hayle
The following is an account of what happened to them after they moved from Deddington. They appear to have had a settled family life as Thomas pursued his medical career and was able to afford the support of a large household consisting of their own chidren and a variety of relatives.

In the 1851 census they have moved to 3 Jesmond Terrace, Jesmond, Newcastle-upon-Tyne
Thomas is 42 years old and a "Physician M.D. Edinburgh". Sarah is aged 38. Their children now are Anna age 11, Mary age 10, Sarah age 8, William P. age 6, Fanny E. age 3;
Still living with them is Anna Hayle age 62, half-sister of Thomas Hayle, Mary R. Smith age 12, neice of Thomas Hayle (and daughter of James Fairfull Smith, q.v.), and 3 female servants.
In the 1861 census they were still at 3 Jesmond [Low] Terrace, with their children William P. age 16, Fanny E. age 13, Thomas H. age 6, Edward T. age 3 and Jane E.B. age 1 month; also present were Mary A. Hayle age 48 and 3 female servants.

In the 1871 census they have moved to 154 Drake Street, Rochdale, Lancashire, with their children Anna age 31, Mary age 30, Fanny Eliza age 23, Caroline Hahnemaan age 19, Thomas Hahnemaan age 16, Edward Turner age 13 and Jane Evaline Bowerbank age 10, and 3 female servants.
1886 Thomas Hayle died on 17 September at 154 Drake Street, leaving a personal estate of £1837 0s 3d. Sarah was one of his executors.

In the 1891 census Sarah, now aged 78 and a widow "Living on her own means" has moved to 183 Drake Street and is living with her daughters Anna age 51, Mary age 50 and Carl. H. age 39. Mary and Caroline are teachers. Also present are Sarah Kennedy, a visitor, age 48, "Living on her own means", and 2 female servants.
1898 Q2 Sarah dies aged 85 in Rochdale
Sources