Hosted by
Deddington Farmers' Market
by Jon Malings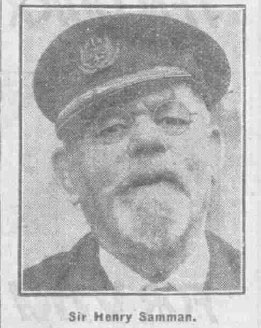 Deddington is about as far from the sea as you can get in England, so how was it that, at the end of the 19th century, it had its own Steam Ship Company and its very own steam ships, s.s. Deddington and Clifton ? Both the company and the ships were owned by Henry Samman, who was born in the village in 1849.
Samman, and its variants, is an old Deddington name but Henry's parents do not seem to have had any links to the village. His father Alban was born in Walton Grounds, Kings Sutton, and his mother, Sarah Fallower, in Hammersmith.
In 1844, aged 26, Alban Samman opened a drapers shop in the Market Place. In later life he also became a valuer and selling agent of drapery businesses, and an agent for the Standard Life Insurance Co., the County Hailstorm Insurance Co. and the Birmingham-made Patent Airtight Metallic Coffin. Clearly a successful businessman, when he died in 1888, by then living in New Street, he left an estate of £8223 1s. 4d. It's not recorded whether he was buried in a Metallic Coffin.
Apparently, his son Henry started out as an apprentice on a tea clipper or even, more romantically, a "cabin boy". What is certain is that, on the 1871 census, he is shown as a seaman, aged 21, visiting his aunt in London along with Alban, his father.
Henry married Elizabeth Sanders of Kiddington in 1877. The 1881 census shows the Samman family living in Hull; Henry, aged 32, was already a "Steam Ship owner and broker." His first vessel, purchased in 1876, appears to have been "Bonnie Kate", a small steamship of 827 tons which was built in 1870. In 1878, commanding Bonnie Kate, he was engaged by the Admiralty to carry explosives to the Mediterranean. Elf and Knight Templar were purchased in the 1880's, but Oxon, launched in 1883, was the first brand-new ship he owned. Almost all the ships that followed were specifically built for his companies. He seemed to have an aversion to owning any ship more than ten years old so frequently sold them on and launched new ones.


s.s. Elf wearing the funnel livery of the Deddington Steam Ship Co.

The launch of Deddington, Clifton and Somerton in 1889 marked the start of a major expansion for the Deddington Steam Ship Co. Bonnie Kate had been sold in 1883, Elf went in 1889, presumably to raise capital, and the remaining ship, Oxon, sank that same year. By 1900 the company owned 10 vessels, all built-to-order, none more than ten years old. It's possible that Henry's father Alban, who died in 1888, left him a legacy which provided enough working capital to commission Deddington, Clifton and Somerton, thereby kick-starting the company.
With Captain Samman at the helm, the Deddington Steamship Company went from strength to strength, launching new ships and selling old ones until World War 1 intervened.
All the indications are that, as befits a sea-captain, Henry was pugnacious, argumentative, outspoken, and impatient. A man who liked hunting, trout-fishing and hare-coursing and was, naturally, a world traveller, he was proud to acknowledge his Deddington roots and his adopted town of Hull.
Covering his visit in 1921, the Australian newspapers described him as "a picturesque character", "larger than life" and "aggressive and mentally vigorous at seventy-two."
Henry always seemed "up for a fight" as seen from a number of court cases, and, in one instance at least, actual fisticuffs. Often, only trifling sums of money were involved, indicating that it was the principal that mattered to him, rather than any monetary gain or loss.
Click here to read how he was sued by the Board of Trade for £1 10s., claimed £16 14s. 3d. from the Trinity House Corporation, disputed the compensation due to a ship that came to the aid of Elf, committed an "Extraordinary assault in the hunting field," and, aged 62, got into a 'scrap' with a man abusing his wife.
Perhaps the most entertaining is the claim for £30 18s. 4d. made against Captain W. H. Coysh, formerly master of s.s.Somerton for various items, chiefly the cost of carriage of 200 turkeys which belonged to the Captain, the ship's mate, and steward. There was also some suggestion that the turkeys had been fed on the ship's cargo of grain. And, according to a report in the York Herald, "On the question of the pigs his [i.e. the Court Registrar's] decision was in favour of the defendant."


The LH image is of the first S.S. Deddington, launched in 1889, sold in 1899 and renamed Sirius. Sank in 1944 near the Sabbskars lighthouse in Sweden

The RH image is of the second S.S.Deddington







Of the
19 ships that belonged to the Deddington Steamship Co.
and Henry's other companies, only 1, Garton (1895-1963), survived long enough to go to the breakers yard. Another, Flixton, was scuttled in 1944 to act as a blockship at Livorno (Leghorn) in Italy but all the rest, 17, were wrecked, though not necessarily while Henry owned them; 6 were sunk by submarines during WW1. Newspapers carried frequent reports, not just of sinkings but also of groundings, collisions or any of
a myriad of disasters
which might befall a ship. Being a Merchant Seaman was a dangerous occupation.
Foreseeing a slump in shipping at the end of the war Henry sold up and, in his own words, "made a substantial profit." On a visit to Australia in 1921 he gave several newspaper interviews in which he highlighted the depressive state of world shipping. He couldn't resist adding some very trenchant, and non-PC, comments about Australia's problems and how to put them rig



The newspapers followed the case avidly, carrying headlines such as "what is hush money?" and "was it blackmail?". "Cash for honours" didn't quite make an appearance but was certainly implied. Even The Times carried the full story, relying on court transcripts to highlight the more lurid bits.

Henry died in 1928, in Nice, leaving an obituary in The Times, £500 to his gardener and an estate worth £428575 1s. 9d.*


Editor's update December 2020

His death was reported in the Hull Daily Mail, Leeds Mercury & Yorkshire Post on the 8 March 1928 and in the Banbury Guardian on the 15 March.

*The value of his will was £27M in today's money. Not bad for a draper's son from Deddington! Further details of the will were published in the Banbury Guardian on 2 August 1928.

Links to these articles are waiting for copyright approval to publish online but meanwhile can be searched in the British Newspaper Archive.

Free access is available byregistering; then just type 'Sir Henry Samman' in the search box. There are numerous other articles to view.


Postcript

A Mariners "tall tale", transcribed from The Register, Adelaide, South Australia. Wednesday 17 July, 1918, page 8

A "BOOMERANG" TORPEDO

The captain of a Hull steamer relates a remarkable adventure which, but for the fact that it is vouched for in official documents, would appear incredible (says the London Daily Telegraph). The steamer the Flixton (Capt. John Frewen) was on a voyage from Havre to Newport (Mon.), and when off Portland encountered an enemy submarine, which fired a torpedo at her. The torpedo travelled directly towards the Flixton at a rapid rate, but when a short distance from the vessel "broke surface and deflected," and took a circular course back to the submarine. A terrific explosion followed. Capt. Frewen in his report to the owners of the vessel, Messrs. Samman & Company, says:—"On the passage round we had a very narrow escape of being put under, but as luck happened the torpedo broke surface and deflected its course, taking a circular turn. The consequence, as I take it, was that during the turning it came in contact with its own ship (a submarine) and exploded causing a terrific report and upheaval about 130 yards from us. The report has been handed to the N.T.O. here." Capt. Frewen has since made the following report:—"We had a very narrow squeak of being put under and sharing the Arlington's fate. We saw the bally thing coming at a terrific rate towards us, and, gee whiz, when within 50 ft. of us it broke surface and turned from us in a circular direction towards its own ship, which was then getting into position for firing another friendly arrow at us. From what I could see they both crossed the paths, and must have met in friendly embrace! Now it is over I can only say that I don't want another such experience. We made all possible speed away from the spot as we were not sure that Fritz was not following us."

The Flixton was one of the last ships that Henry sold, in 1919.




---

Acknowledgements

Richie Scott, owner of the painting of s.s. Elf www.clippership.org
Peter Searle and the Sunderland website for the pictures of the Somerton Bell and the first s.s. Deddington www.searlecanada.org/sunderland/sunderland001.html
The Wreck site www.wrecksite.eu for the picture of the second s.s. Deddington
The Miramar ship index www.miramarshipindex.org.nz for all the data on the ships Henry Samman owned.
The National Library of Australia for their online digitised collection of Australian Newspapers http://trove.nla.gov.au/newspaper
Cardiff City library which, like many County libraries, provides remote online access to the British Library's digitised collection of 19th Century newspapers and the digitised archives of The Times.