Rob Forsyth

How two seperate stories about a soldier who died in WWI and a possible transportee came together

The information that follows is from emails I exchanged with Karen Rose who first contacted me because she wanted help to trace her ancestors one of whom, Robert Gardner, she said might have been transported to Australia. I confirmed that we have him recorded in an article about Deddington men who were transported. Further research by Karen then showed that perhaps he had not been.

She subsequently found that her Great Grandfather, Private Charles Fletcher, who died in 1914 serving with the Ox & Bucks, is recorded in A Parish at War (p.31)as one of the men born in Deddington whose names are not on the original War Memorial in the churchyard.
And now Karen is in touch with Lin Malt who has been researching the Gardner family as well.
The WWI Soldier
The following is an extract from A Parish at War (p.31)

Charles George FLETCHER Private, 2nd Battalion, The Oxfordshire and Buckinghamshire Light Infantry, 5 Brigade, 2nd Division. He was wounded near Ypres and died on 26 October 1914 age 33. He is buried in grave III A 12, Boulogne Eastern Cemetery. He was born in Deddington, the son of John and Elizabeth Fletcher.
In Karen's own words: "Charles was my Great Grandfather. I had all the information about him but didn't know he'd been remembered in the village where he was born. Please find attached a photo of him. I thought you might like to put a face to his name.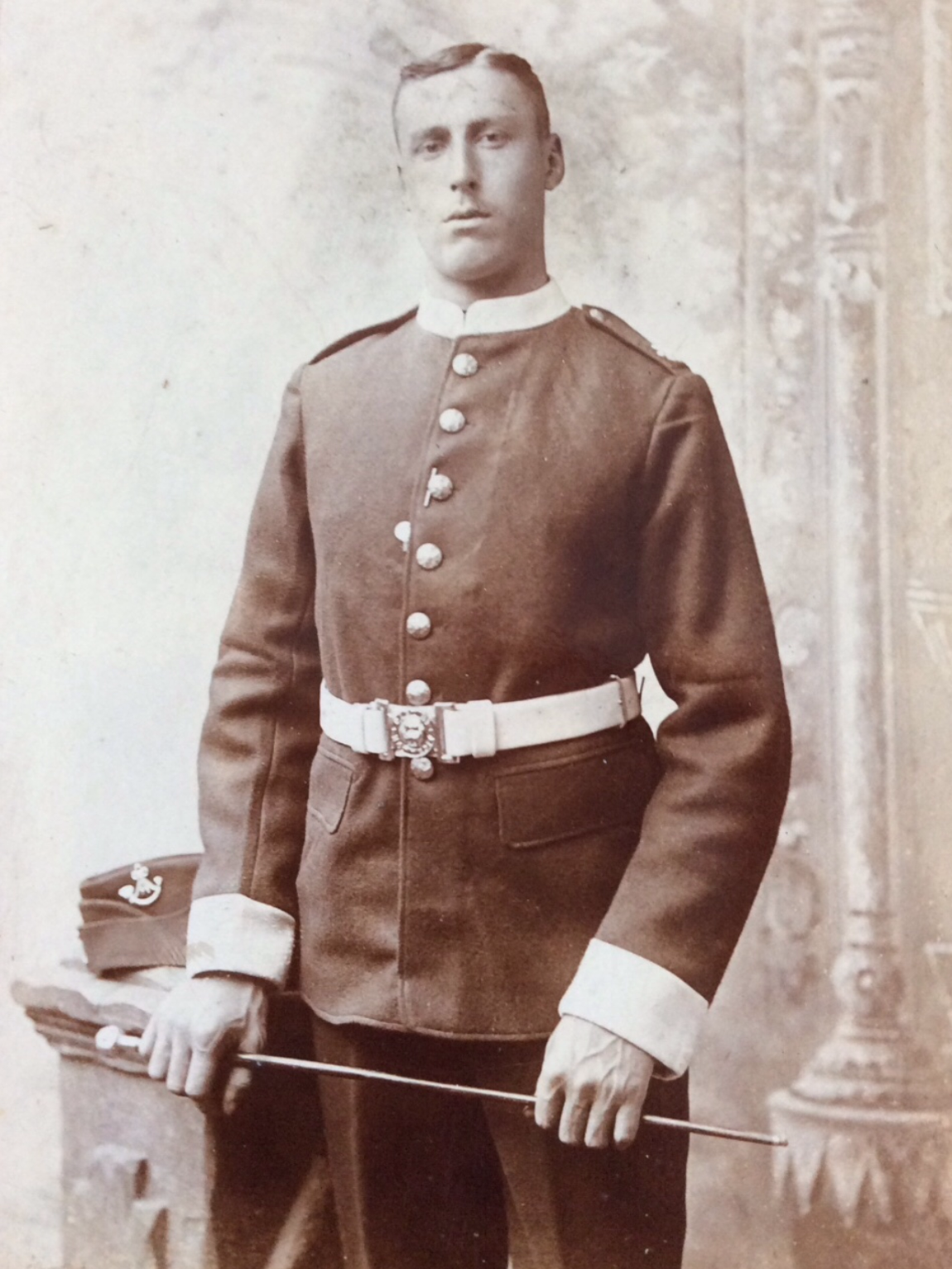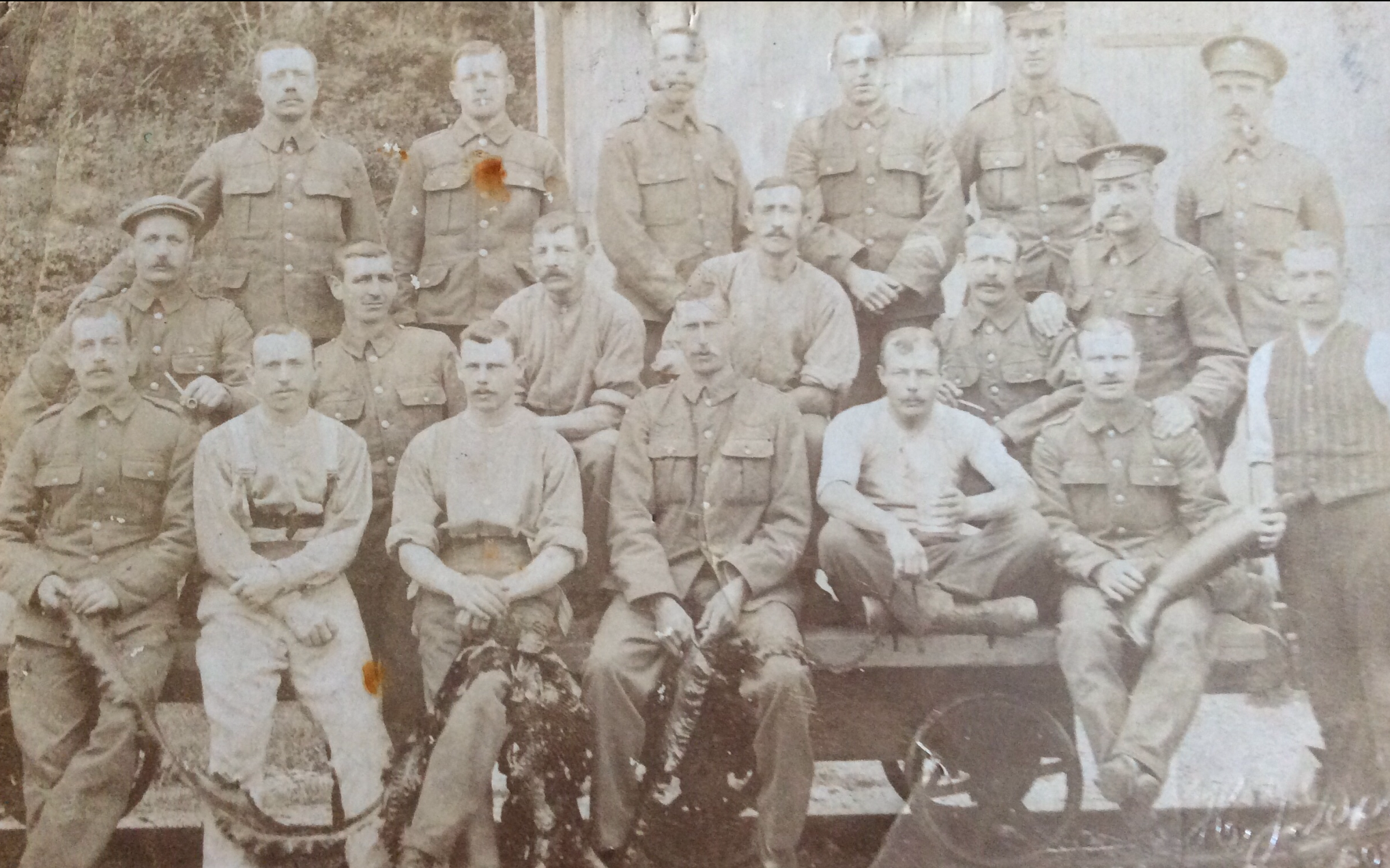 Charles (front centre)


"It's wonderful that you've honoured his name in your book and I will have to visit the church in Deddington to see the War Memorial Plaque. Charles' family received three medals for him, the Victory Medal, British Medal and the 1914 Star Medal.
There is also a War Memorial Plaque at Milcombe church which includes Charles as this is where he lived with his family after moving from Deddington. The Plaque at Milcombe church also includes Charles' brother, Thomas who was born in Milcombe and died fighting on 10th July 1916 in France."

Karen provided a bit more background information about Charles. "He was born in Deddington in 1880 and was one of ten children.His father, John, came from Deddington and his mother, Elizabeth, came from Bodicote. Charles married Edith Green in 1903 in Milcombe. Charles and Edith had three children. On the 1911 census his occupation states 'Farm Labourer'. Edith became a widow aged 33 and had three young children to bring up. She remarried five years later in 1919 and had two more children with her second husband."
The Transportee
Karen told me that her GGG Grandmother, Jane, was the sister of Mary Fletcher (ancestor of Charles Fletcher above) who was the wife of Robert Gardner reputed to have been transported to Australia in 1839. Robert certainly seemed to have disappeared in 1839 but she, and a distant cousin in Australia, had not been able to find any records of Robert arriving there. But Karen did have records for Mary and Robert's children Robert, Mary Ann, Elizabeth (who may have married a Thomas Finch) and Sarah. She also knew that Mary had further children after Robert disapppeared and that she subsequently married a Thomas Wilkins who may have been the father of the later children referred to in an article on this site about Transportees An extract from which reads:

"c.1839 Unknown GARDNER. Possibly Richard Gardner of Somerton who married Mary Ell of Deddington in 1826 or Robert Gardner of Adderbury who married Mary Fletcher of Deddington in 1830. Evidence of transportation comes from the Deddington Parish Register which records the baptism of several children to Mary Gardner long after Mr. Gardner had been transported.

Eleanor and Eliza (twins) baptised Feb. 24th 1843 to Mary Gardner, "married woman." The register notes: "Mary Gardner had not seen her
husband for 4 years and she confessed he was not the father of the above children. Her husband being alive but transported."

George Henry, baptised July 6th 1845. "Husband transported 6 years ago.

John Francis, baptised Oct 12th 1851. "Husband transported several years ago."

Isabella, baptised June 12 1853. "Husband transported in 1839."
Karen also added that " Robert Gardner had a brother called Joseph Gardner. Their parents were Joseph Gardner and Sarah Gardner, (nee Tandy).It appears that both brothers got themselves into trouble with the law more than once!!"
Prisoner name: Robert Gardner.
Prisoner age: 26.
Court and date of trial: Oxford Lent Assizes [Oxfordshire] 1828.
Crime: Larceny.
Initial sentence: 12 months' imprisonment.
Annotated: Nil 9 April 1828.
Petitioner(s): The convict and eight previous employers of Barford St John [Oxfordshire].
Grounds for clemency: He has an afflicted mother and two small brothers whom he helps support; an honest and punctual young man.

Did Robert get transported? Following our initial emails, Karen contacted the Oxfordshire History Centre (formerly Oxfordshire Records Office)to see if she could find out more about Robert. It seems he was convicted on 3rd September at Oxford Assizes and sentenced to 1 months hard labour at the Oxford House of Correction. (Prison). Certificate of conviction for "running away, & leaving his wife & children, chargeable to Little Barford".
So here is firm evidence that he abandoned his family exactly as the extract from the Parish Registers states she said but not transported unless he committed another felony as soon as he was released. So...did she say that he was transported in order to give a measure of protection to herself and the children she subsequently bore by another man? Research continues to find out if it was Richard Gardner of Somerton who was transported and not Robert.


More Gardners/Gardiners
A further footnote to this story is that Karen is now in touch with Lin Malt who is also a Gardner/Gardiner descendant and whose family research can be found HERE.It looks as if they may be related through Mary Gardner's daughter Isabella (born after Robert disappeared) who married one of Lin's ancestors.