The Coat of Arms illustrated below was granted to Deddington on 16 April 1994 during a fine ceremony in the Market Place. The Arms can be seen in relief on the end wall of Deddington Town Hall. The following text is taken from the souvenir programme published by Deddington Parish Council to mark the occasion.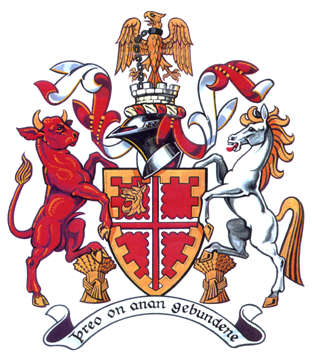 The Armorial Bearings of the Parish Council of Deddington
Granted 16 April 1994
With the authority of the Crown, and on receipt of a Warrant from the Earl Marshal & Hereditary Marshal of England, the Duke of Norfolk, a Coat of Arms with supporters has been granted by the Kings of Arms to Deddington Parish Council.
Letters Patent were presented on 16th April 1994 by Sir Ashley Ponsonby, Bt., KCVO, MC, Lord Lieutenant of Oxfordshire, at a ceremony of blessing and dedication in the Parish Church of St. Peter and St. Paul, Deddington.
Only six or seven villages have ever been granted arms and Deddington is the first Parish in all England, never having been a chartered borough, to have supporters granted to its arms.
The arms represent the three manors of the Parish - Castle of Windsor, Duchy and Christ Church - and these are symbolised on the shield by a red cross, a wolf's head and an engrailed cross, all enclosed within an embattled border, signifying a town, enclosed and protected. The crest represents Deddington Castle and a chained eagle symbolises Piers Gaveston who was imprisoned there (or in Castle House) in 1312. The supporters - an ox on one side of the arms and a horse on the other - represent the market (and also Oxfordshire) and the horsefair respectively. Sheaves of wheat represent local farming.
The motto - preo on anan gebundene - is in Early English, not Latin; Deddington was a settlement before the Norman Conquest. It means three joined together in one, which refers to the three manors and also, no doubt, to the three villages of the Parish - Deddington, Clifton and Hempton.
With grateful acknowledgements to John Brooke-Little, CVO, MA, FSA, Norroy and Ulster King of Arms, of Steeple Aston.
The Coat of Arms project was proposed by the late Joan and Frank Robins of Deddington.